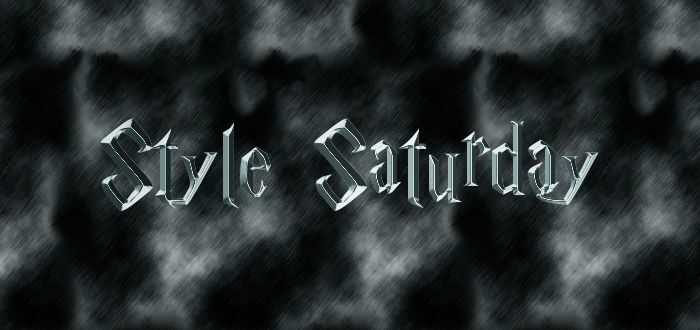 With just a week until the release of Fantastic Beasts and Where To Find Them, I am experiencing some magic mania. Since I will be going to the midnight viewing of the movie, I have decided to dress up and I am sure I'm not the only one. Last week's Style Saturday looked at the Black Milk and Hot Topic Wizarding World themed collections. As wonderful as they are, sometimes splurging on themed clothes just isn't feasible so I thought why not create a few budget friendly looks inspired by the roaring 20s?
The Fantastic Beats and Where To Find Them movie is set in the 1920s so inspiration came pretty easy to me, but instead of just sticking to typical fashion from that era I've combined the houses with some of the fashion.
Fashionable Femmes
In the 1920s, the silhouette for women's clothes was fairly loose and not super fitted. So visualise drop waists and freely moving fabric. The fashion took on a very practical look. However, I wanted these outfits to be made up of things you can easily re-wear.
For the ladies outfits, I went for dresses that were inspired by the era. I chose dresses with a main colour from the signature house colours. It's a very simple look that consists of a dress and a complimenting shoe.
For Slytherin, I was initially going to go for a super dark dress but decided against it in favour for a rich green sequenced one. The shoes I chose to match were a shiny silver with a very modest heel. Accessory wise, I chose a simple black beaded bag and a headband with some jewelled details and a feather.
The Gryffindor dress had to be red and super bold so I chose one with a lovely pattern and a jewel-like shimmer to it. For shoes, I went with a type that would have been common back then. Lastly, I added a gold head band and a tassel gold necklace.
The Ravenclaw outfit started with a blue dress with some fringe at the end. The shoes were similar to Gryffindor's except they are silver and grey. The statement piece for this look was the turban hat and you could add a brooch for extra glitz.
For the Hufflepuff look I wanted something super shiny. A majority of this dress is gold sequins in an eye catching pattern. The shoes for this look were fairly plain but the accessories wrapped up the look nicely. As a hair piece, I chose an art deco style bun comb and a little gold beaded bag to finish it off.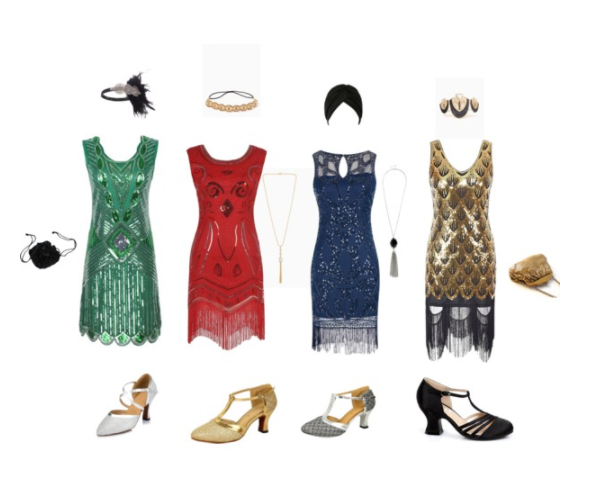 Slytherin: Dress €26 | Bag €13| Hair Accessory €14  | Total: € 53
Gryffindor: Dress €26 | Necklace €9.19  |Hair Accessory €6.99  | Total: €42.18
Ravenclaw: Dress €29 |Necklace €7.35  |Hair Accessory €7.34  | Total:€43.69
Hufflepuff: Dress €13 | Bag €28  | Hair Accessory €4.59 | Total: €45.59
Dapper Dudes
For the mens outfit, I drew a bit of inspiration from Newt Scamader's style.
Newt wears a three piece ensemble with a gorgeous blue coat in the movie, and let's face it; any dapper dude is going to want to copy the look.
The first item I went with was a pair of trousers; deep red for Gryffindor, grey for Slytherin, black for Ravenclaw and tan for Hufflepuff. Next, I chose some nice dress shoes in black and brown to complement the trousers. For the shirts I wanted colours that would match the house colours so for Gryffindor I chose tan, Slytherin got a deep green, Ravenclaw got a deep blue and for Hufflepuff I went with a black shirt. Once I had decided on the trouser colours, I found matching jackets.
Since Newt's outfit is a 3 piece, I found some waistcoats to match or complement the trousers I had chosen earlier. Red for Gryffindor, black for Slytherin because the suit was a light grey, grey for Ravenclaw because of the dark suit and, lastly, mustard yellow for Hufflepuff. To finish off the look, I added a tie to the Slytherin and Ravenclaw looks. Gryffindor and Hufflepuff got wonderful bow ties.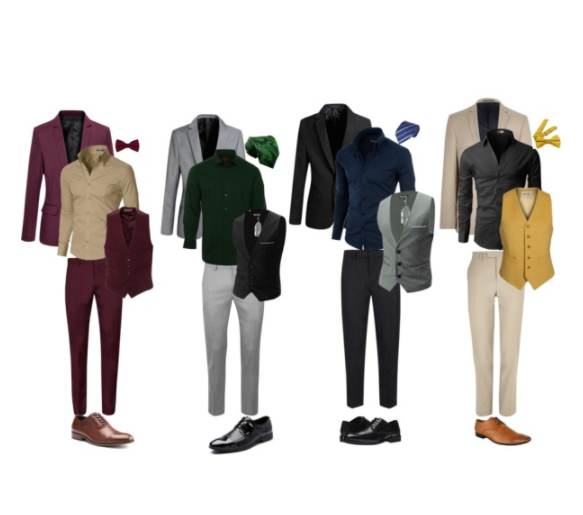 Slytherin: Jacket €6.96| Trousers €41| Shirt €17| Waistcoat €10| Shoes €23| Neck €9.18 | Total: €107.14
Gryffindor: Jacket €27| Trousers €46 | Shirt €24| Waistcoat €26| Shoes €41| Neck €5.50 | Total: €169.5
Ravenclaw: Jacket €11| Trousers €44 | Shirt €24| Waistcoat €10| Shoes €40| Neck €8.18 | Total: €137.18
Hufflepuff: Jacket €46| Trousers €35| Shirt €15| Waistcoat €58| Shoes €34| Neck €6.42 | Total: €194.42
Click here for a link to The Arcade's Polyvore account so you can find out where to buy these exact items!
Are you going to the midnight showing? What will you be wearing? Let us know int he comments below!