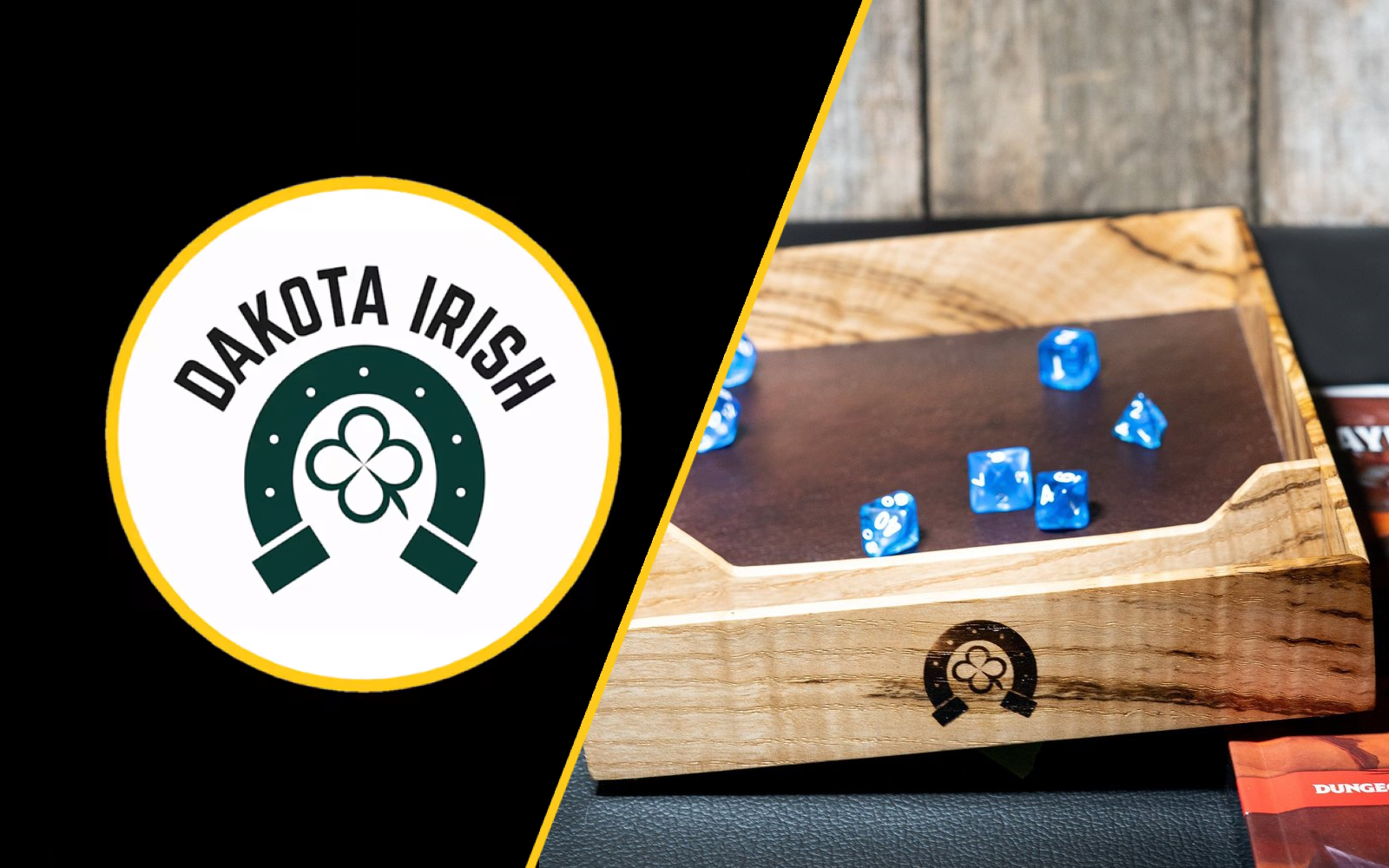 Luke McIntosh – Interview With Dakota Irish Founder
Recently, I got to chat with the founder of Dakota Irish. Luke McIntosh creates bespoke handcrafted products for use in Dungeons & Dragons and other Tabletop Role Playing Games. With an array of beautiful trays, vaults and sets of dice, we talk about the origins of the company, creative process and what's in store for the future.
Interview
Brian – Can you give me a little background on yourself and how you came to live in Ireland from the U.S.?
Luke – I'm originally from the midwest in the US. We moved around a lot as my father worked for a major US airline so I was born in the Rocky Mountains, lived in Minneapolis Minnesota, Memphis Tennessee, and ended up finally in Minot, North Dakota. I've also lived in rural Pennsylvania!
My father was the epitome of the jack-of-all-trades and loved working in his man cave come workshop at the weekends. That's where I learned most of my woodworking and crafting skills, as he showed me every tool under the sun, how to use them, how not to kill yourself with them, and general, but important, trade skills which I expounded on as I got older and took courses in my free time to improve my woodworking skills.
Eventually when I was in my early twenties I met my future wife when I came over to Ireland as an exchange student in college. Fast forward a few years and we've living in Ireland with a newborn son just as the Great Recession hit in 2008. The next few years were all about survival and babies as we moved around Ireland a bit and had our other 2 children. As a child I loved playing video games and working with PC, which got me into a career in IT and met friends who were like minded. They got me into TTRPGs like Rolemaster and Vampire. But when I moved to Ireland, it was a good 10 years before I finally found another group to play with and we started on D&D 5th Edition.
B – So you were able to combine 2 passions of yours, with TTRPG's and woodworking, but at what stage did you take the leap and see the opportunity to make a business out of this passion?
L – I was made redundant from my big IT job in 2017 and after a lot of soul searching, some experimentation, and support from my wife, I decided to start my own woodworking and dice business. I love dice and I love woodworking, so it felt super natural. But also I didn't know of any other company out there offering both on high quality, artisan craftwork and the best quality dice on the market. My focus has always been on the quality of my products and offering the best customer service in the market. So far, it's served us well.
The name Dakota Irish is actually 100% credited to my wife, Roisin. I actually started the business as Nerds & Geeks. In fact, long time customers might remember when we were called that. I handmade all my packaging back in those days too haha. But I felt like the name didn't really encompass where I wanted the business to be and the brand image/feeling I wanted customers to have when they heard our name, so I swapped to Dakota Irish. My wife had come up with the name at the beginning, so I got to hear a lot of I-told-you-so's.
B – TTRPG's, D&D in particular, can be a highly customisable game to play. Characters are created by the players, back-stories are formed and worlds are elaborately crafted by Dungeon Masters. This customisation stretches to physical objects too, with people wanting custom dice sets, trays or props that suit their style or character. How does this help you identify/create your products or influence materials, colours and patterns used in your products?
This was actually why I try and offer as much customization as possible while also keeping production simple. Wyrmwood and other competitors only offer one type of lining for trays, with maybe a few special linings for individual items or product runs now. But back when I started there was really only one option and I felt that did people a disservice.
A lot of people don't like leather, or prefer felt, and I wanted to offer customers the choice. But also this customization thing was a big reason that drove me to buy a CNC machine so we could offer custom engraving. A lot of people don't know we offer that and my wife has been hounding me to make more noise about it. So you might be hearing more about custom engravings in the future!
B – So what types of products do you currently sell and do you sell worldwide?
L – I sell handcrafted dice trays, half trays, dice towers, dice vaults, and 3D printed accessories. I also sell handcrafted gemstone and wooden dice, as well as the highest quality metal, acrylic, and resin dice. I've also got cool accessories like treasure chests, keychains, and of course Whiskey merch.
Last but not least I sell gummy dice and I've loads of new product coming soon. Yup, we sell worldwide too. In fact I've sent dice as far as Peru.
B – Let's talk about your handcrafted products. You make high-quality dice trays, towers and dice vaults from a range of woods and materials. How long does it take to craft such an item and what is the process in making it?
L – Each piece is handcrafted by one person. Usually myself or my workshop assistant. It takes about 4 hours all together to make a single dice tray. Dice towers and vaults take a bit less time. I use only the highest quality wood and premium italian leather. I'm also extremely envrionmentally conscious, so I reuse all packing material I get as part of orders shipped to me, as well as reducing material waste.
Generally the process of making a tray start with milling the wood. Once we have the pieces we then select the ones we like the best and start processing them to get them ready for dry assembly. Once we're at that stage and we're happy with everything we do our glue up, pre-finishing processing (sanding, clean-up, etc) and finally we finish each tray with shellac sealer and 3 coats of all natural shellac. Shellac is the same substance they use in french polishing and creates a beautiful stain/shiny look that's exceptionally hard. So you can role metal dice in our trays without worrying about dinging them up….well, as long as you don't throw them like a manic anyways.
B – Do you currently allow additional customisation, such as engravings or a choice of materials used etc.?
L – Yup! As I mentioned before we do engravings with our custom build CNC machine. But I also allow customers to mix woods for projects if they want. I had a beautiful spalted beech half tray with a purpleheart divider that went to a customer in the UK and was one of the most beautiful trays I'd ever made.
B – Now onto the dice. You stock a range of dice made from materials, such as wood, metal, gemstones and resins. How do you craft or source partners to make these dice?
L – I am extremely particular about who I work with and the suppliers/partners I use. I've been in the business now for a few years so I know who to stay away from and who I can trust. But in the beginning it was hard. You'd work with someone and they'd steal your design or get it horribly wrong or give you really crap quality samples. I design the dice I want to see, down to the font and size of each dice, so it's important to have someone who you can trust and believes in the same quality and production ethos that I do.
B – You currently sell your products online. How have you seen the business grow, especially in the last year? 
L – We've seen a growth in business but to be honest not as much as you would expect. That's mainly down to the fact that these are not necessary or essential items and in a time when people have lost their jobs and livelihoods, dice and dice trays are the last things they're thinking about. Having said that, I'm hoping as we come out of the pandemic we will see more and more people getting into D&D and other TTRPGs and getting interested in our products. But I want to thank everyone for their support and patronage over the last two years. Because if not for them we wouldn't be here!
B – Would conventions have been important for your business in the past and how helpful was it to gain feedback on products or talk to potential customers face-to-face?
L – Huge. I can't emphasis enough how important conventions were to us. For the ability alone to connect with our customers in a personal way and get their feedback.
B – How do you find the Irish gaming community in general?
L – I miss seeing everyone's faces, their cosplays, hearing their campaign stories, character stories, or group dynamics. It was the best and I loved talking to each and every person who stopped by. I cannot wait to get back to conventions!
B – With the growing use of social media platforms, it's even easier to communicate with people from around the world. How has customer feedback helped you to improve or diverse your range of products?
L – Definitely improve. People are hugely helpful in making suggestions about things they'd like to see in future products, so it's great to be able to connect with them via social media. But most importantly I like being able to connect with and speak directly to them and see their reactions and comments. It sounds hoakey as hell, but I think of every one of our followers and customers as friends and we try to look after them the best we can. You have been building a strong community, with plenty of people sharing their stories and pictures of products from you.
B – Dakota Irish is now part of many people's journeys, games and podcasts. Have you seen many returning customers and how has their continued support help grow the brand?
L – 100% – our returning customer rate is about 32% right now I think? It's amazing to see so many people buy from us again and again and tell others what great experiences they've had. It is so important to me that every person comes away feeling good about their experience with us. Even the ones that aren't, we do our best to try and make those interactions better and we do the best we can to help.
Their support is critical for us. While I love gaining new customers and followers, it's seeing our friends come back to support us and buy new products is just incredible. I've had people tell me they have ten, twenty, thirty sets of dice from us and a dice tray and a tower and a vault and they plan to get more. You cannot buy relationships like that. They are extremely precious to me.
B – How do you go about researching and developing new ideas or products? Is there a type of product you'd like to add in the future?
L – I keep my eyes and ears open. I often get product ideas from seeing things in the real world, or hearing pain points from followers or customers. I've all sorts of product ideas, but my biggest idea is to try and use the amazing community we've created as a means of helping other small D&D related businesses expand their reach to people who want to know about them.
B – What is planned for 2021 or can you share some upcoming ideas?
L – I've plans on offering other creators products on Dakota Irish for our customers. And so they can not just support us, but also other D&D
creators and crafts people. You'll have to keep and eye out. I've loads of ideas for this year and we're only getting started!
More From Dakota Irish
I'd like to thank Luke for taking the time to chat to us. Recently, Luke has began a handy series of DM Tips. It's a weekly show, where he will give some insight into playing, running or learning D&D. Check out the first few episodes below.
For more on Dakota Irish, be sure to check out their website. You can follow them on social media too. They can be found on Facebook, Instagram, TikTok, Twitter and YouTube Be sure to keep an eye upcoming deals, new products, updates and even Whiskey the dog videos! 
If you are an Irish business and want to be featured on The-Arcade.ie, be sure to get in touch on our social media or drop an email to editor@the-arcade.ie.