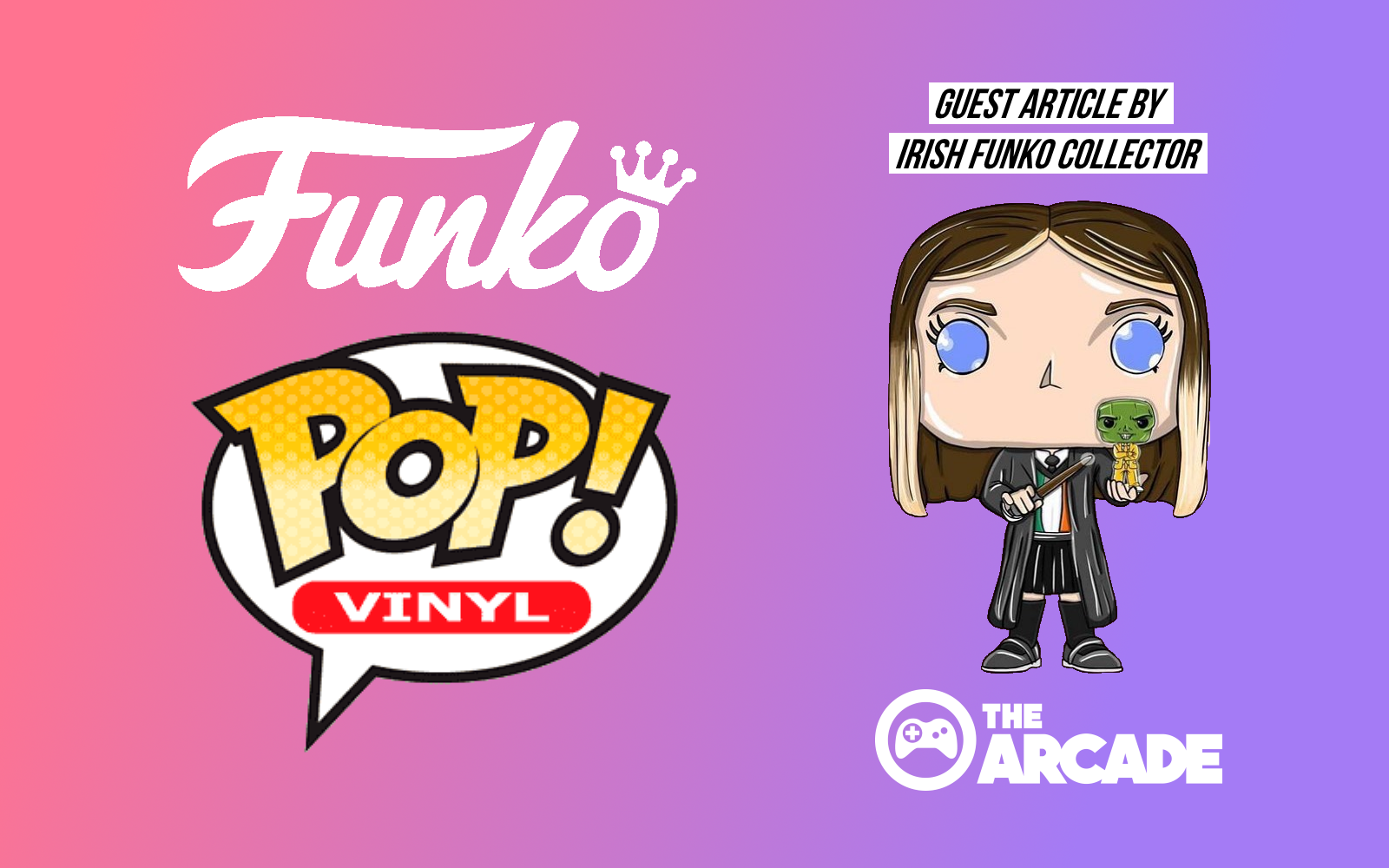 Guide To Collecting Funko Pops From The Irish Funko Collector
Do you like TV shows? Movies? Music? Ad icons? Well then, chances are you're going to find a Funko Pop! franchise you'd like to collect. Funko's official tag line is "Everyone is a fan of something" and that's what they've made their millions on. Funko make figures for almost anything you can think of and that's what I personally love about them, so much in fact, I have collected over 270 Funko Pop! figures (Mam, if you're reading this, I'm sorry!).
For anyone that doesn't know about these figures or wants to collect them but doesn't know how to get started, The-Arcade.ie have given me the opportunity to write this piece to help anyone looking to jump on the Funko bandwagon. In this article I've answered the most common questions I get asked about collecting.

What is Funko?
As taken from their official website
Funko is one of the leading creators and innovators of licensed pop culture products.
The company was started by Mike Becker in 1998 and in only 24 years, has grown it's revenue to an estimated $915 million net revenue in 2021. Nowadays, you can collect figures from your favourite video games, movies, tv shows and more. 


Where can I buy Funko Pops?
Ireland has several retailers who stock Funko products and we also have access to online sellers too. Irish based stores include:
GameStop
Eason (O'Connell Street in particular)
Golden Discs
Sub-City Comics
Forbidden Planet
The Disney Store
Tesco
Online retailers (European based, so to avoid customs charges):
What are the numbers on Pop figures for?
The number on each box represents the number in which the figure stands in a franchise. This can be a little confusing at first because you might see a number 530 on a Marvel Groot Pop figure and again on a Lord Of The Rings figures. This is because the Groot with 530 is the 530th Marvel Pop and the 530 Lord Of The Rings Pop is number 530 in the movie category.
Why are there different versions of Funko Pops?
Funko is constantly producing these figures along with new movies and TV shows etc. so to keep up with the demand Funko create different waves of pops. The Big Bang Theory has four waves whereas franchises like Harry Potter have what feels like an infinite amount. 
What are the types of Pop! figures?
There is actually quite a few types of Pop figures. Before I was really into Funko Pops, I just thought the figures were all standard models but there are different version you should look out for and the terms used to describe them. This lingo comes up a lot among the collector community so it's good have an idea of the terminology:
Common – This is your standard run of the mill Pop. Most Funko Pops you see in stores and online are just a bog standard pop and we call these commons. Can easily pick these up from €10-15.


Chase – A chase is a unique variant of a specific Funko Pop. It can be a glow in the dark version or have a different appearance e.g. Hat on, something different in its hand etc. Not all common Pops have a chase variant but of they do it will be advertised when buying online with something along the lines of "chance of chase". In this case a chance of a chase is 1 in 6. Next time you're shopping for pops and you see a weird version of a pop on a shelf look out for a Chase sticker.


Special Edition – Anywhere outside the United States, exclusive Funko Pops are given a sticker which says "Special Edition". In the states, stores like Target, Hot Topic and Box Lunch get their very own exclusive Funko Pops which have their own store sticker. Because they are marketed as exclusives, but we don't have those stores, over here, our pops are branded with a universal Special Edition sticker. Sometimes we do get lucky and we might get a Primark Exclusive or Funko Shop Exclusive stickers but you'll mostly find just the Special Edition one. Funko also have convention exclusives that are released around Comic Con events in the U.S. and those figures are usually exclusive to the Funko Europe website.


Vaulted – These are Pops that are no longer in production. If you are one Pop away from completing a set and you find out it's vaulted? You will be relying on finding it from a reseller and you could end up spending up to x5 the original price.


Flocked – This a really fun version of a Funko Pop! They are mostly used for animal figures and they usually come in common form also but the flocked version means they are furry. Instead of the plastic finish these pops have a fuzzy finish which I find absolutely adorable.


Diamond – If you're a fan of sparkles, you're going to love this. A diamond edition pop is a figure with a glitter finish. They usually come in common form as well but if you're partial to a little sparkle then this is the pop for you.


Black Light – Black light pops are a colourful take on already created pops. Funko use the moulds from previous figures and create a neon colour figure that lights up really spectacularly under a UV light. The concept is quite lazy in my opinion, but people really went mad for these in 2021 so they might be your cup of tea.


Two Packs – This one is kind of obvious, it's two Pops in one box. Usually they are a duo of some kind. Some are single pops that can be bought together and some are exclusively available as a two pack. The WandaVision characters Billy and Tommy were released as a two pack this year and they were extremely sought after. People were re-selling them on Ebay for double and triple their retail value.


Pop Rides – These are really fun takes on movie and TV moments were characters ride cars or horses etc. The are normally about 10" so they are larger than a normal Pop figure and they retail for about €35.


Movie Moments – Similar to Pop rides, these figures capture an icon movie moment like 1989 Batman Vs. Joker. Again these are larger than regular pop figures and retail for about €35


Are some Pops more valuable?
Quick answer is yes but the value of pops is a tricky one to determine. The collector community use an app called TPD to determine the value of their pops but unfortunately the app is unavailable for Apple users, so the ones that cant access TPD rely on the Funko app which has it's only estimated value. In most cases though the most valuable pops are the chases, exclusives and rare vaulted pops. Some of the highest trending value pops according to each app are below:
| | | |
| --- | --- | --- |
| FUNKO POP! FIGURE | TPD APP VALUE | |
| Penny The Big Bang Theory (Wave 1) | €63 | €84 |
| Amy Winehouse | €61 | €49 |
| Carnage (Black Light) | €134 | €195 |
| Yelena Belova (Black Widow Movie) | €84 | €89 |
| Loki Endgame | €66 | €71 |

I want to collect them, but am I too old?
No! Never! Absolutely not! I would never let something like age put you off anything. If you like something then nothing like age should stand in your way and that goes for anything not just Funko Pops! I know people in their 40s who collect pops and I know there are people out there much older who collect them too so don't worry. Collecting Pops has no age limit.
If after reading this you feel inspired to start collecting here's a really quick check list to get you started:
Pick one wave to start with!
Join the Facebook group Funko Pop Ireland (the community there is fantastic!)
Outline a budget (It's easy to get carried away at first so limit yourself to spending only what you can afford)
Choose where and how you are going to display them (This is important because it's remarkable how much space they can take up! Also, decide if you are an in box or out of box collector)
Have Fun!
I hope I have covered everything here but if I haven't, feel free to check out my socials below and reach out and ask me anything you like about Funko Pops!
– Words by Clare Reynolds, Irish Funko Collector
Thanks to Clare for breaking down all the basics of Funko Pop! collecting. Be sure to follow her on her socials, where she looks at the latest Pops!, has unboxing videos, news on upcoming releases and even get some more handy tips.
TikTok: @BagelBandit
Instagram: @Irish_Funko_Collector
YouTube: Bagel_Bandit
Twitter: @Bagel_Bandit
If you would like to submit an article idea, feel free to contact us via editor@the-arcade.ie or hit us up on Facebook, Instagram or Twitter.