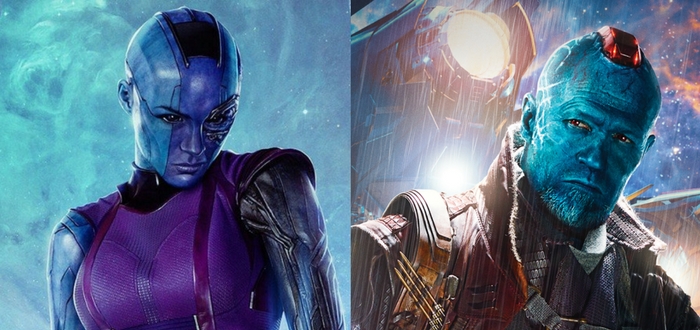 Stylish Guardians of The Galaxy V2 – Style Saturday
Guardians Of The Galaxy is officially out in Ireland and it seems to be the topic on everyone's lips. I haven't heard a bad thing about it from the people who share similar tastes in movies to me, so I can't wait to go catch it myself!
The Guardians are a wonderfully stylish group of a**holes so we decided a volume two was needed. However, for this Style Saturday I decided to go down a slightly different path, so if you ever wanted to channel Nebula and Yondu, this is your chance to get some inspo!
Nebula
I absolutely adore Nebula's design. Everything about her from head to toe works so well with the person she is on screen. But for this Style Saturday I was more inspired by the outfit she wore in the first Guardians Of The Galaxy. It was just so kick ass.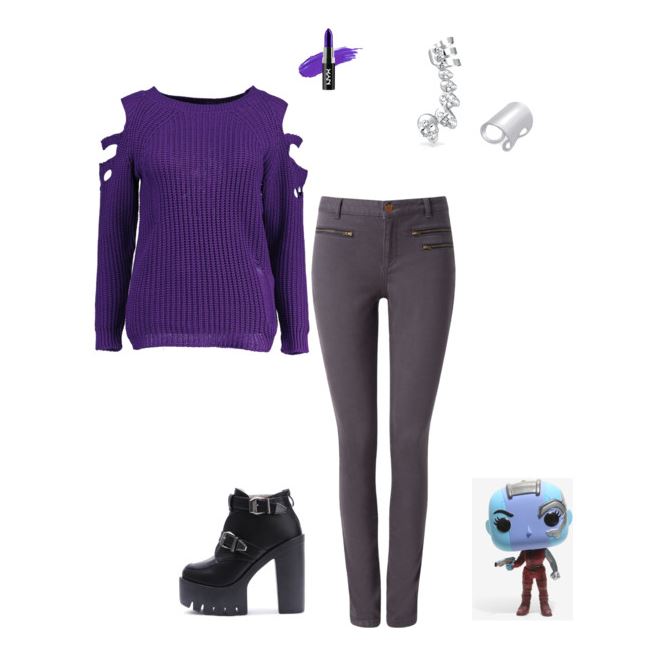 I wanted to keep it simple, casual and a bit edgy with the overall look. Although her outfit in the movie is pretty tight fitting, I liked the idea of a cold shoulder jumper because her arms are pretty much always bare. For the trousers I went with lilac jeans because apparently no-one wears bright purple jeans anymore (a travesty in my opinion). Hopefully they will make a come back!
For her shoes, I decided to go for some chunky, fierce looking ankle boots. I specifically went for these type of shoes because they would be fairly sturdy and easy to kick some galactic ass in. For little accents I went with bits and pieces of jewellery like an ear cuff and chunky ring to pay homage to her cybernetic implants. For a final pop of colour, I chose to add a purple lipstick. Perfect!
Top €16, Trousers €41, Boots €40, Ear Cuff €12, Ring €15, Lipstick €5.48, Total €129.48
Yondu Udonta
Yondu is a wonderful character and his design is superb. He is lethal, funny but also a man with presence. His outfit is pretty much a throwback to old western movie outlaws in their long leather coats. The addition of the fin in this movie, however, was nice to see considering he had a fin in the comics. But he also wore speedos so not all changes are good.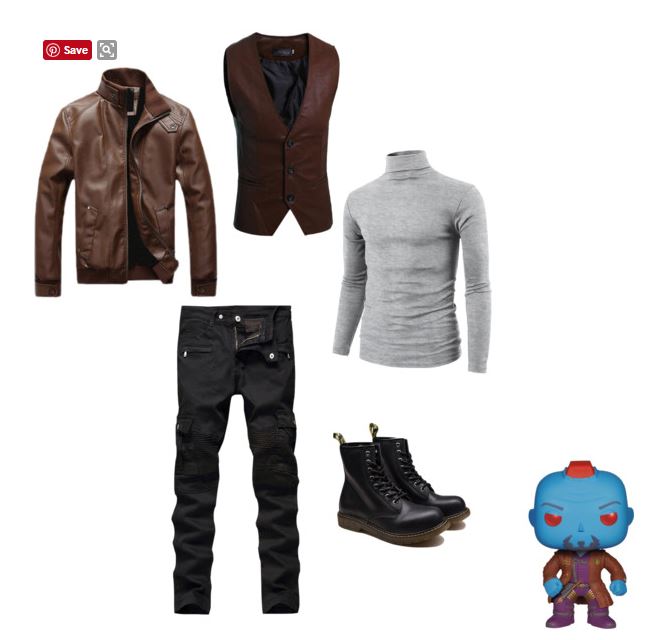 The first thing I had to go for was the long brown coat. I know summer is around the corner but it's such a fantastic coat I couldn't possibly leave it out. However, I ended up going for a shorter brown jacket. Next I went for a more toned down brown waistcoat because, let's face it, he wears A LOT of leather.
For the bottoms I went with some plain black jeans and for footwear I chose some plain black boots, which are a staple for any wardrobe. To pull together the look I went for a light grey turtle neck. And hey, if you happen to have bright red hair then good for you, because you'll look awesome.
Jacket €27 , Waistcoat €10, Top €16, Trousers €22, Boots €37, Total €112
Have you had a chance to catch Guardians Of The Galaxy V2 in cinemas? Let us know what you thought about it in the comments below!