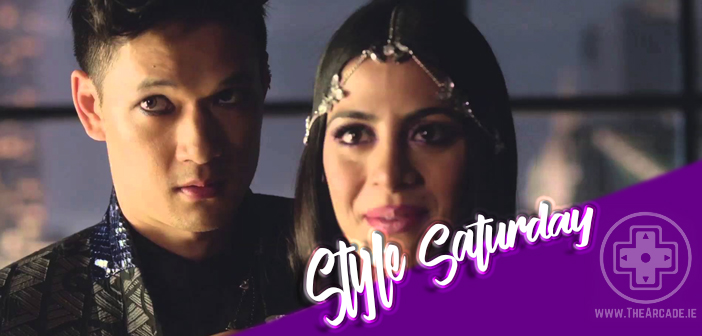 Stylish Shadowhunters – Style Saturday
So I'm a little late to the party with this, but for the last two weeks or so I've been sick on and off and therefore I've needed something to watch. Now, I was one of those people who watched a few episodes when Shadowhunters first aired and then decided it wasn't for me, much to dismay of my friends. So when I needed something to watch, I caved and gave Shadowhunters a second chance and I'm delighted I did because I adore kitschy tv shows and that's exactly what Shadowhunters is! So for this week's Style Saturday I decided to choose Isabelle Lightwood and Magnus Bane as the two most stylish characters I wanted to focus on.
ISABELLE LIGHTWOOD
Now Izzy is one of the most stylish characters on the show, and she knows it, and well the other characters know it as well. She absolutely oozes confidence and sex appeal and doesn't shy away from it either. She is slinky, sexy, sultry and completely and utterly drop dead gorgeous. So you can see why I chose to focus on her for this week!
Black is the main colour when it comes to Izzy, mostly because it offsets with her raven black hair and dark runes covering her body, but red also seeps into her colour palette as well. Little black dresses and skirts are a main staple for Isabelle as well, along with stilettos and thigh high or knee high boots. A little black clutch bag is great for holding your red lipstick in, or even your red nail polish so you can give yourself a top up. Accessories are another big thing for Izzy, especially her snake cuff which turns into a weapon in the show, and a red pendant to offset the black once again.
Dress €12, Boots €32, Bag €18, Lipstick €18, Polish €23, Cuff €6.11, Necklace €19
MAGNUS BANE
Now when you mention style and fashion and Shadowhunters, another character that comes to mind is the High Warlock Magnus Bane. He is stylish, slick and completely suave. Absolutely out there, and perfectly happy to be so. Magnus offsets his look with makeup that is usually electric blue, purple, red… you name it, he's worn it, and usually with sparkles!
When it comes to Magnus, he's all about colour, but of course sometimes that can be a little too out there for a night out on the town for a regular Mundane, so I've decided to tone things down just a tad with some hints of Magnus here and there. A nice sharp jacket and a beautifully tailored shirt underneath is very Magnus, teamed with a beautiful pair of shoes and nice slacks. Teaming the entire outfit with some rings with bright stones, some colour thrown in and some dragon themed items, and you're ready to hit the town as a High Warlock, maybe pick yourself up a nice handsome Shadowhunter along the way.
Jacket €37, Shirt €22, Belt €18, Slacks €28, Shoes €35, Bracelet €22, Red stone ring €5.26, Dragon ring €6.06, Black stone ring €25