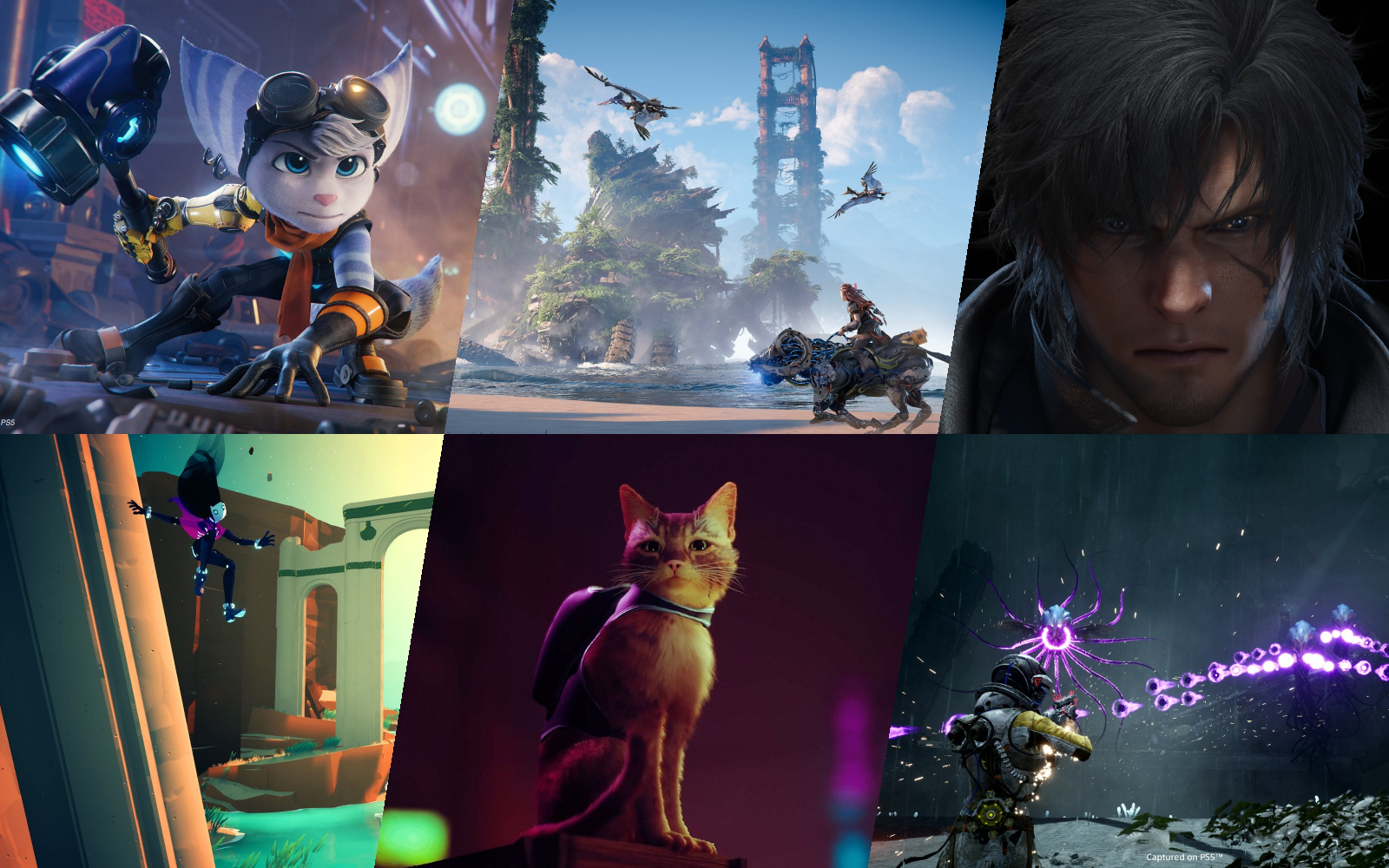 Upcoming PlayStation Studios And Timed Exclusives For PS5 In 2021
We are just a month into 2021, but there are plenty of great titles coming out for gamers this year. With a host of internal PlayStation Studio brand titles, there is also a number of third party games that are timed or fully exclusive to the Sony platform.
Today we'll look all the currently announced titles coming to PlayStation 5 in 2021. Please note: dates are subject to change, but will be listed where possible.
[UPDATE]: Returnal has had a slight delay, to April 30th and have updated Ratchet & Clank: Rift Aprt, to June 11th.
Confirmed Release Dates
Destruction AllStars
Release Date: Feb 2nd   Platform: PlayStation 5
Originally slated as a PS5 launch title from Lucid Games, Destruction AllStars was delayed until February 2nd., where it will be one of February's PS Plus titles. 
Destruction AllStars is a high-octane hero style title, like Overwatch, mixed with driving mechanics of the likes of Rocket League and a hint of the car carnage of Twisted Metal. Choose one of sixteen AllStars, enter an arena and use your special skills and driving ability to beat your foes.   
It will be available to download for free to all PS Plus subscribers, for two months, beginning February 2nd. Don't have a PS5, but want to save the title? Just login to the PlayStation mobile or web app and add it to your library, where you can download it to your PS5 at a later date.  
Returnal
Release Date: March 19th April 30th   Platform: PlayStation 5
Coming from Housemarque, known for their side-scrolling bullet hells, like Resogun, Dead Nation and Alienation, comes Returnal. This 3D, rogue-like title, sees you explore an alien planet, while taking on its dangerous inhabitants. 
Use a number of weapons, items and and power-ups to defend yourself in a procedurally generated world, while dying causes you to restart afresh, but with some knowledge and skills to help you on your next run. It's Aliens meets Groundhog Day and with Housemarque at the helm, this is sure to be one of those 'one more go' games.
Deathloop
Release Date: May 21st    Platform: PlayStation 5, PC
Deathloop is a manic first-person shooter from Arkane Lyon, developers of the Dishonored series. It will see you play as one of two assassins. One is tasked to track down and kill eight high priority targets, while a second player assassin hunts you.
Use powers to traverse the map, use a number of weapons or items to kill your target and restart your progress when you die, Groundhog Day style.
The title, which is published by Bethesda Softworks, is a console exclusive for one year on PS5, but will be available of Epic Games Store too.
Ratchet & Clank: Rift Apart
Release Date: June 11th   Platform: PlayStation 5
The action platformer, filled with crazy weaponry and gadgets, returns in 2021. With the titular Ratchet & Clank on an adventure across the universe, the game will introduce a dimension hoping mechanic, where you can travel to different worlds instantaneously, thanks to the processing power and SSD capabilities of PS5.
This will be a PlayStation 5 exclusive and was set for a June 11th launch. You can pre-order the standard or digital deluxe version right now.
PlayStation Studio Titles
God of War: Ragnarok
Release Date: TBC   Platform: PlayStation 5
With only a brief teaser, we don't officially know the name of the next God of War. It's better known as God of War: Ragnarok and will be a direct sequel to 2018 blockbuster. If this title does release in 2021, no doubt it will be a top seller. 
It will definitely release for PS5, but it has not been confirmed if it will also come to PS4 like Horizon Forbidden West. Expect more news this year.
September 16, 2020
Gran Turismo 7
Release Date: TBC   Platform: PlayStation 5
The long-running racing sim is set for its seventh main iteration. Gran Turismo 7 looks to bring the tweaked gameplay mechanics from GT Sport, while bolstering its graphical prowess, thanks to the power of PS5 and its SSD. 
No word yet on a release date, but was earmarked for the second half of 2021 in some marketing videos. Expect to hear more from this beloved franchise later in the year.
Horizon Forbidden West
Release Date: Q2 2021 (TBC)   Platform: PlayStation 5, PlayStation 4
Guerrilla Games open-world Horizon Zero Dawn, was a stand out title for the studio. Better known for the Killzone franchise, they crafted an engaging world with solid gameplay and interesting plot.  
Its sequel is set to expand the world, seeing you travel to the west coast of America and explore San Francisco. With new areas, enemies and weapons to discover and master, I can't wait to see more of Aloy.
Horizon Forbidden West will come to PS5 & PS4 later this year, likely a Summer 2021 release.
Third Party or Timed Exclusives
Final Fantasy XVI 2021
Release Date: TBC   Platform: PlayStation 5
The next installment to Final Fantasy was revealed at PlayStation's September event in 2020. With a hefty trailer of cutscenes and gameplay, development has been well underway. With Naoki Yoshida producing and directed by Hiroshi Takai, the pair were key figures in the long-running online Final Fantasy XIV.
Set in the fantasy world of Valisthea, Final Fantasy XVI looks to have all the major elements from the series. Square Enix have said, that there will; be more information released in early 2021. Hopefully the title will release in the second half of 2021, exclusively for PlayStation 5.
GhostWire: Tokyo
Release Date: October (TBC)   Platform: PlayStation 5, PC
This first-person action-adventure, comes from Tango Gameworks, best known for The Evil Within series. It will be set in a ghost filled Tokyo and sees you use psychic and paranormal powers, along with melee combat. Sure to have a hint of horror, this looks like a mind-bending experience.
Likely release is said to be October 2021, as a timed exclusive for PlayStation 5 and PC.
Goodbye Volcano High
Release Date: TBC   Platform: PlayStation 5, PlayStation 4, PC
Little is known about this indie title, but looks to be a coming of age story, with the impending end of high-school and the inevitable journey through life after graduation.
It will be a timed exclusive for PS5, PS4 and PC.
JETT: The Far Shore
Release Date: TBC   Platform: PlayStation 5, PlayStation 4, PC
Another indie title announced at the PS5 Future of Gaming event last September. Go on an interstellar trip to carve out a future for a people haunted by oblivion in this cinematic action-adventure.
No relase date just yet, but it will be coming to PS5, PS4 and PC.
Kena: Bridge of Spirits
Release Date: March (TBC)   Platform: PlayStation 5, PlayStation 4, PC
This story-driven action-adventure sees you explore a stunning looking environment, mixed with fast-paced combat. Players find and grow a team of charming spirit companions called the Rot, enhancing their abilities and creating new ways to manipulate the environment.
Originally scheduled for 2020, it was pushed to 2021 and has a rough launch in March. More details should come in the next few weeks on a confirmed release date. 
Little Devil Inside
Release Date: TBC   Platform: PlayStation 5, PlayStation 4, PC
Little Devil Inside is an action-adventure RPG with survival elements set in an atmospheric, semi-open world. The trailer reveals new scenes, monsters and glimpses of gameplay in various environments."
Oddworld: Soulstorm
Release Date: Spring 2021 (TBC)   Platform: PlayStation 5, PlayStation 4, PC
The classic Oddworld gets a much anticipated sequel in 2021. The action platformer is set to have an engaging story, mixed with puzzle mechanics. 
It will be a timed exclusive to console and will come to PS5, PS4 and PC this spring.
Solar Ash
Release Date: TBC   Platform: PlayStation 5, PlayStation 4, PC
Solar Ash is the second game from Heart Machine, the studio lead by director Alx Preston and the creators of the award winning 2016 game Hyper Light Drifter.
Players will find a surreal, vivid and highly stylized world filled with wild high-speed traversal, endearing characters, and massive enemy encounters. The Void is calling…
Coming as a timed exclusive to PS5, PS4 and PC.
Stray
Release Date: October (TBC)   Platform: PlayStation 5, PlayStation 4, PC
Stray is a third-person cat adventure game set amidst the detailed neon-lit alleys of a decaying cybercity and the murky environments of its seedy underbelly.  See the world through the eyes of a stray and interact with the environment in playful ways. 
Stray is developed by BlueTwelve Studio, a small team from south of France mostly made of cats and a handful of humans.
It will be a timed exclusive fro PlayStation 5, PS4 and PC. Expect a release in October 2021.
So what are you looking forward to picking up? Although consoles were hard to get in 2020, there will be plenty of units set to release over the year. If we get any official news, we'll be sure to share. 
Keep an eye on the PS Blog and PlayStation Ireland's social channels for more information on consoles, events, upcoming PlayStation exclusives and other game releases. Check them out of Facebook, Instagram or Twitter.