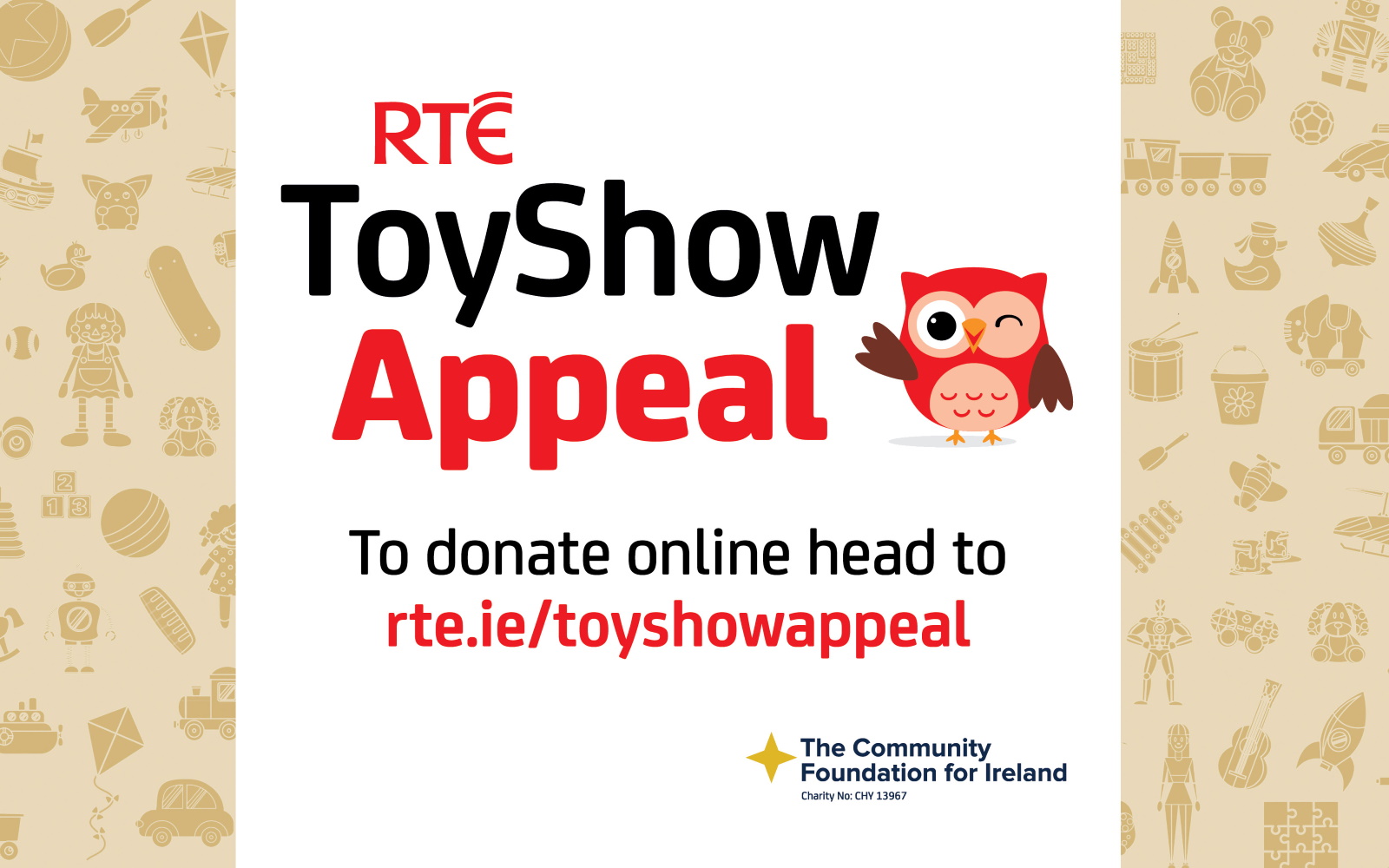 Over €6 Million Raised For Toy Show Appeal, As The Late Late Toy Show Was A Big Hit With People
A national institution for over 45 years, The Late Late Toy Show has become a family tradition for most. Despite many claiming they don't tune in, the Toy Show always lands on the top of the ratings, annually being the most watched programmes of the year. Thanks to social media and streaming technology, The Late Late Toy Show can be enjoyed across the world, trending not only in Ireland but globally this year. So how did this year's show go? Well here are the highlights.
The Prep
Whether you were a kid or an adult, there were many excited people in the build-up for the Toy Show. Christmas trees were up early, the families gathered, the pajamas were worn and treats were bought, as people waited for the start of the show to begin. Artist TwistedDoodles sums up the life cycle of the show. 
Growing up watching the Toy Show #LateLateToyShow pic.twitter.com/z1fper3G0c

— TwistedDoodles (@twisteddoodles) November 27, 2020
In some some cases, it was the adults who were more excited, #ToyShowForever
Hopped into my local London supermarket and three Irish people in their twenties were excitedly buying wine and snacks to settle in for the highlight of the week: The Late Late Toy Show. I waved my wine and snacks and shouted TOY SHOW FOREVER and now we're friends. #toyshow

— Gráinne Clear (@GrainneClear) November 27, 2020
The Real Stars Of The Show
It may be called the Toy Show, but it's normally the participating kids that are the real stars to the show. This year was no different, as there were some fantastic live performances, energetic showcases and heartwarming stories from the children. They were the real emphasis of the show. The passion for their favorite subject, their dreams for the future and their bravery in the face of adversary, was clear to be seen. Here are just a few of the highlights.
The powerful story from Saoire Ruane, as she got to fulfill her three dreams on The Late Late Toy Show. This comes after her life changing diagnoses.
To space loving Adam, a shiny star on the show, who gave everyone a virtual hug! He got the notice of some very special people afterwards.
Adam – I've been lucky enough to CAPCOM many spaceflights. We should talk space together. Take care, be good – Chris@RTELateLateShow https://t.co/XacYA9ncKT

— Chris Hadfield (@Cmdr_Hadfield) November 28, 2020
Adam, you're a star 🌟✨ @rte #LateLateToyShow …. I would love to meet you sometime and hear all about your love of #space 🚀 https://t.co/hjM50vMva5

— Dr. Norah Patten 🚀 (@SpaceNorah) November 28, 2020
Per aspera ad Astra, Adam. Keep looking to the stars young man. In the meantime, we'll reach out to our friends @NASA & see if they can't help bring your dreams a little closer. pic.twitter.com/DqRZwdziDQ

— Embassy of Ireland USA (@IrelandEmbUSA) November 27, 2020
Professional throughout, as young musician Michael Moloney didn't even miss a beat, when joined by Dermot Kennedy.
That look. That smile.

WHAT A PRO!

And @DermotKennedy ain't bad either 😍#LateLateToyShow pic.twitter.com/4VxryxN5Uu

— RTÉ 2FM (@RTE2fm) November 28, 2020
Toy Show Appeal
Inspired by the brave children across Ireland, RTÉ set up the Toy Show Appeal with The Community Foundation. Thanks to the goodwill and generosity of the public, over €5 million was raised during the show alone. It was announced via The Community Foundation, that the figure stands at over €6 million. You can still donate to the Toy Show Appeal online for another two weeks. Fifty per cent of the monies raised will be shared among three charity partners and the remaining fifty per cent will be distributed as grants to other children's charities.
Oh F. . .anta
Everyone slips up now and then on live TV. Even Ryan himself knew it. But many found a laugh out of the spilled Fanta moment. Need we say more?
This is why we LOVE #LateLateToyShow…

ANYTHING can happen.

B*LLOCKS!

🤣🤣🤣🤣 pic.twitter.com/AknPXLXQZE

— RTÉ 2FM (@RTE2fm) November 27, 2020
Whoever shook that well done, only one place that stuff deserves to be – on the floor.
Keep the bits in #cluborange #supportlocal #latelate #latelatetoyshow

— Club Orange (@cluborange) November 27, 2020
The Response
Well, needless to say, the show was a hit across the globe. It trended on top in Ireland on Twitter. An outpouring of good will, kind messages and support for everyone involved, came from people who tuned in. It connected many and put a smile (and a tear) on faces throughout the programme. You'd want to be made of stone, not to have enjoyed some aspect of the show. If you have nothing to do today, check out the reaction online. 
Right so standby…I am only going to say this once and remember it does NOT mean my war on RTÉ's War On Craic is over but I hereby declare that after last nights #LateLateToyShow I'm going straight down to the Post Office to buy a TV License*.

*A Black & White One Obvs pic.twitter.com/TVgpYhjsZ2

— Dustin The Turkey (@DustinOfficial) November 28, 2020
You can rewatch the show via the RTÉ Player or repeated on RTÉ One at 3.25pm 28th November. The Toy Show Appeal is open online for two more weeks too, if you want to donate to it still.