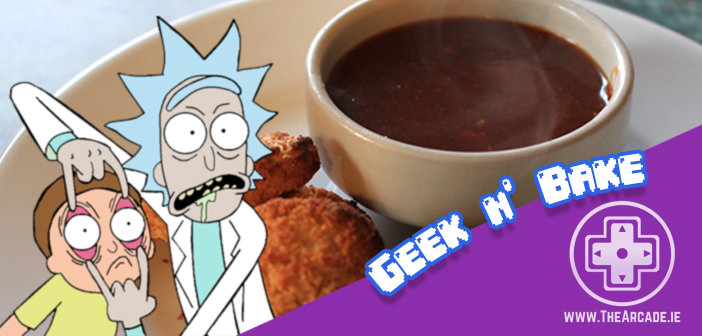 Rick And Morty Szechaun Sauce – Geek N' Bake
Until the almighty McDs gives in to internet pressure; the world must wait for the return of the infamous szechaun sauce. If you have no idea what the hell I'm talking about and why the hell I'm raving about a Chinese dish; then we need to talk! The recent return of Rick and Morty has also seen fans become obsessed with this particular sauce. Released as part of a promotional campaign for the Disney Mulan movie, it has never returned. Without going into detail and keeping this spoiler free, Rick needs it bad! If you can't wait then fear not I've got a recipe for you: Rick And Morty Szechaun Sauce perfect for dipping practically everything into!
DIFFICULTY
As easy as *burp* pie!
TIME
15min prep
20min cooking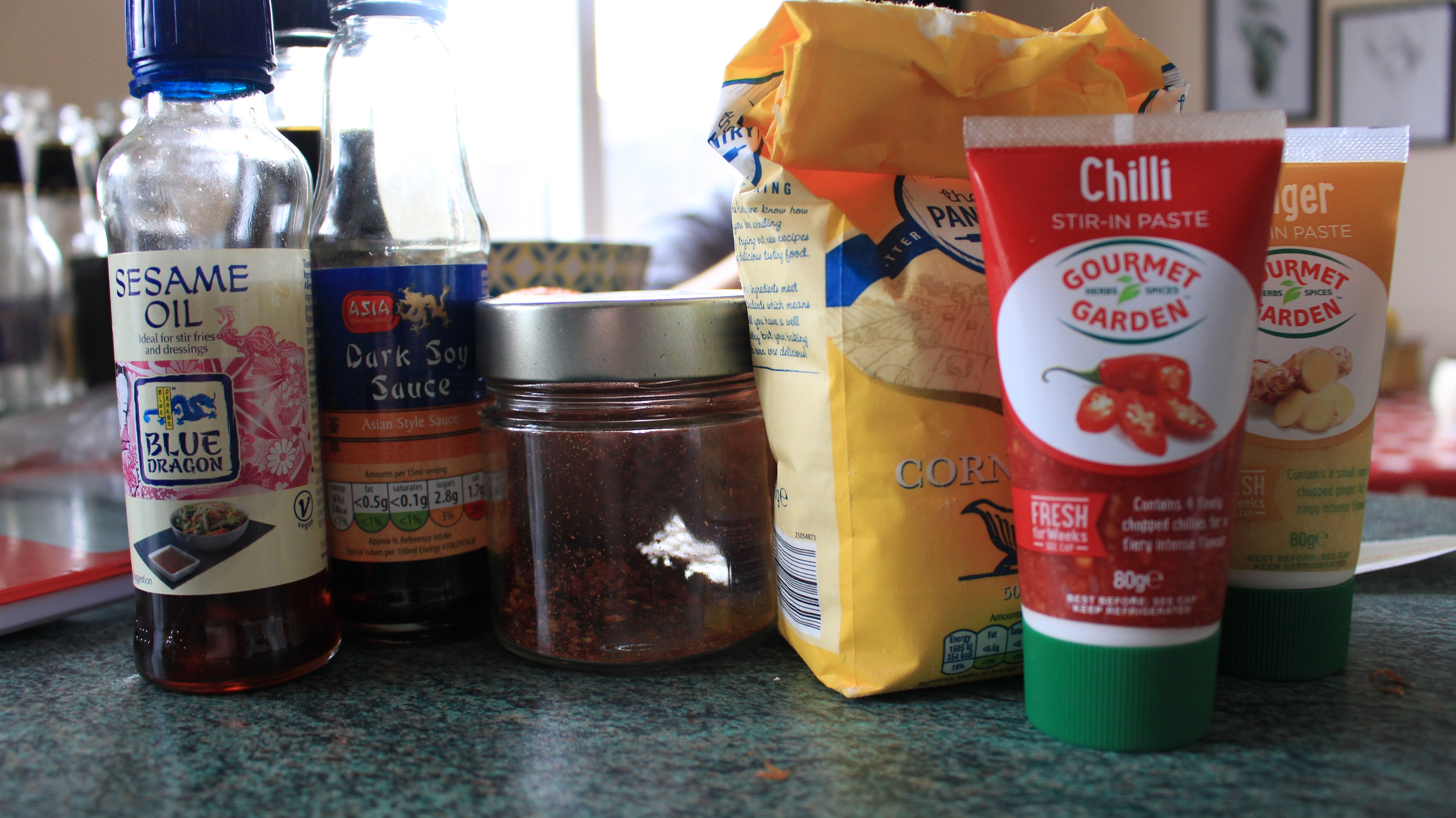 INGREDIENTS
2 tsp chili paste, 1 tsp chili flakes, 2 tsp tomato paste, 1 tsp ketchup, 2 tsp vinegar, 1 tbsp crushed garlic, 1 tbsp ginger, 60ml light soy sauce, 60ml dark soy sauce, 2 tsp sesame oil, 2 tsp light brown sugar, 60ml hot water, 2 tsp corn flour, 250ml cold water, 1 finely chopped medium onion.
PROCESS – STAGE 1
That looks like a huge amount of ingredients doesn't it? Well this is science Morty and in science you need to break a few eggs; there are no eggs in this recipe! So chilis, you need to break a few chilis! Don't get all flustered looking at it all this is super simple, so simple even a Gerry couldn't f**k it up… well okay maybe Gerry could!
Start by combining you chili paste, chili flakes, tomato paste, ketchup and vinegar. Mix them together in a bowl before adding your 60ml of hot water. Stir to combine and then set aside to cool. If you like food so hot it melts your eyeballs then feel free to add some extra chili flakes. Using the above volumes gives the sauce a nice kick and a warm aftertaste but it won't blow your head off! For those with a more delicate palate feel free to omit the the flakes altogether!
PROCESS – STAGE 2
In a bigger bowl, add your crushed garlic and ginger to the sesame oil and stir. Pour in each of your soy sauces and then stir again to combine. Lastly add the brown sugar and mix until it's pretty much dissolved.
Next you'll need to add your finely chopped onion and then your cooled chili paste mixture. Stir it all together then transfer to a small but deep sauce pan and let it simmer away. I swear at this point you'll want to dip your fingers in and just gnaw them down to the bones. The sauce is incredibly aromatic and totally worth self-cannibalising!
PROCESS – STAGE 3
As it stands, you could just leave the sauce as such and after a 10 minutes simmering, transfer to a food processor , give it a whirl and serve as is. Ever the perfectionist we've one more thing to do!
We're going to go a little step further to get the perfect dipping sauce! Pass this blitzed mixture through a fine sieve, allowing the liquid to pass while collecting the left over onion, flakes and so on. Set both aside – waste not want not!
Measure out 250ml of cold water and two heaped tsp of cornflour. Combine these together in a small saucepan and bring to the boil slowly. Make sure you stir this continuously to avoid lumps forming. Once it starts to bubble reduce your heat to a low simmer and stir until it's a thick gloopy consistency. Take the strained sauce and pop it back into the sauce pan on a low heat, slowly add the liquid from your other saucepan to the sauce. Stir gently to blend together and you're done!
SERVE
Got a party or a game night coming up? Serve your f**king delicious szechaun sauce with some chicken nuggets or filled pastry puffs and blow your friends minds. They'll think you crossed space and time to bring them the holy grail of sauces back!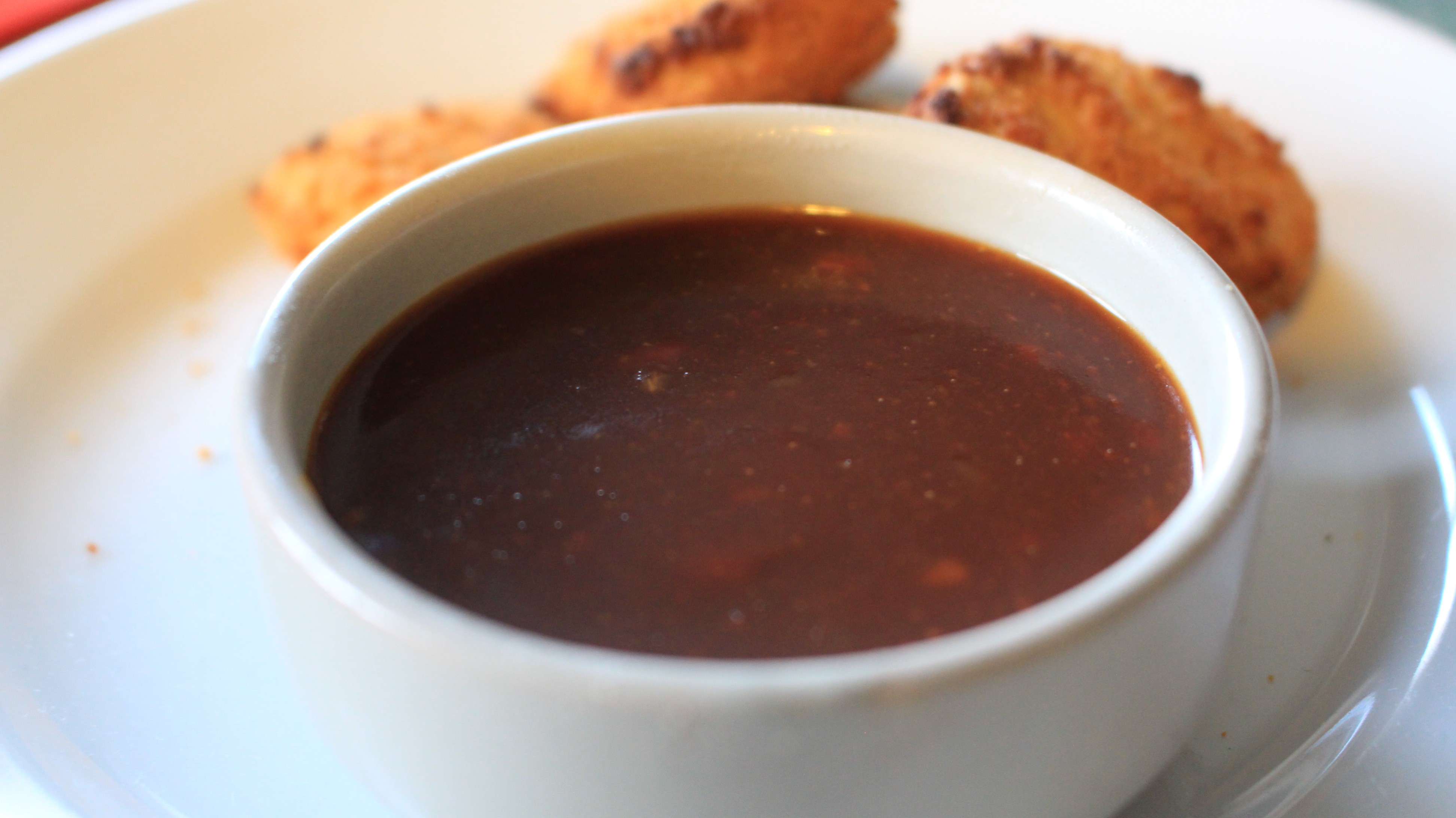 But what? Don't we have some leftovers to take care of? Hidden Secret Stage – Bonus Recipe
Editor-in-Chief, part-time super villain and hoarder of cats. If you can't find me writing, I'm probably in the kitchen!