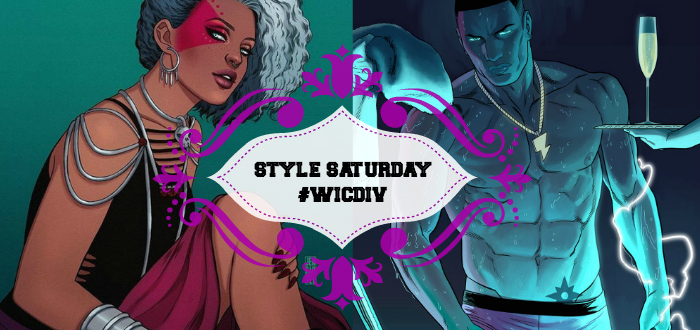 The Wicked & The Divine – Style Saturday
The Wicked & The Divine is one of my latest obsessions. A comic run helmed by the writings of Kieron Gillen and illustrations of Jamie McKelvie (the duo that also did one of my favourite Young Avengers runs). The Wicked & The Divine follows the story of Laura Wilson as she comes in contact with some reincarnated deities, each with their own unique gifts, fame and just two years left to live.
For today's Style Saturday we're taking a look at the stylings of two amazing characters from the series, Persephone and Baal . Be warned, however, as the following may be deemed spoilers if you have not been keeping up with your reading.
PERSEPHONE
One of the newer Gods to grace the pages of Wicdiv. Persephone's feisty attitude, rebellious nature and dramatic appearance make her an ideal character for today's Style Saturday.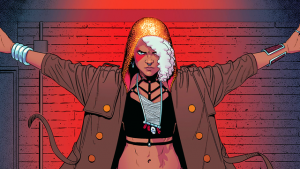 Persephone's style as seen above, oozes confidence. Her hair is a turquoise colour with a white streak, and she wears a red triangle of face paint over her right eye. Her clothes consist of a longer trench coat, wrist wear on both wrists, a black cropped top and a woven necklace. Let's take a look below at how I've pulled together some of the main style points for Persephone.
We've got the all important trench jacket which is a pretty spot-on match to Persephone's, and is really affordable tool We've also got some wrist-wear drawing from the colours of Persephone's. While the necklace is quite a statement piece for Persephone, I wanted to keep the woven theme, and went for this dream catcher necklace which is a more wearable alternative and ties the outfit together.
BAAL
Another of the deities that radiates confidence is Baal. His MO is power, and although hot headed at times, he is a born leader. Baal wields powers of electricity.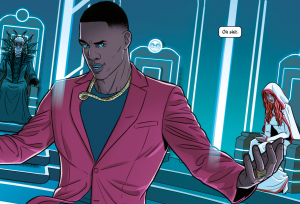 I have taken some creative liberty when translating Baal's style to real fashion. Baal's style changes a lot in the series, and he jumps the whole spectrum from red suits, to white tees. Toning it down, I've chosen to stick with the red jeans and paired it with his teal t-shirt. Baal also loves a pop of bling, so we've kept his gold chain and sun glasses to complete the look.
Which of these looks did you like the most? Be sure to let us know in the comments section below whose style you want to see translated next!
If you are craving even more #WicDiv style, Fernanda's done an incredible job recreating the looks of the Morrigan, so be sure to check that out!