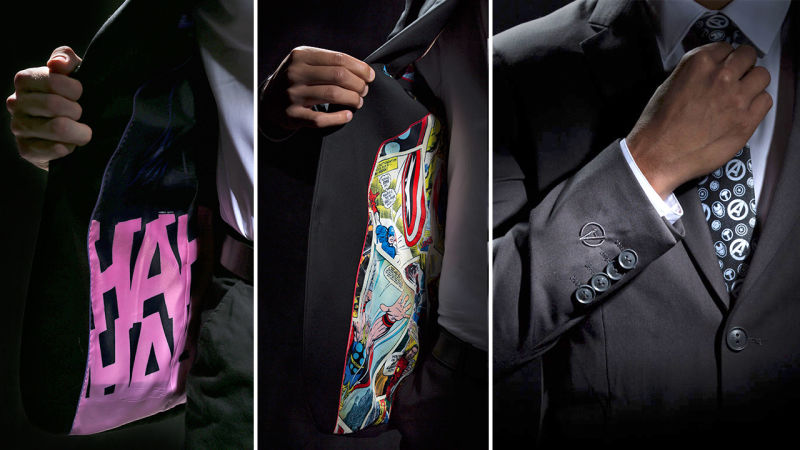 Full Line Of Marvel And DC Business Suits Revealed
Fun.com has partnered with Marvel and DC to release a line of business suits featuring comic book prints! Now you can look as classy as Tony Stark while repping your favourite characters and going about your work day.
"Secret Identity" Business Suits
The "Secret Identity" business suit line is perfect for any fan who wants to show off their fandom, but still fit in to the corporate style. The print is hidden away on the interior lining and the tie, so you can wear them to work without violating any of your company dress codes. These suits include the Marvel comic strip design, the Avengers "A" logo, the Justice League logo, Captain America, The Joker and the Incredible Hulk.
"Alter Ego" Suits
The "Alter Ego" line is not one bit subtle. Definitely not suited to the workplace (unless your boss shows up in one too!) but we can guarantee we'll see fans rocking these Batman, Iron Man and Superman suits at weddings or special events! The Joker and Riddler "Authentic' suits are full on cosplays, so we are sure to spot a few at conventions too.
Kids Suits
Of course, to top it all off, they just had to kill us with cuteness. If you have kids of your own, you will be delighted to know there are options for them too. Check out these adorable children's "Secret Identity" suits, which include Batman, Spider-Man and Iron Man!
At the moment, these awesome suits are on sale to celebrate their launch. The children's range is currently at $169.99, the adult range is at $249.99 and the full Joker suit is $349.99. The non-sale prices are around $50 more expensive. You can pre-order them over at at Fun.com.
Which of these suits is your favourite? Will you be pre-ordering one? Let us know in the comments!