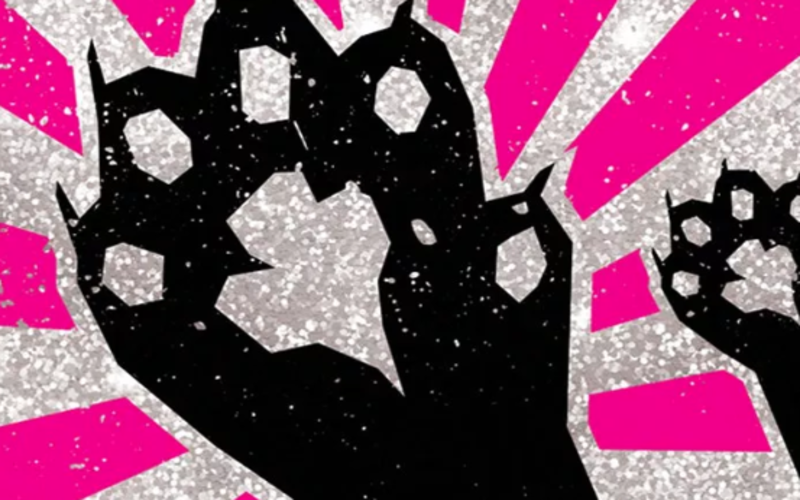 Pull List – Feminist Cats And Russian Monks
I feel like every time I've had to write about my current pull list, I've been months behind on my reading. Usually I end up grabbing a few new books at random and using it as an opportunity to read something I otherwise wouldn't have.
I decided to check out a couple of books this week that I wasn't initially interested in, Man-Eaters and Green Monk. I wasn't totally sold on the premise of the first and the other was technically the second book of a story I hadn't yet red. Anyway, I gave them both a go!
Man-Eaters #1 – Image Comics
Story – Chelsea Cain
Art – Kate Niemczyk
Colours – Rachelle Rosenberg
Letters – Joe Caramagna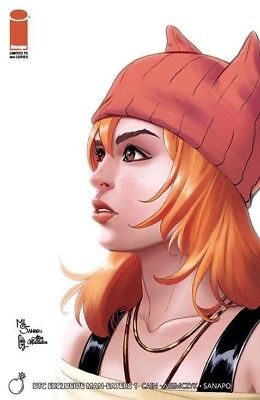 The story is about an outbreak of a virus and once a month infected girls are turned into rabid cats. They then murder people by the bag-load. I think it's a metaphor, but I couldn't quite put my finger on it.I wasn't totally sold on the blurb, but I was curious due to the team attached to it.
Niemczyk's art style suits the story fairly well. It's chunky and smooth, though it does feel rigid in individual frames. Characters in motion all looked very static to me and it was an unfortunate detractor for a book with such a punchy tone. Apart from that, the layout and design has a nice flow and in part makes up for individual static images. Whatever weaknesses were present for Niemczyk's art are easy to ignore thanks to Rosenberg's phenomenal job on colours. There's a nice shift from vivid to pastel shades with a shot of pink on damn near every page. The in-universe, sensationalist ads interspersed between pages were also a very nice touch.
The book opens with a fairly clear "F You" to Cain's previous employers at "Not DC". There's a whole story there and you can check it out yourself if you need to get angry about something. Man-Eaters continues along this vein as Cain really gets to let loose on the patriarchy. Her writing is ferocious and cutting. It's in no way subtle. Nor is it meant to be. But that's not to say it isn't clever or creative. This first issue does a good job of setting up the universe while clipping along with snappy dialogue.
If you're a fan of Kelly Sure DeConnick's Bitch Planet, or just need to read something that'll help you vent some anger at the general state of things, you'll be right at home here.
Green Monk: Blood of the Martyrs – Image Comics
Story & Art – Brandon Dayton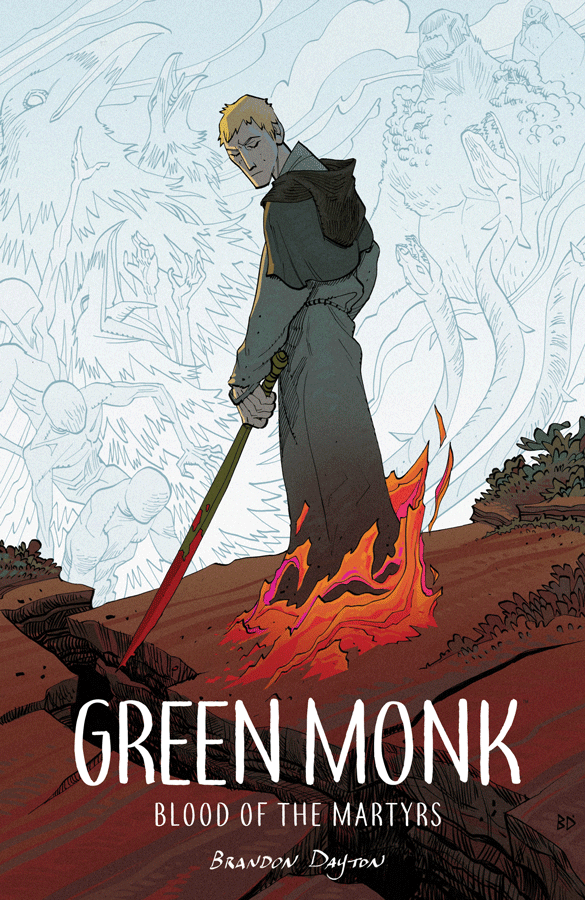 Green Monk follows the story of a boy in an ancient version of fantasy Russia. His quiet life living with monks is disrupted when he begins having strange dreams. It's a standard enough premise, but Dayton delivers it well.
Green Monk could be described as a mix between Samurai Jack and Secret of Kells. The dialogue is sparse, which isn't a problem as the art tells the story on its own. There are lots of landscape shots, gradually closing in on a scene. It's a technique I always love, but it can be hard to get away with in a monthly release. Green Monk not only manages to get away with it, thanks to it being a longer OGN, it also makes great use of it. I find it helps to really set the pace. Rather than jumping from dialogue box to dialogue box, you're forced to slow down and take in what's happening.
The colours are fairly muted throughout the book. Our monk has a simple – even dreary, life – and plenty of it is bleak. The scenes of real high fantasy are made to feel special since Dayton expands his palette for them. Not only that, but the pacing of the panels and page design picks up, flowing together into some beautiful choreography.
The version of Green Monk I read was digital, but I'll almost definitely be picking up a physical copy, hardback if possible. It's an artful book, something that'd be nice to just pick up and flick through every once in a while. It's hard to describe it as 'comfy', but it'll suck you right in for an evening and this is the perfect time of year for it.
What comics are you reading this week? What do you recommend? Let us know in the comments!