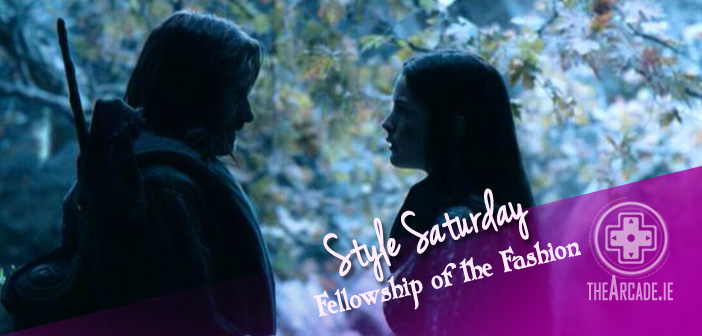 Style Saturday: Fellowship Of The Fashion
While we wait for Winter it's important to remember that Autumn is basically it's rehearsal. Weather as changeable as Gandalf's mood, winds harsher than those of Redhorn Pass. Layers and function are vital for this season, interchangeable layers that can transform a casual look to professional and vice versa all while fighting back the cold.
Where better to pull inspiration from this week than the Lord of the Rings and Elf/Human couple Arwen and Aragorn.
Arwen
Arwen always looked amazing and regal whenever she graced the screen. She exhudes that grace and charm all elves seem to be born with. Typically she was seen in gowns but her riding costume took my breath away. The coat in itself was elegant and the combination of riding trousers and boots added a functionality to it that made the scene she wore it in more intense. That outfit screamed business.
The item that made the outfit in the movie was her coat so I wanted something stylish but a bit edgier. I went with a grey asymmetric coat with PU (synthetic leather) covered edges. While we don't get to see what she's wearing beneath the coat, I went for basic long sleeved top in a very similar same shade of grey. As the coat covers quite a lot of her trousers I went for a lighter shade of grey for the jeans. For the final touches I added some black lace-up knee high boots and the Evenstar Silver pendant necklace.
Coat €23 |Top €11 | Jeans €43 | Boots €26 | Necklace €3.73
Aragorn
Aragorn is every bit the dark and mysterious stranger we were warned about. The more we got to know him though the more warm and kind you see he really is as a character. Nevertheless his enigmatic look is down to his outfit, wearing heavy and dark layers to hide his appearance and cloak his presence.
Aragon wears dark colours with accents of leather, typical of any ranger. I thought layering different black materials would be the best way to go. To start off with I went with some regular fit skinny jeans in black. Next I went for black v-neck long sleeved tshirt. I went for a leather jacket as outer wear. Outerwear would have more than likely been leather as it would keep the rain out and protect from the elements better. I went for a thigh length pleather coat for the jacket. To top off the look I chose a belt with a distinct buckle and some ankle boots. Sword is totally optional and also probably very illegal!
Coat €47 |Shirt €15 | Jeans €20 | Shoes €31 | Buckle €25 | Belt €15