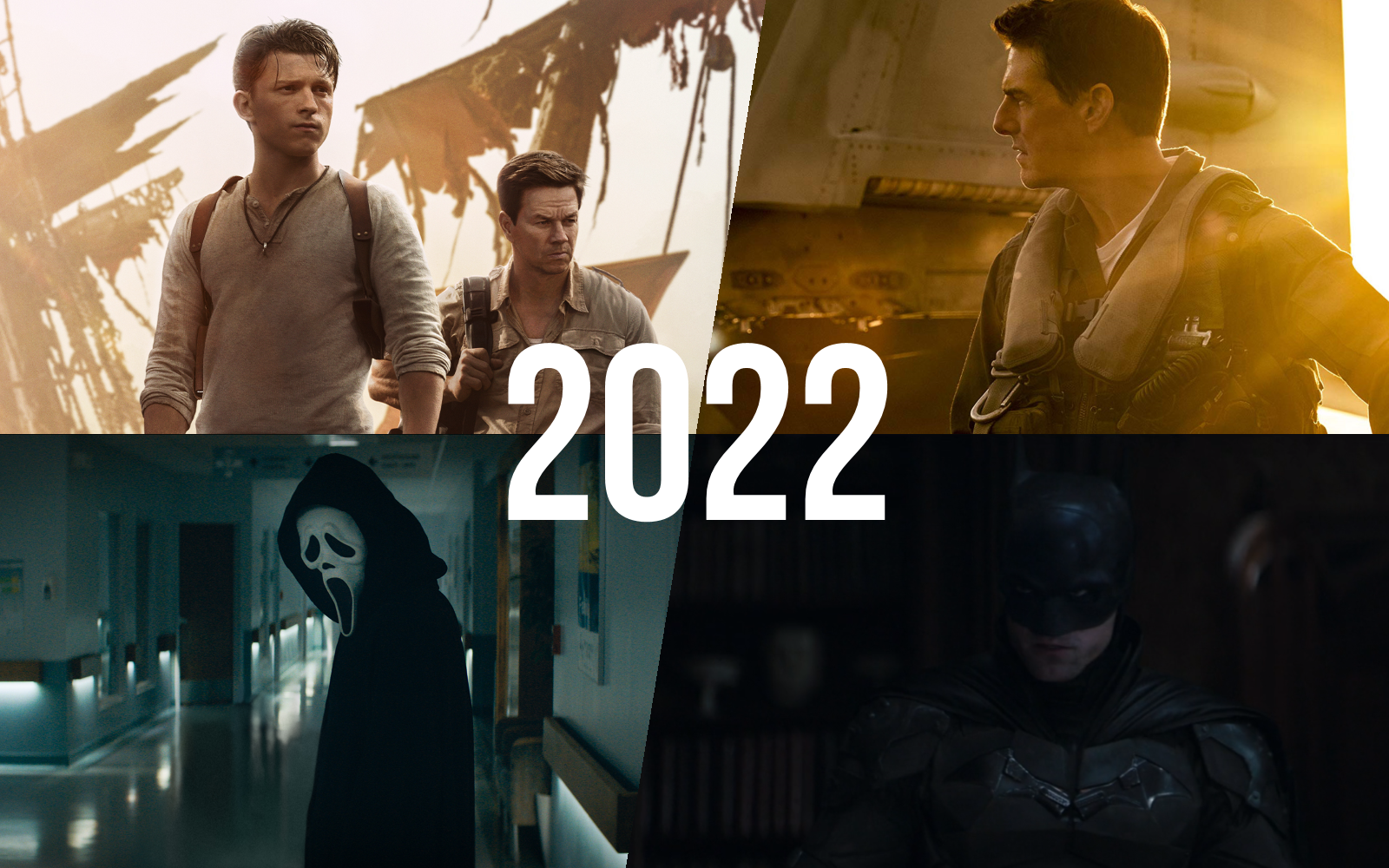 22 Movies Releasing in 2022
We had some great releases in 2021, but while some planned movies missed their initial release dates, it allows 2022 to be even more stacked. With 3 heavy hitters in the MCU scheduled, some fresh original titles debuting and even some classic franchises getting a new entry, here are just 22 movies releasing in 2022.
Scream
Release Date: January 14th
The fifth installment of the slasher franchise, this entry is a direct sequel to and relaunch of the series. It's been 25 years after the gruesome murders in Woodsboro, but now a new killer has donned the Ghostface mask and targets new victims. Series veterans Neve Campbel, Courteney Cox, David Arquette & Roger L. Jackson return, while this is the first in the series not to be directed by the late Wes Craven.
Death on the Nile
Release Date: Feb 10th
Based on the Agatha Christie novel of the same name, Kenneth Brannagh returns as Detective Hercule Poirot. Aboard a cruise on the Nile, the trip gets disturbed when a passenger gets murdered. It is up to Poirot to solve the case and catch the culprit.
Uncharted
Release Date: Feb 18th
Based on the popular game series of the same name, Tom Holland stars as Nathan Drake, a treasure hunter and adventurer. Teaming up with Mark Wahlberg's Victor "Sully" Sullivan, the pair are on the hunt for a long-lost fortune.Expect some high-octane action scenes, as Drake and Sully go up against Antonio Banderas in the race to find this great wealth. Uncharted takes inspiration from several movies, namely Indiana Jones, but will this be a good game to movie adaption?
Jackass Forever
Release Date: March 4th
The gang are back for some over the top stunts, pranks and wicked humour. Joined by some fresh faces, expect the team to make Jackasses of themselves for your entertainment. 
The Batman
Release Date:  March 4th
A new iteration of The Dark Knight by Matt Reeves, sees Robert Pattinson putting on the cowl of Batman. Set during his early years of his crime fighting career, Batman comes up against some The Riddler. Tasked with solving cryptic clues and gruesome murders, Batman will take on underground criminals while intertwining with Gotham PD. The film is set to be a visceral action mystery, as Batman may discover more than just who The Riddler is.
Turning Red
Release Date: March 11th
This Pixar animated movie is a coming-of-age comedy, where a young girl is torn between staying her mother's dutiful daughter and the chaos of adolescence. If that wasn't enough, whenever she gets too excited or stressed, she transforms into a giant red panda. Originally set for a global theatrical release, Turning Red will be hitting Disney+ in March.
Morbius
Release Date: April 1st
Yet another delay has stricken this Sony owed Marvel property. Starring Jared Leto, Dr. Michael Morbius tries a dangerous cure for is deadly blood disease, which afflicts him with a form of vampirism. The multiple delays have let interest linger, but this potentially could crossover into the MCU, based on some trailers. Could this be a sleeper hit, or should it get a stake to the heart?
Sonic The Hedgehog 2
Release Date: April 6th
The first entry was a surprisingly entertaining game based movie. The sequel looks to add even more Sonic characters to the mayhem. Tails (voiced by Colleen O'Shaughnessey) joins Sonic to take on Knuckles (voiced by Idris Elba). Jim Carrey will also return as Dr. Robotnik.
Fantastic Beasts: The Secrets of Dumbledore
Release Date: April 15th
The third movie in this series, is set in the 1930s following the Wizarding World's involvement in World War II. The cast includes Eddie Redmayne, Jude Law, Ezra Miller, Dan Fogler, Alison Sudol, Callum Turner, Jessica Williams, Katherine Waterston, while Mads Mikkelsen replaces Depp in the role of Grindelwald.
Doctor Strange in the Multiverse of Madness
Release Date: May 6th
If you have been glued to everything MCU, we have gotten a glimpse at what this film could entail. With the multiverse explored in WandaVision, Loki and the recent No Way Home release, this Doctor Strange sequel could cross into weird new worlds, take on dangerous variants of characters and deal with world ending odds. Sam Raimi is in the directors chair, so expect elements of horror and thrilling tension.
Top Gun: Maverick
Release Date: May 27th
It's been over 25 years since Top Gun released. 2022 looks to be the year the sequel finally releases. After numerous delays and schedule shifts, could this long-awaited sequel pay off, or will it be shot out of the sky.
Jurassic World: Dominion
Release Date: June 10th
Big dinosaurs, Chris Pratt, an invasion of civilisation. You know the drill!
Lightyear
Release Date: June 17th
Ever wanted to know what person the Buzz Lightyear toy is based on? Well, Chris Evans plays the astronaut Buzz Lightyear, while Taika Waititi is also in the cast lineup. Produced by Pixar, it will look at Buzz as a young pilot trying to become a Space Ranger. 
Thor: Love and Thunder
Release Date: July 8th
The fourth solo outing for Chris Hemsworth's Thor, it will see Natalie Portman return as Jane Foster. Expect some otherworldly action and comedy, as Taika Waititi directs and co-writes this film. The cast is rounded out Christian Bale, Chris Pratt, Jaimie Alexander, Pom Klementieff, Dave Bautista, Karen Gillan, Sean Gunn, Jeff Goldblum, and Vin Diesel.
Black Adam
Release Date: July 29th
Dwayne Johnson stars as the titular Black Adam, who becomes the archenemy of the superhero Shazam, and shares his powers from the ancient wizard of the same name. Somewhat of an anti-hero, Black Adam has devastating power and will be a deadly foe to combat. Check out the brief teaser from last year's DC FanDome.


Mission: Impossible 7
Release Date: September 30th
Originally planned to film back-to-back with M:I8, production was slowed by the global pandemic. The films were split apart and the seventh iteration was pushed into a 2022 release. Expect some action packed espionage, as well as the inevitable Tom Cruise stunt sequence, when Ethan Hunt continues his search for the Apostles organisation.  
Spider-Man: Across the Spider-Verse (Part One)
Release Date: October 9th
Miles Morales will swing his way across the Multiverse to join forces with Gwen Stacy and a new team of Spider-People to face off with a villain more powerful than anything they have ever encountered. This visually stunning iteration of Spider-Man is the first of two parts and will add 
Halloween Ends
Release Date: October 14th
Said to be the finale of this recent 2018 sequel reboot trilogy, this looks to be the end of the Halloween story arc. Initially planned to be within the same timeline as the previous films, it will actually be set 4 years after the events of Halloween Kills. Will this be the end of Michael Myers? 
Evil Dead Rise
Release Date: October 21st
The fifth entry in the Evil Dead franchise, this supernatural horror film written and directed by Lee Cronin, and produced by Robert Tapert, with Sam Raimi and Bruce Campbell serving as executive producers. The film follows two sisters trying to survive and save their family from demonic creatures.
Black Panther: Wakanda Forever
Release Date: November 11th
Announced before the untimely passing of Chadwick Boseman, this Black Panther sequel received extensive rewrites. It was decided to not recast Boseman's character, so the plot and script are currently unknown. The film is set to return to production after a number of delays, but it is currently set for a November 11th, 2022 release. It is the third MCU film planned to release in 2022.
Aquaman and the Lost Kingdom
Release Date: December 16th
Jason Mamoa returns as the superhero from Atlantis, in this DC film sequel. According to Warner Bros.
When an ancient power is unleashed, Aquaman must forge an uneasy alliance with an unlikely ally to protect Atlantis, and the world, from irreversible devastation.
Avatar 2
Release Date: December 16th
James Cameron's Avatar was a technological marvel when it first released, as it was a showcase of motion capture and 3D film making. Being one of the highest grossing films ever, it was inevitable for a sequel to come. Not only that, but there are said to be 4 movies planned, with Avatar 2 set to finally release after a 13 year wait. 
Take a closer look at the colors and textures that help bring the Na'vi to life. #PatternsofPandora pic.twitter.com/LCOaCPkLoY

— Avatar (@officialavatar) January 7, 2022
Super Mario Bros.
Release Date: December 21 
Not much is known about the animated adaptation of the gaming icon plumber, but we do know it's being made by Illumination Studios. We also know the cast, which include  Chris Pratt, Anya Taylor-Joy, Charlie Day, Jack Black, Keegan-Michael Key, Seth Rogen. Be sure to keep an eye out in the coming months for more information.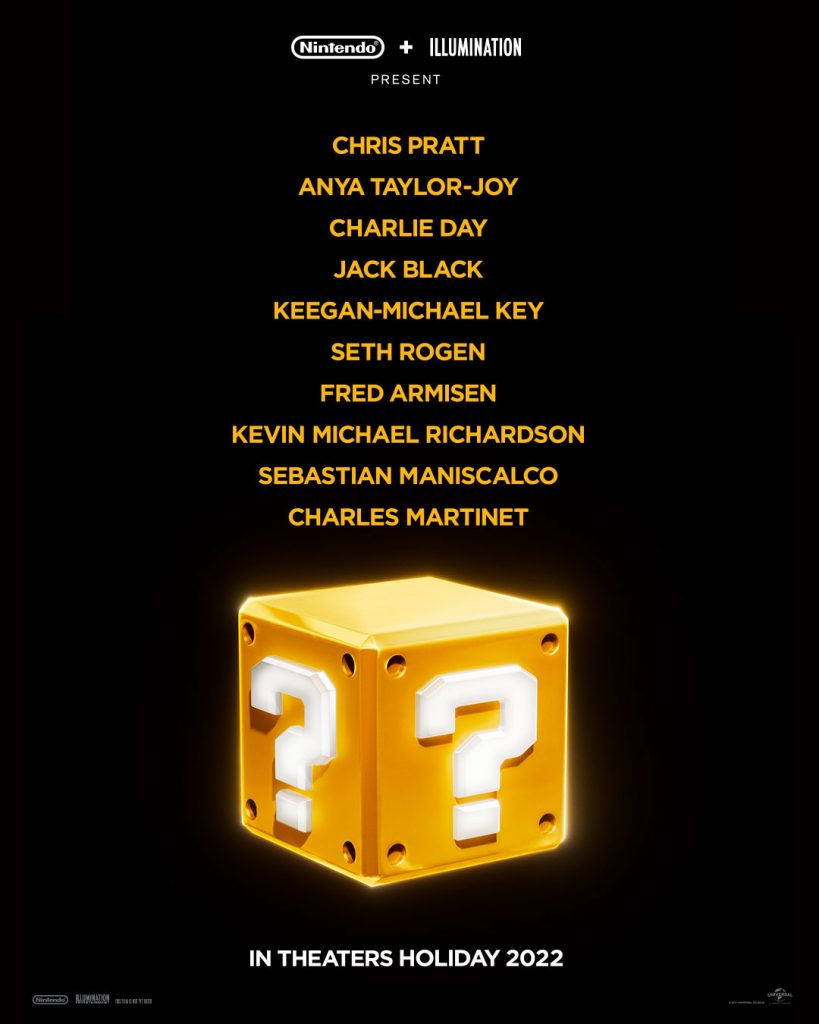 So there you have it. Just some of the biggest movies set to release in 2022. No doubt there will be even more announced throughout the year and maybe even some shuffling of dates. What are you looking forward to watching?