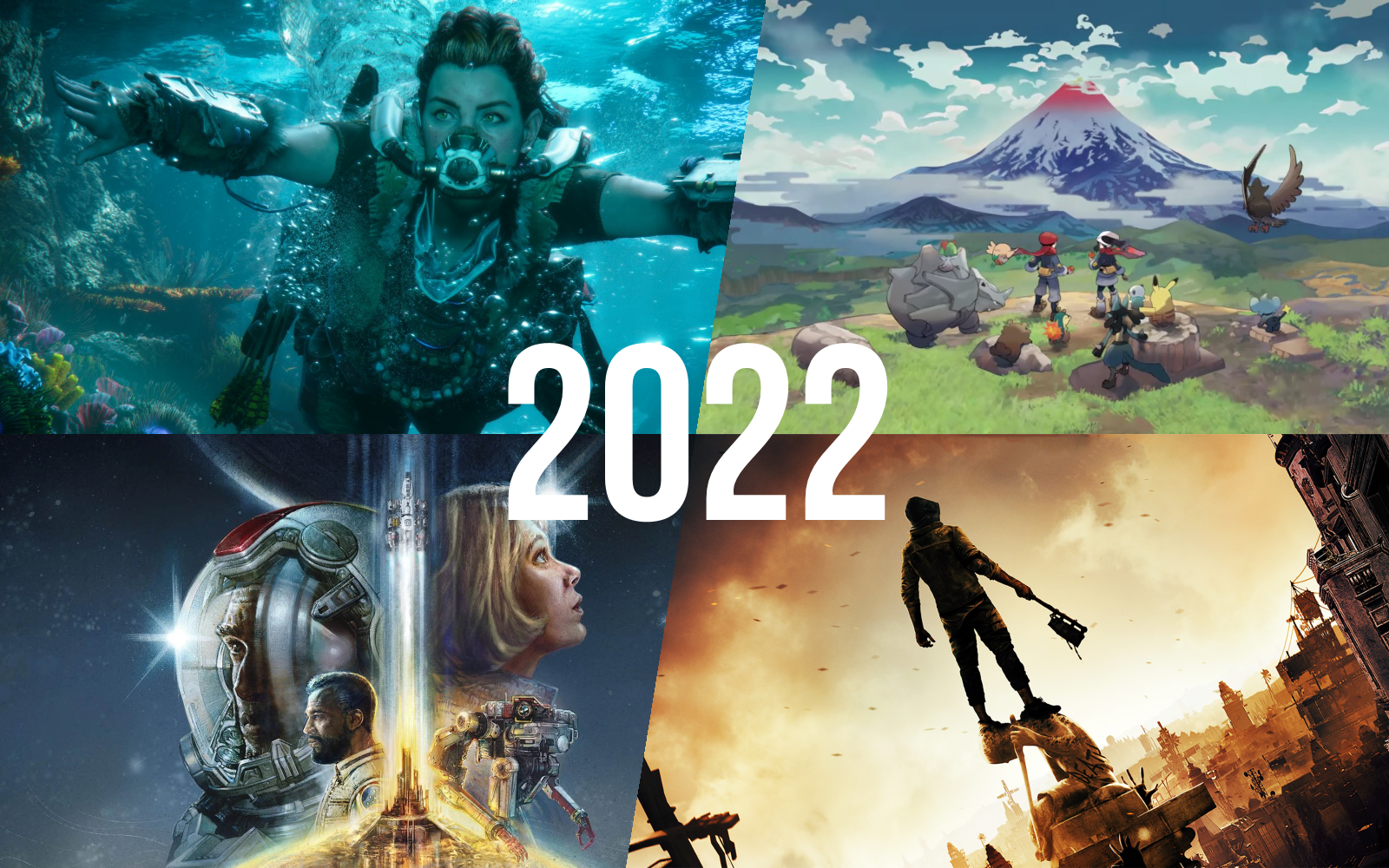 12 Games Coming In 2022
It's a new year, which means we're even closer to new games to play. Here are just 12 games coming in 2022. We have the release dates, platform and information below!
Pokémon Legends: Arceus
Release Date: Jan 28th   Platform: Switch
Set in an ancient era of the Pokémon world, Arceus is a slight twist to the standard Pokémon formula. Explore an open-world full of familiar and new variants of mythical creatures. 
You will now be able to spot and capture Pokémon without the need for battles, as you explore towns, large landscapes and discover new legendary creatures to battle and capture. Will you discover every secret in the Hisui region?
Dying Light 2 Stay Human
Release Date: Feb 4th   Platform: PlayStation 5, Xbox Series X/S, PlayStation 4, Xbox One, Switch, PC
First announced back at E3 in 2018, this ambitious apocalyptic open-world sequel is finally set for a February 4th release. The first-person action title, will see you mix parkour, melee combat and gunplay, as you fight to survive in this dangerous world. Filled with monsters, warring factions and deadly gangs, you'll have to watch your step, make tough decisions and explore a deadly world.
Sifu
Release Date: Feb 8th   Platform: PlayStation 5, PlayStation 4, PC
Your family have been killed and you are out for vengeance, in this beat 'em up, action-adventure. Master combat moves, chain together combos and use your environment to survive a barrage of enemies. If players die in Sifu, they will return slightly older and have more powerful attacks. The downside, you will have less health. Will you live long enough to find the assassins and piece together clues to their whereabouts?  
Horizon Forbidden West
Release Date: Feb 18th   Platform: PlayStation 5, PlayStation 4
Follow Aloy, as she journeys to West coast of a post-apocalyptic America, to discover more secrets of this world. Battle hulking robotic beasts, deadly factions and harsh new environments. From land and sea, the game will feature enhanced melee combat, revamped climbing mechanics and improved traversal options. 
Explore these new lands from February 18th, as Horizon Forbidden West comes to PS5 and PS4 consoles! 
Elden Ring
Release Date: Feb 25th  Platform: PlayStation 5, Xbox Series X/S, PlayStation 4, Xbox One, PC
The world of Elden Ring is only weeks away. It will see players take on another Souls-like adventure, crafted by Hidetaka Miyazaki and George R. R. Martin. Expect some tough encounters and nail-biting battles with devastating bosses. Prepare to die and retry this title a lot, when it releases on February 25th.
Gran Turismo 7
Release Date: March 4th   Platform: PlayStation 5, PlayStation 4
Gran Turismo is a stalwart of PlayStation consoles and it is finally time to get behind the wheel again for it's seventh mainline installment. A pinnacle and showcase of Sony's hardware, there will be over 400 models of cars to race and 90 tracks to compete on. 
With stunning visuals, realistic driving simulation and immense sound design, Gran Turismo 7 is poised to take pole position in driving titles for PlayStation this March.
Tunic
Release Date: March 16th   Platform: Xbox Series X/S, Xbox One, PC
This isometric Zelda-like action-adventure is finally coming to Xbox and PC in 2022. The colourful indie title, will see you explore the world, battle enemies, gain new abilities and solve puzzles to progress. Years in development, it certainly looks like a classic adventure title.
Tiny Tina's Wonderlands
Release Date: March 25th   Platform: PlayStation 5, Xbox Series X/S, PlayStation 4, Xbox One, PC
Gearbox are set to launch an action fantasy RPG spin-off of the popular Borderlands series. Inspired by successor to Borderlands 2: Tiny Tina's Assault on Dragon Keep, Tiny Tina will act as the dungeon master in a fantasy driven first-person shooter. Better yet, the world can change the on the fly, creating wild adventures for your clan. 
The game will star the voice talent of Ashly Burch (Tiny Tina), Andy Samberg (Valentine), Wanda Sykes (Frette) and Will Arnett (Dragon Lord). Prepare for your quest, as Tiny Tina's Wonderlands on March 25th, 2022.
S.T.A.L.K.E.R. 2: Heart of Chernobyl
Release Date: April 28th   Platform: Xbox Series X/S, PC
The long-awaited first-person shooter sequel sees you explore a vast open-world, which mixes horror aspects with scavenging and survival gameplay. The landscape is full of dangerous creatures, savage survivors and strange anomalies, changing the world mechanics and endangering the player. 
Currently, this title is a Microsoft exclusive and will be part of Xbox Game Pass at launch. There has been some indication that the game is only a timed exclusive and will come to other platforms later in 2022. 
Forspoken
Release Date: May 24th   Platform: PlayStation 5, PC
This new action RPG from Square Enix, will see Frey transported from her home in New York to the beautiful and cruel land of Athia. Searching for a way home, Frey must use her newfound magical abilities to traverse sprawling landscapes, battle monstrous creatures and defeat powerful matriarchs known as Tantas.
Saints Row
Release Date: Aug 23rd   Platform: PlayStation 5, Xbox Series X/S, PlayStation 4, Xbox One, PC
The Saints are back, with the over the top gameplay and wacky humour of Saints Row set to return in August 2022. Prepare for wild action, crazy weapons and huge open-world to play around in and destroy.
Announced in 2021, this Saints Row reboot was set to come in early 2022, but the extra time will hopefully make the title as fun and chaotic as the older titles.
Starfield
Release Date: Nov 11th   Platform: Xbox Series X|S, PC
Not much is known about this long-awaited new IP from Bethesda, but Starfield is set for a November release. This sci-fi themed RPG, will see you explore a vast world in outer space. Expect to interact with different factions, take on quests and battle strange creatures, with in-depth player customisation, various weapons and skills to upgrade.
Starfield is set to be an Xbox console exclusive, and will also be part of the Xbox Game Pass on day 1 of its release! There's sure to be plenty of new information in the coming months.
These are just a few of the games coming in 2022. But, there are loads of great titles still to be confirmed with dates. Games expected to come this year include God of War: Ragnarok, The Legend Of Zelda: Breath of the Wild 2, LEGO Star Wars: The Skywalker Saga, Suicide Squad: Kill The Justice League and Final Fantasy XVI. 
There's sure to be plenty of new announcements to come for all the major platforms, so be sure to keep an eye on The-Arcade.ie for more.