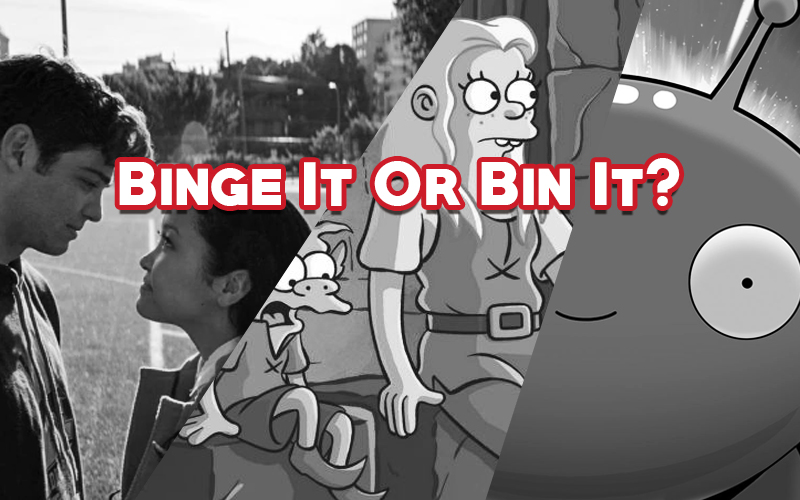 Binge It Or Bin It August 2018
We're big fans of Netflix at The Arcade. Some may even call the number of hours we devote to the platform obsessive, but we're owning it. Plop us on a couch in front of a 50 inch screen, provide us with a big bucket of popcorn and we're happy bunnies!
As we're self-described Netflix connoisseurs, we've decided to channel our obsession into something constructive. We're publishing a monthly column all about what you should and shouldn't watch. Your free time is precious (unlike ours) and there's no point wasting it.
As we all know, you can spend many an hour just browsing through Netflix instead of picking something and enjoying it. We're here to be the middleman, so keep an eye out for this column if you want recommendations on what to BINGE and what to BIN!
Without further rambling, here's what we watched for the past month:
To All The Boys I've Loved Before
If this charming movie tasted like anything, it'd be a strawberry macaroon. It's sweet, oh-so-girly and leaves you wanting more. It's based on the novel of the same name and its sequels by Jenny Han. The story follows Lara Jean, a teenage girl whose secret stash of love letters are exposed and wreak havoc on her love life. That's the bare bones of the tale. I don't want to give any more away because it really is an absolute delight and you should just let it happen to you.
Fall in love with these characters just like I did. I was genuinely surprised with the film because it embraces its tropes whole-heartedly, but it also has the odd twist in store. It has a bit of a slow start but bare with it, you'll love it!
Verdict: BINGE IT!
Disenchantment
This is one of those shows you look at sceptically with narrowed eyes as a low "Hmm…" escapes you. You'll be able to tell immediately that it's from the mind of Matt Groening, but that's probably what will give you pause. Before I watched it I was told that it wasn't at all like The Simpsons' brand of humour, but after watching the full first season, I have to disagree. It's not exactly the same, but if you're a Simpsons fan you'll definitely feel a little nostalgic at times.
Set in the medieval kingdom of Dreamland, Disenchantment follows Bean, an alcoholic princess rebel, her love-stricken elf companion Elfo and her personal demon, Luci (get it? Luci? Lucifer?) It features a fantastic voice cast, including Eric Andre (Don't Trust The B In Apt 23), John DiMaggio (Futurama) and Matt Berry (The IT Crowd). This show's start is GLACIAL. Like you really have to stick with it as it finds its feet. Basically every moment in the castle during the first few episodes is mind-numbingly boring. You won't laugh once. BUT… from episode four onwards, it starts to get good and then it gets REALLY good! You'll especially love Luci and Elfo. They're the stars of the show.
Verdict: BIN the first three episodes, BINGE the rest!
Final Space
Final Space is another show that you need to have patience with. The first episode is quite average in that it doesn't really stand out from other animated comedies. And it SHOULD because it has all the pieces. However, you won't have to devote as much time to this as Disenchantment before it perks up. The start of each episode is really well done and reminds me of live-action space shows. Plus comedy.
The story follows Gary Goodspeed as he meets a planet-destroying alien called Mooncake during the last few days of his sentence aboard a prison spaceship. He soon discovers Mooncake is wanted by a telekinetic overlord called the Lord Commander (yes, really) which causes a lot of hilarious hijinks as Gary tries to protect his alien buddy and avoid capture. The characters in the show are brilliant, from the hilarious KVN (your sides will burst laughing at him), faithful computer H.U.E., the bromantic Avocato, the fierce Quinn and adorable Mooncake. Also, the Lord Commander is like a blend of an extra-evil Stewie Griffin and our editor, Declan. So we love him, naturally.
It has a stellar voice cast with industry favourites including Fred Armisen (Big Mouth), David Tennant (Doctor Who), Steven Yeun (The Walking Dead), Tom Kenny (Spyro), John DiMaggio (Disenchantment), and Tika Sumpter (The Haves and the Have Nots). 
Also, the animation is spectacular.
Verdict: BINGE it!
Have you watched any of these? What did you think? Let us know in the comments!