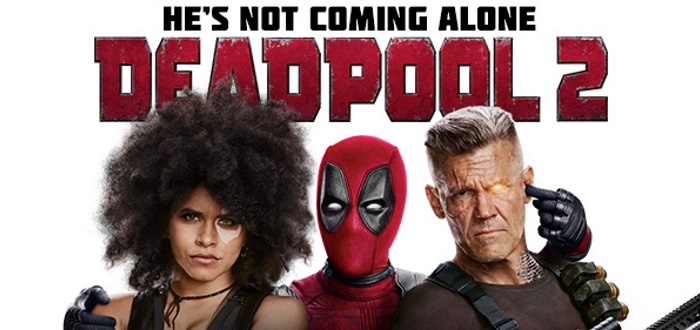 Big Celebrities Team Up For Deadpool 2 Promotions
Well it's almost time for the return of the 'Merc with the Mouth', as Ryan Reynold's will return as Deadpool this May. Deadpool 2's marketing has been in full swing the last few months, with some big pop-culture references, showcasing the new additions of Cable, Domino and the X-Force and even including some high profile names and celebrities, as they poke fun at Deadpool, Ryan or even themselves.
The original Deadpool marketing campaign, was an award winning masterclass of off the wall humour and fourth wall breaking moments. It's sequel has up'd the game with the inclusion of hilarious teaser trailers, on the noes social media posts, references to Fox, DC, Disney & even The Avengers and also includes some big names like David Beckham, reacting to a scene from the original movie, Hugh Jackman, in which Deadpool invades his social media posts and even a song for the soundtrack by Céline Dion.
We are going to take a look at some of the best and funnier moments that have released in build up to Deadpool 2 on May 15th.
Original Teaser and Wet On Wet Trailer
The first teaser for the new Deadpool 2, called 'No Good Deed' movie was secretly released alongside the release of Logan in March 2017. It didn't show much, but contained some nods to Superman, Nathan Summers (Cable's real name) and even contained a cameo from Stan Lee.
Releasing on November 17th 2017, we got our next teaser for Deadpool 2. Consisting mostly of a spoof of a Bob Ross episode, the trailer showed only a few seconds of the new movie, but it was certainly to wet the appetite. We got a glimpse of Cable via a Thanksgiving painting. The video description was also a complete piss take, showing that the new marketing campaign will certainly be as crazy as the last.
After surviving a near fatal bovine attack, a disfigured cafeteria chef (Wade Wilson) struggles to fulfill his dream of becoming Mayberry's hottest bartender while also learning to cope with his lost sense of taste. Searching to regain his spice for life, as well as a flux capacitor, Wade must battle ninjas, the yakuza, and a pack of sexually aggressive canines, as he journeys around the world to discover the importance of family, friendship, and flavor – finding a new taste for adventure and earning the coveted coffee mug title of World's Best Lover.
Meeting Cable
When Josh Brolin was announced as Cable, it took several people by surprise, not only because there was some other big names in the pot for the role, but because Brolin was already part of the Marvel Cinematic Universe. Brolin has been playing the big bad Thanos for a number of years, but finally getting a substantial role and in some ways, his movie in the juggernaut that is Avengers: Infinity War.
The first full look at Cable released was more serious in tone to previous trailers, but it was clear that Brolin was perfect for the role. Obviously hard working out and bulking up, Brolin is a pure badass. The trailer even takes a jab at movies with unfinished visual effects of Brolin's metal arm and spoofs Pixar's Toy Story, as Wade plays with a Deadpool doll dressed similarly to Woody from Toy Story.
Hugh Jackman
Referenced and appearing (as a crude mask for Deadpool) in the original movie, Hugh Jackman has been part of a lot of the banter going on between himself and Ryan Reynolds/Deadpool. One such incident saw Jackman trying to record a birthday message for someone, while Deadpool serenades him with renditions of 'Tomorrow' and 'Who let the dogs out?'
When you're trying to record a heartfelt birthday message …. but are interrupted by the least greatest showman. @VancityReynolds pic.twitter.com/RwlE4IXFX1

— Hugh Jackman (@RealHughJackman) April 27, 2018
Hugh, reluctantly, gives his spoiler free review for the upcoming movie in a recent tweet.
Wait! On second thought … I do love my @laughingmanco (subtle and shameless promo) T, so I'll leave it. See how I did that @VancityReynolds ? @deadpoolmovie #May18 pic.twitter.com/6lOS9Yh3Gf

— Hugh Jackman (@RealHughJackman) May 11, 2018
Speculation has been high to whether or not Jackman would return as Wolverine in a cameo role for the movie. Knowing Deadpool, it may even be a fourth wall breaking moment of Deadpool meeting Hugh Jackman post credits, as oppose to the inclusion of the Wolverine character. We'll just have to wait and find out will there be any appearance at all.
David Beckham
In a more recent video released by Fox, David Beckham appears as himself. Beckham is rewatching a clip from the original movie, where Deadpool likened Beckham's voice to someone talking after breathing in helium. Beckham gets his own back, by saying Ryan/Deadpool should apologise for Green Lantern, R.I.P.D and even Blade Trinity. All these films are not only other comic book movies, but also star Ryan Reynolds.
Céline Dion Is On The Soundtrack
Ryan Reynolds was recently asked about the possibility of Oscars for Deadpool 2 and he replayed
Two words, Céline Dion
That's right Céline Dion has signed up to sing the song 'Ashes' for Deadpool 2's soundtrack. It's a rousing power ballad, akin to hits in the 90's and also is a throwback to movie tie-in songs, as it features clips from the movie itself. Deadpool shows off some dance moves to boot too.
A cheeky nod near the end of the music video has Deadpool congratulating Céline on the great song, but that she needs to tone it down, as it's Deadpool 2, not Titanic. This is referring to the Oscar winning song 'My Heart Will Go On', which was sung by Céline for the multi-award winning 1997 film Titanic. Check out the video for the song 'Ashes' below:
Fox released some behind the scenes footage. Needless to say, it was a humourous look at the making of the music video, referring to Céline Dion being a hologram on set, how Deadpool prepared for the dancing scenes and how Céline refers to Deadpool as Spider-Man.
The Avengers
Finally we'll take a look at some of the content taking jabs at and even the retaliation, of some Avengers themed posts, from both Ryan Reynolds and The Russo Brothers. Reynolds first congratulated the success of Avengers Infinity War with Tony Stark's response to Deadpool's application to join the group.
From a guy who never knows when to quit, I'm glad you guys never did. Congrats #Avengers. pic.twitter.com/voJshTKx5E

— Ryan Reynolds (@VancityReynolds) April 29, 2018
Reynolds than spoofed The Russo Brothers' plea to keep spoilers to a minimum with an open letter and the #ThanosDemandsYourSilence tweet, with this:
Lovingly, Wade. #deadpool2 pic.twitter.com/FEPOCVKRDc

— Ryan Reynolds (@VancityReynolds) May 9, 2018
The Russo's response said it all.
Boom… pic.twitter.com/FsDdXvD6H0

— Russo Brothers (@Russo_Brothers) May 10, 2018
The exchange ended with Ryan saying:
I deserve that.
All this marketing seems to be in good spirit for everyone involved. It's certainly been fun to see what madcap reference or real world event they will spoof next. These are only some of the bigger pieces that have released. If you want to check out more, you can follow Deadpool's official Facebook, Instagram or Twitter, or follow Ryan Reynolds himself via Facebook, Instagram or Twitter.
Deadpool 2 releases on May 15th in Ireland and May 18th worldwide. Directed by David Leitch (John Wick fame) and stars Ryan Reynolds, Josh Brolin, Morena Baccarin, Julian Dennison, Zazie Beetz, T.J. Miller and Brianna Hildebrand. Will you be checking it out?