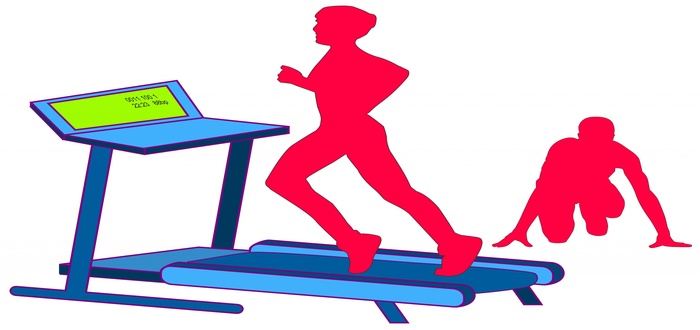 There's a trend that's been popping in and out recently in gaming. To put it simply, it's a treadmill. By releasing an endless stream of content developers have been taking strides to ensure the players keep playing.  At a glance, this seems like a good thing. Hurray, we get extra content in our games! But actually, this process can have a detrimental effect on both the quality of our games and on our enjoyment of them. So that's what we're talking about this week. We're going to try to convince the gaming industry to put down their stacks of money for a few minutes so we can all get off the treadmill.
Odd's are if you've been gaming for a good while now, you've experienced 'gamer burnout'. It happens to all of us! It's that point you hit with a game where you're just not having fun anymore. But the thing is, 10 years ago this wouldn't really have been an issue. Games would release with a reasonably high price tag, you'd play it to completion and all is well. But since the industry has seen how successful games like World Of Warcraft have been with subscriptions, everyone is looking for the next way to make the most money out of the player. Whether it's through subscriptions, DLC's or online multiplayer, game publishers want you to keep playing this game. They want you to keep spending money on it. And more importantly, they want you to keep coming back for more.
One method companies have been using to keep you playing is referred to as the Skinner box. Simply put, this was an experiment thought up to teach a rat to press a button. A rat would be put in a box with a button that would reward him with cheese each time it was pressed. It's a behavioral method of action to reward. You see this method used a lot in gaming. Think of quest rewards or unlocking more story content. Games are using this method to reward the players for performing certain tasks. Doesn't sound terribly evil… yet!
Consider MMO's, for example. They're built upon a quest/reward system. In my experience, it does eventually turn into a grind. In order to continue playing high-level content, you need to get better gear. Better gear comes from doing dungeons repeatedly until the wheel of chance grants you an item. Once you get that item there are more dungeons to do and so on and so on. This might not be an issue if you like the grind, but considering the monthly subscriptions of games like World of Warcraft, it can get ridiculous. Sure, you're getting enough content to see you through a month, but how much are you actually getting done? How many times have you just been receiving tiny pieces of cheese for doing an action?
Sure, you're getting enough content to see you through a month, but how much are you actually getting done? How many times have you just been receiving tiny pieces of cheese for doing an action? It's very easy to overlook the grind when you're getting rewarded every so often. But how long until you just burn out? No matter how much that rat loves cheese, eventually he's gonna get too fat to press the button! And once that happens we've managed to turn something we love into more work than fun.
For example, I've recently taken up League of Legends again. I've always had a love/hate relationship with the game. I've spent the most time playing it out of any game probably in my entire gaming history. Not to mention the amount of money I've spent just to make my characters look pretty! But after 3 years and very little progression, I found myself hating it. I played more out of obligation and a desire to rank up than out of love for the game. That's why when Overwatch came out I found myself so captivated. This was something new, something fresh where I could just throw myself in and have fun. I found myself abandoning LoL rather remorsefully, but knew it was for the best.
Now, a year since Overwatch's release, I'm still in love with it and playing regularly, but the burnout I had for League has dissipated. I don't care as much about my rank, or proper champion picks or what's in the meta this patch. For the first time in a long time, I can just sit and play it because I enjoy it.
That is why I think we need to move away from treadmills. Because no matter how much we love a game, the burnout is going to hit. You'll always be hunting for that better rank or better gear or shiny badge on your profile. Having the time to unload and focus on something other than that is important and it makes you more appreciative of the game itself.
So to publishers, I will say this: We know you love money. We know the best way for you to make money is to get content out while interest is high to keep players playing. But we also need a break, so can you go like 5 minutes without bugging us? You will reap the rewards in good will from your audience, and the best part is that all you have to do is nothing. Let us off the treadmill so we can rest and appreciate the run.