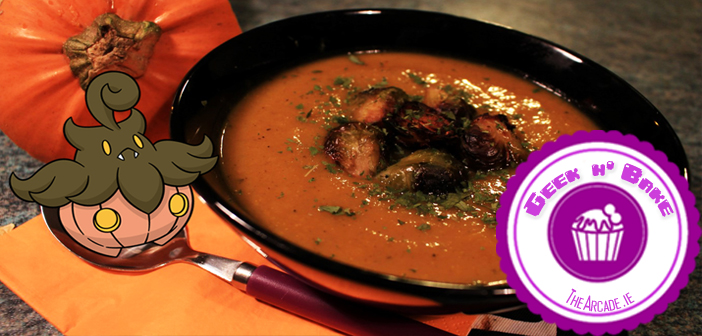 Halloween Pumpkaboo Soup – Geek N' Bake
I love Pumpkaboo! With dozens of new Pokémon with each new game it can be hard to stand out. This little guy doesn't have that problem! The pumpkin styled pocket monster looks like a little cat fell asleep on his head! Who wouldn't find that adorable?
I've recently just completed Pokémon X, that's a big deal for me! While Pumpkaboo isn't on my main team, my little 'Jackoleen' does feature on my 'Cuties Who Kick Buns' team! Yes I have a team of cute little Pokémon who take no crap from anyone! Given the time of year and my favourite holiday fast approaching I've taken Pumpkaboo as the inspiration for the latest Geek N' Bake!
Now if you're immediate response is 'Yuck, Pumpkin' then you're missing out, big time! Last year we looked at Pumpkin Cookies and even what to do with the leftover remains! This year we're going with something a little more hearty! It is a guarantee against the cold weather, it's packed full of vitamins and minerals and aside from all that, it tastes amazing!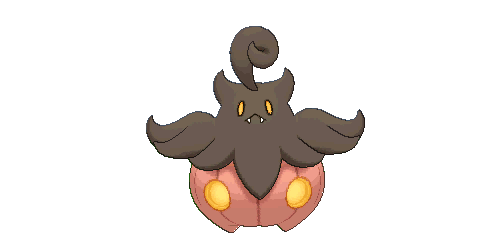 No Pumpkaboos Were Harmed For This Recipe*
DIFFICULTY
Easy – you'd find catching Zubats in a cave harder!
TIME
120mins
INGREDIENTS
2 small pumpkins, 4 carrots, 3 sticks of celery, 1 red onion, 6 cloves of garlic, 1 tsp cumin, 1 tsp chili powder, 1 tsp salt, 1/2tsp black pepper, 1/2 tsp ginger, 1/2 tsp cayenne pepper, 1 tsp dried parsley (with extra for garnish), 3 tbsp olive oil.
PROCESS
You're going to want to start by getting the oven nice and hot. We'll be roasting the pumpkins before using them in the soup so preheat it to 200c. Measure out your spices and set aside, mix the cayenne pepper and a tablespoon of oil together in a different bowl.
Using a large knife cut away the top of the pumpkin. This will make it easier to cut it into halves and then quarters. Once you've your pumpkin quartered, take a big spoon and scoop out the stringy flesh and seeds like you see below:
Either using your hands or a pastry brush coat the pumpkins in the cayenne/oil mix and place into a baking dish. Allow the pumpkins at least 50 minutes in the oven to cook thoroughly. Skewer with a knife to check, if the skin and flesh are pierced easily, they're cooked. Remove from the oven and allow to cool.
While your pumpkins are cooling off, you can get started on the rest of the vegetables. Chop the carrots and celery roughly while peeling and chopping the onion finely. I didn't chop or crush the garlic, opting to make a shortcut and throw them in peeled but whole.
Process Cntd.
In a large saucepan, heat the remaining the oil and then add your vegetables. Stir to give everything a good coating then let them sweat. To prevent the vegetables burning and to speed up the cooking, add a splash of water. When the carrots are softened, I add a tsp of the mixed spice/herbs set aside earlier.
By now the pumpkins should be safe to touch. Using a spoon scrape the flesh away from the skin and add it to the vegetables. Add the remaining herbs and spices and stir to combine it with the vegetables. While it all infuses prepare some stock. Pumpkin when blended is really thick so I used almost 2 litres of vegetable stock. Pour the stock in, reduce the heat, stir and cover the pot. Allow the soup to simmer for at least 30 minutes before using a hand blender to blitz the soup.
Taste and season as desired. I like mine Pumpkaboo soup to have a real kick so I add an extra generous pinch of chili powder.
Dish up the soup and serve with slices of chunky white bread and lashings of real butter. This creamy soup is perfect for a filling lunch or a comforting snack after getting in from the cold weather. Snuggle up on the couch, grab a blanket and a book and just treat yourself!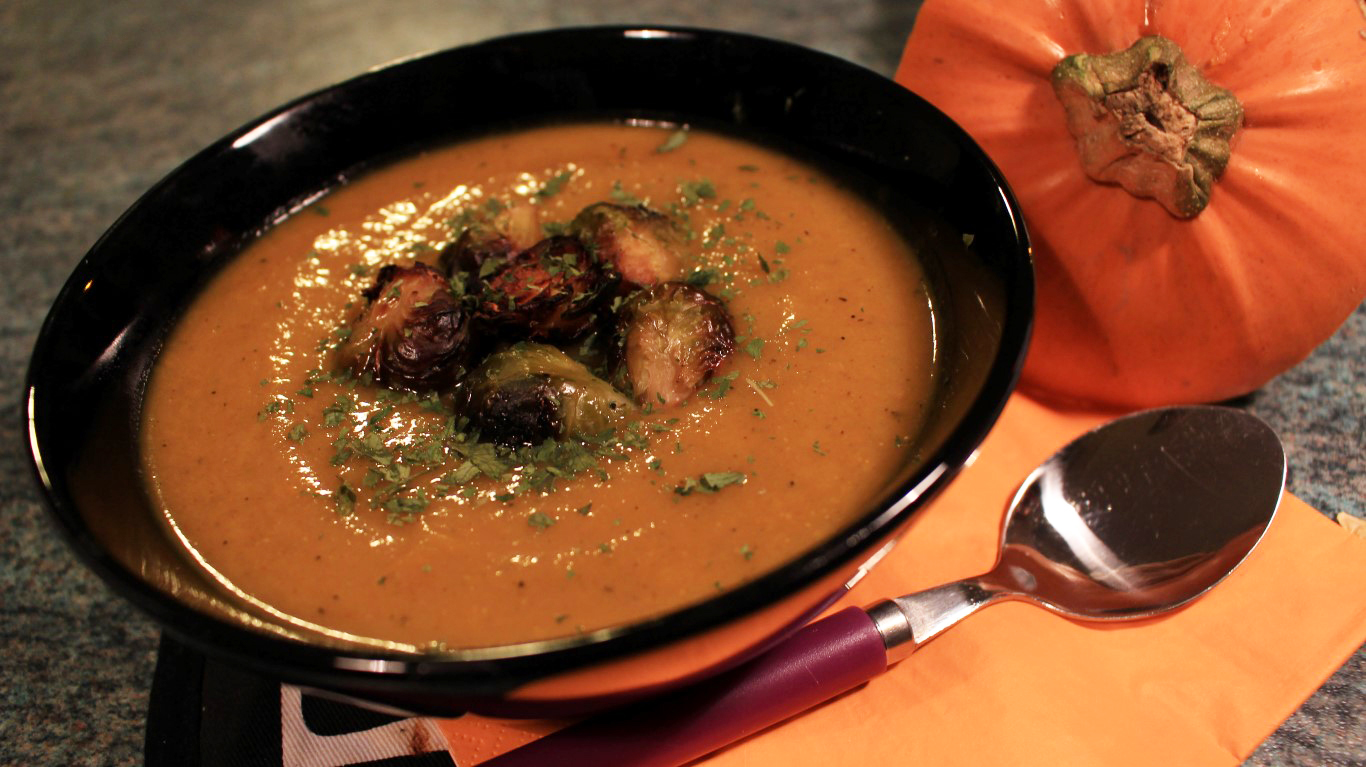 Optional
To go one step further with the recipe and to really take inspiration from Pumpkaboo, I wanted to try recreate it's grassy top. Halve then par-boil brussels sprouts. Drain and coat with a little oil before popping in the oven to roast. Add a handful of the roasted sprouts to the bowl of soup and garnish with cracked black pepper and parsley.
Editor-in-Chief, part-time super villain and hoarder of cats. If you can't find me writing, I'm probably in the kitchen!