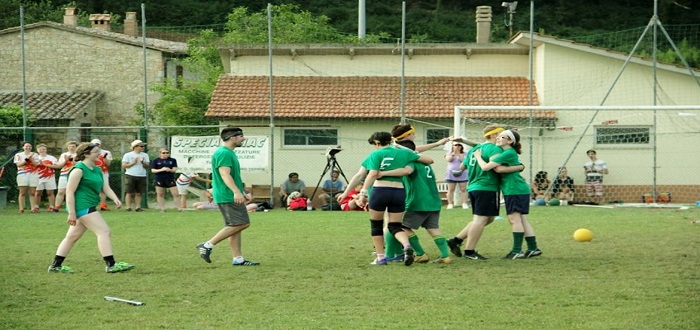 Team Ireland Heading For Frankfurt Quidditch World Cup
With only a week to go to the Quidditch World Cup in Frankfurt Germany, The Arcade is getting behind Team Ireland. The team, made up of twenty one players of Irish descent from both Ireland and the UK, has been drawn into pool 2 for the first round, joined by teams from Belgium, Australia and Slovakia.
This is Ireland's first time at the world cup, which will host 25 teams from around the globe, so it's very exciting!
Team Ireland
The team was formed when dedicated players from Galway collaborated with Edinburgh Holyrood Hippogriff player Ben Midlemiss to begin a tireless recruitment search for both Irish players and British players with Irish heritage. The Galway Grindelows started out competing in the British league, but after it became a national team tournament they were hoping to set up an Irish team for something bigger. The freshly formed Irish team participated in the European Games last year with some great performances for a team of only 8 players.
The roster for the games features seventeen of the team.
The Roster (by position)
Keepers
Pierce Brosnan (Keele Krakens)
Ollie Bridgen (Bristol Brizzlebears)
Chasers
Blathnaid Cluskey (DCU Dementors)
Fran Morris (Radcliffe Chimeras)
Isabella Aston (Bristol Brizzlebears)
Laura Campbell (Holyrood Hippogriffs)
Mathilda Rose (Oxford Quidlings)
Rebecca O'Connor (Galway Grindylows)
Beaters
Aaron Jones (Keele Krakens)
Aine Kilbane (Galway Grindylows)
Ben Middlemiss (Holyrood Hippogriffs)
Eamonn Harrison (Taxes Quidditch)
Jodie Mee (Bristol Brizzlebears)
Kerry Aziz (Southampton Quidditch Club)
Matthew Drummond (Southampton Quidditch Club)
Tara McDonald (Holyrood Hippogriffs)
Tom Newton (Bathilisks Quidditch)
The Other Contenders
As this is the third Quidditch World Cup (with many other tournaments occurring previously under differing names) there was some fear over who Team Ireland would face-off against this time round. Would they be more experienced?
Belgium surely are an admirable adversary, The country has 11 teams in total and a league all their own, so the team is very advanced. Their World Cup squad is made of of players from across the teams and secured a seventh place finish at Global Games 2014 as well a fourth place finish at European Games 2015.
Australia's team has also developed a great deal in the last few years, with the nation having more than 650 registered players. This is a team to be reckoned with as they have competed in every World Cup to date, winning bronze in 2012 and coming second in 2014.
Team Slovakia is somewhat of a newer beast, and the World Cup is the first international event for the 20 player squad. Most of their players come from their two domestic clubs, the Cassovia Crows and the Pressburg Phantoms but they also gain support from Slovaks active in the USA and France.
More on Team Ireland, including an interview with coach Ben Middlemiss, can be read on the Quidditch Post website. If you weren't lucky enough to snag some Irish gear, wear green on July 23 and 24 to show your support.
You can keep up with the events of the tournament on the Quidditch post while the event itself may be livestreamed via http://sportdeutschland.tv/ pending a test run on the Thursday before the tournament at EXPO games.