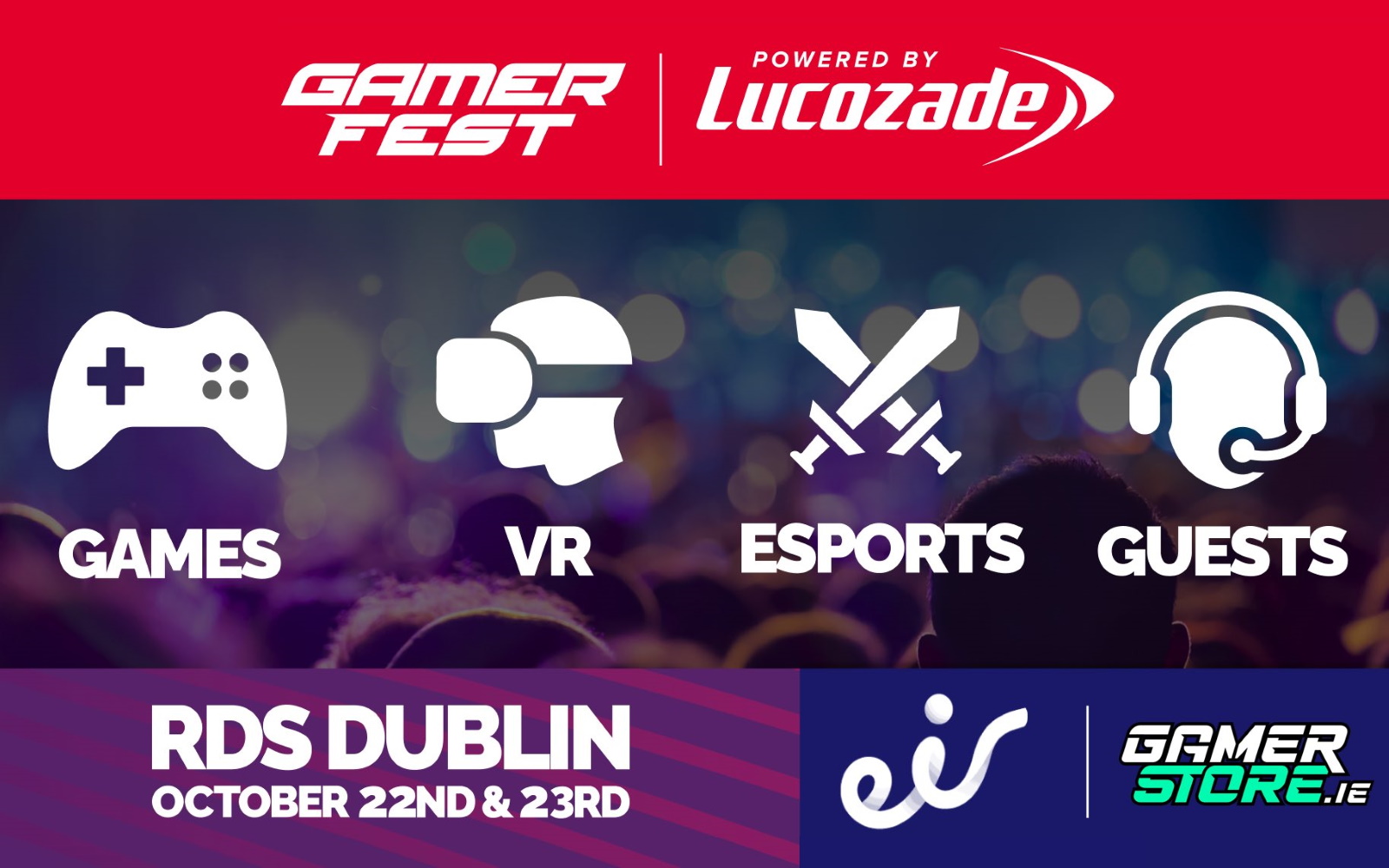 GamerFest Comes To Dublin This October
One of Ireland's biggest gaming conventions returns, as GamerFest comes to the RDS, Dublin for the first time. It will take place on October 22nd-23rd. Tickets are selling fast, so gets yours here.
Supported by the likes of Xbox, Lucozade, Ubisoft, GamerStore, Legion Esports and Trust Gaming, GamerFest is a celebration of gaming and eSports. It will bring together some of Ireland's top talent, including game developers, content creators, cosplayers and communities all in one place.
Alongside these, there will be a live stage showcasing eSports events, which feature some great hosts and special guests. Let's breakdown what you can expect.
Gaming & eSports
GamerFest will have a host of gaming areas, including a chance to play new titles, a retro zone with classic consoles, racing sims with full racing setups, VR games and even tabletop areas, curated by the likes of Dakota Irish. There will be an eSports area too, with live events throughout the weekend. Such events include FIFA 23, VALORANT and Rainbow Six Siege  tournaments.
Special Guests
There will be loads of great guests attending GamerFest. Firstly, we'll mention the hugely talented and iconic game developers Brenda and John Romero, who will receive the inaugural GamerFest Lifetime Achievement Award. They will accept the award in-person and will also be doing a Q&A on Saturday.
There will also be a host of content creators and streamers, which include Seapeekay, The Gara Show, Jamie Jay Car, Tiny Tina, All Cast Irish Gamers, Emzil and many, many more. For a full list of guests, head over to the GamerFest website.
Cosplay
Ever since the first GamerFest in 2017, there has been plenty of cosplayers. This year will be no different. GamerFest has teamed up with Guild of Nerds to launch our 2022 GamerFest Dublin Cosplay Competition! Be sure to show off your cosplay over the weekend. 
Marketplace & Merchandise
You'll be able to grab official GamerFest merch in the GamerFest market. Better yet, there will be many of Ireland's leading independent artists and gaming stores in-house. 
Tickets
With around 5000 people attending the event, tickets are still available. You can buy individual daily tickets, weekend passes or family tickets. Just a note, under 16's get a discount and kids under 5 go for FREE. Head on over to the site to get yours.
Are you heading to GamerFest? Want to know more? Just head over to www.gamerfest.ie or follow them on Facebook, Instagram or Twitter for more information.