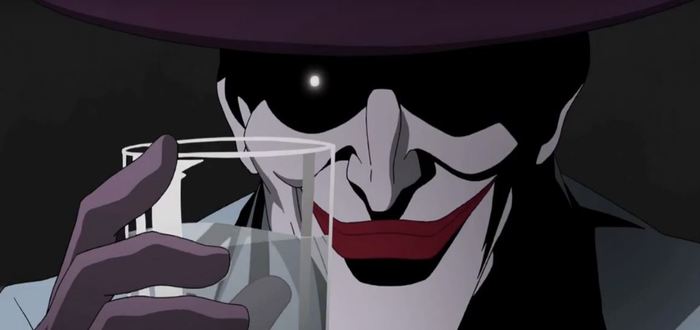 Why The Killing Joke's Joker Is So Important – Opinion
This July, DC Comics and Warner Bros Animated will release The Killing Joke on DVD and Blu-Ray and I'm not gonna lie, I'm pretty excited. With words from the legendary Alan Moore and fantastic artwork from the one and only Brian Bolland, the comic was first released in 1988 as a stand alone edition and then re-released in 2008 as a special hard-back edition, with Bolland re-colouring the comic to match his original vision of cool palettes and stark imagery. From the same people who have given us the awesome Batman: Animated Series since childhood, Kevin Conroy takes his place in this feature length film as the voice of Batman with Mark 'Luke Skywalker' Hamill coming back to voice The Joker.
What makes The Killing Joke really special is that, for the first time, it gave The Joker a back story; it gave us a glimpse at a possible origin and insight to the man before the maniac and somehow, made him human. In the short 40-odd page graphic novella, The Joker seeks to drive Commissioner Jim Gordan insane while Batman does his best to foil his arch-nemisis' plans. I'm not going to provide any more spoilers but just to warn you, it's pretty intense – this will not be a kids movie. Even if Warner Bros decide to reduce the graphic intensity of some of the scenes, as is rumoured, this will still be an R-rated affair.
When the first live-action Batman film was released in 1989, directed by Tim Burton and starring Michael Keaton, Jack Nicholson played the the main villain and we see definite The Killing Joke influences. Nicholson's Joker is portrayed as a manic performer who delights in the 'art' of crime and is the only big on-screen adaptation to depict The Joker's origin. It doesn't really show us a 'human' side to the infamous anarchist, though, because in this version he begins and ends his career as a criminal with seemingly no other aims other than monetary and fame gains. But like the comic, it does give us a 'why' to The Joker's actions, even if that why is a tad shallow in this case. They also gave him a name, which is the only time in DC history that this is done, so we can disregard as canon.
In 2008, Heath Ledger did probably the best job in depicting the supervillain so far, highlighting his psychologically depraved ways in Christopher Nolan's The Dark Knight. Their rendition was an agent of chaos, who's sole goal was to disrupt society's delicate balance and introduce a little anarchy for no other reason than to "watch the world burn", or so it seemed. Between Nolan and Ledger, they created a character that got into the minds of both sides of the fight as well as the audience, corrupting Gotham's shining saviour (Harvey Dent) while forcing our caped crusader to become the anti-hero that is needed for that light to survive. Both Nolan and Moore touched on the fact that The Joker and Batman are two souls intertwined – Batman will not kill The Joker as it goes against his moral highground and The Joker is reluctant to kill Batman as the relationship gives him something to fight against, to play with. Just as you wouldn't run a race with no one to beat, why create havoc and mayhem if there is no-one to fight back? Ledger even won an Oscar for the role in 2008 as Best Supporting Actor, but unfortunately this came after his sudden death in January of that year.
With Suicide Squad due out in August, we now have Jared Leto's Joker to look forward to and my feelings are mixed. It will be interesting to see where Leto takes the character and how it will play out with the whole Suicide Squad mentality – will he take influence from Moore and Bolland's flagship piece? Will he follow in Ledger's legacy and emulate the craft he worked so hard to bring alive? Or will he revert to the traditionally hyped, almost comic, versions we've seen in the past? Only time will tell…
I'm also interested to see how The Joker will fit in at all! In either DC's 1980s introduction or 2011's New 52 relaunch, The Joker does not appear as a member of the squad itself, which makes sense. The series was initially created to show a little humanity and reason behind the DC world's greatest super-villains, possibly after The Killing Joke's original release and success. With Margot Robbie's Harley Quinn already stealing the show, David Ayer directing and with hints at origin stories for a few of the headliners (namely Enchantress and Deadshot), it definitely has potential and I'm intrigued.
But any glimpses we have seen of Leto's performance so far have been torturous (literally!) and very creepy. If his co-actors' stories are anything to go by, Leto has taken even further steps than Ledger to immerse himself in the role by staying in character throughout filming. But how far does his incarnation go? In a way, I'm glad that people will get a chance to see Moore and Bolland's original vision before Suicide Squad is released in August. The Killing Joke has the opportunity to give people a true glimpse of what makes the Joker tick and just how psychotic he really is.
The Killing Joke will be released straight to DVD on July 23 and Suicide Squad is scheduled for general release on August 5, 2016.
By Aoife Fealy