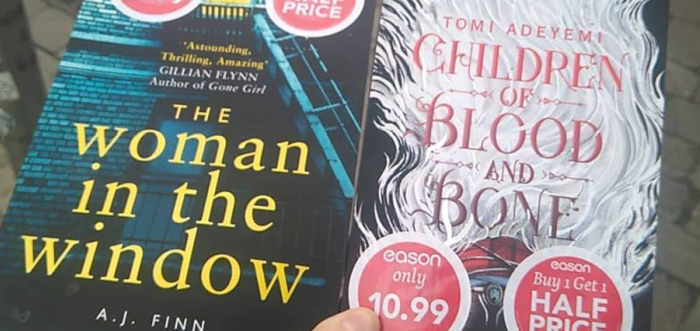 Pull List: Week 1 May 2018
Last time I wrote a Pull List, I went overboard. It happened on the month of my birthday so I had an excuse. So now I'm back again and while the list is smaller, there's a lot of stuff this time because it was recently World Book Day and St. George killed a dragon so that I could read books! Or at least that's the excuse this time. That and Amazon's daily and monthly Kindle deals. Those will be my ruin.
There's a bit of a pattern, however, as most of the books are crime thrillers. Guess I'm in one of those moods. No comics this time though.
The Crow Girl by Erik Axl Sund
This is a book I bought a couple of years ago, but never managed to get through it because it was a doorstopper. And because it's one of those cases where this is actually a complete trilogy compiled in a single volume.
The Crow Girl is how the Victoria Bergman Trilogy is commonly known over here. The Crow Girl was actually the name of the first book in Sweden, the other two are called Hunger Fire and Pythia's Instructions but every single volume I've seen of the books here is called The Crow Girl It's another one of those Scandinavian Noir books (I'm a sucker for those, I'm not going to lie) and it made its authors popular (Erik Axl Sund is the pen name the two authors of the book chose). It follows a policewoman and a psychiatrist whose paths intertwine over a murder investigation, and a patient that might be involved in it.
The Savage Altar by Asa Larsson
This is a book I read many years ago (in its Spansh translation) but I saw it on sale for Kindle so I bought it. It's
the first one in the Rebecka Martinsson series. This book follows her as she goes back to Kiruna, her hometown (incidentally this is also Larsson's hometown) and finds herself embroiled in a mystery.
I don't remember many details about this book, only that I read it back when Stieg Larsson's (no relation) Millenium trilogy became so popular and I liked it. Even if I don't remember it at all, I only paid about a euro and something for it because it was a Kindle Monthly Deal.
Blood, Sweat, and Pixels: The Triumphant, Turbulent Stories Behind How Video Games Are Made by Jason Schreier
This is another example of seeing a book for sale at a ridiculous price and buying it. It all began when I saw a friend put it on his 'To Read' shelf on Goodreads. I found the idea behind the book interesting so I went to Amazon to check it out.
I don't read much non-fiction, but since this is about video games I just went and bought it. Felt appropriate, considering I'm currently making a video game of my own as part of my coursework.
The Woman in the Window by AJ Finn
This is a book I keep seeing around every now and then. A former college classmate read it and loved it, so I
was curious. I picked it up on Monday and saw it came recommended by Gillian Flynn which was a convincing factor because I love her books. But what sealed the deal was remembering that Stephen King talked wonders about it. I have talked too much about my hero worship about King in articles, but I trust his book recommendations because they have led me to amazing authors like Meg Gardiner and Paul Tremblay.
The book follows a reclusive woman. She never leaves her apartment and tends to spy on her neighbours, and then she sees something disturbing. Sounds like a premise we've all heard of before, but considering all the praise this book has been getting I'm sure there's more to it than that.
But who knows when I'm going to read it.
Children of Blood and Bone by Tomi Adeyemi
I am bad when it comes to following the Book Club. A lot of times they discuss books I've read ages ago; other times books I own but I haven't read, but mostly it's books I want to read and haven't done so yet. I thought last month I'd break that curse because I read The Power in only a few days, but something else popped up so I didn't make it to the actual meeting.
Last week I thought I'd break the curse this time so I bought Children of Blood and Bone. It looked interesting and after finishing NK Jemisin's Broken Earth Trilogy and Nalo Hopkinson's Brown Girl in the Ring I wanted to read more afro-centric fantasy.
A Murder of Quality by John Le Carré
I've been meaning to read John Le Carré for quite a while. I've some of his books on my Kindle but I still
haven't got to any of them. But the thing is that if the book features George Smiley I want to read them in order. I assume that's especially important in the Karla Trilogy and there's little relation in the early books but I don't care. I'll probably be getting there soon, because this is the second George Smiley book. And once more, this was a daily deal that was too good to pass!
There's something I find interesting about this book. This is the only novel featuring Smiley that isn't a spy novel. Surprisingly enough (or not, depending on the books that are here) this is a crime novel, where Smiley solves a murder as a favour to a friend.
What's on your pull list this week? Let us know in the comments.
Angry Spaniard, adoptive Irishman. Writer, reader, tea drinker and video game player/designer.