Whachu Doin' This Week Dave?
I used to watch The Fast Show regularly. Then I stopped liking it for some reason. Now I've rediscovered the sketches thanks you YouTube and find myself laughing at them again. It's been a great week for getting reacquainted actually. Permit me to tell you about it in the style of The Fast Show's Jesse.
This week I've been mostly watching… He-Man and the Masters of the Universe! 
Several of my friends were all to eager to tell me this news. He-Man is on Netflix. The classic cartoon's first season is now available for me to binge on. And binge I did. I had a big daft grin on my face as I watched Prince Adam and his fabulously powered alter ego He-Man do battle against the evil forces of Skeletor. It's corny but a lot of fun and at times pretty decent.
Now, I know there a lot of things wrong with this show. It is incredibly hokey. It's brave goodies in a fantasy land of magic and laser guns fighting the most one dimensional of villains. The animators reuse the same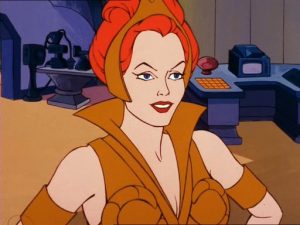 sequences over and over again and it gets quite irritating. It's also partly responsible for introducing consumerism to kids cartoons as the whole show was made to sell toys. Then there's Orko, the dopey comedic sidekick which plagued the majority of 80's cartoons. But so what? I still recommend it. The cheese factor now manages to add to the fun and you can have a laugh or two at its expense but believe it or not there is some genuine, non-ironic enjoyment to be found. For starters the female lead, Teela is a great character. This is a boyish show through and through but nothing is done at the expense of girls. Teela is a warrior with responsibilities and is more than capable of handling herself in a crisis. In the very first episode she saves He-Man's life. For me she ranks alongside Cheetarah and Ace as the most awesome 80's women in children's entertainment.
The episodes which focus on her are among my favourites, especially 'Teela's Quest' written by  Paul Dini (Yes Batman: The Animated Series Paul Dini). Dini wrote several episodes which I consider to be excellent. 'Prince Adam No More' has Prince Adam suffering an identity crisis. To maintain his secret he goofs off and shirks responsibility so nobody will guess he's really He-Man (despite looking exactly like him). He can't reveal his identity to his father but is worried about losing all respect in the process. He knows he has to keep up appearances but does not want his own dad to be disappointed in him. As his friend and confident Duncan says "You were given He-Man's power for a reason; to help others. No one ever said you could use that power to make yourself happy." For a cheap animated toy advert in 1983 it was pretty dramatic stuff. There are several episodes of surprising quality like this. There are lame ones too but as I said you can at least have a chuckle at them. It'll keep you entertained in between the great ones.
This week I've been mostly listening to… Second Love by Emmy the Great
I fell in love with Emmy The Great back in 2009 when she released her debut album First Love. With her infectious vocals and a musical style described as "anti-folk" the whole album is about the bittersweet aftermath of a relationship. Two years later she released Virtue, a more poetic and atmospheric album. The inspiration came about as a result of another breakup when her fiancé suddenly found religion and cancelled their wedding. It seems love found favour with Emmy as she did not release another album until 2016, shortly after her breakup with Tim Wheeler. Second Love is a staggering achievement. Her lyrics are as imaginative as ever but she has certainly grown as a musician.
While not abandoning the folk roots, she has a good deal more electronic influence but muted enough as to keep the album honest. If anything it manages to bring the whole project closer to our modern lifestyle and features little of the whimsy from First Love. That being said I don't think it will alienate fans of Emmy. Tracks like 'Dance w/ Me', 'Hyperlink' and the magnificent opener 'Swimming Pool' will please anyone looking for intimate stories and hauntingly elegant music. Plus you can't help but be one over by her quietly confident vocals. Second Live is probably the finest album from one of the most intriguing musicians of the last decade.
This week I've been mostly reading… Absolute Pandemonium by Brian Blessed
Okay, this is really a bit of a cheat as I've actually been listening to it on Audible and not really reading it. Why? It's a fourteen hour autobiography narrated by Brian Blessed. Reading it is utterly pointless when this is the alternative. Blessed has got to have the most magnificent voice of any actor alive today. I've always admired his talent but never knew much about his life and pre-Vultan days. Who better to tell me his remarkable life story than the great man himself?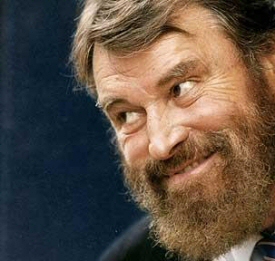 Absolute Pandemonium is a slightly non linear account of Blessed's childhood, education and career on stage and screen. His enthusiasm and frequent swearing are your companions as he recounts his upbringing in Yorkshire, his love/hate relationship with Peter O'Toole (not in equal measure as he points out, "If I loathed him more than I'd loved him, I wouldn't be wasting half a chapter of my new book on the bastard"), his fondness for boxing and judo, the early days of live television and, of course, an entire chapter dedicated to Flash Gordon. It's hilarious for the most part but he doesn't shy away from the more uncomfortable areas. Certain moments involving his mother's health and his days as an undertaker's assistant are quite upsetting and good ol' Brian makes no attempts to sugar coat things. His frank retelling of these hardships is most welcome as it eliminates any sense of emotional manipulation. Blessed also makes repeated attempts to assure us that some of his most outrageous stories are true, such as a violent encounter with Harold Pinter and how a light entertainment series called My Family and Other Animals had the biggest death toll of anything he worked on. There's also a rather interesting chapter on Star Wars and the impact the film had on the acting community. Treat yourself to Absolute Pandemonium. Brian Blessed is a magnificent story teller and it's probably the only time anyone would ever suggest an audiobook be played at high volume. You may be slightly deaf afterwards but it'll be worth it if the last thing you ever hear are those two words everyone asks him to yell.
What are you doing this week?