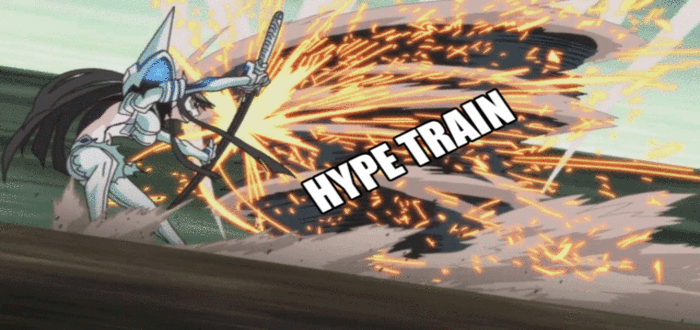 We all love anime and it is well known that the shows opening theme songs are as much a piece of art as the show themselves. Anime openings come in all shapes and sizes from the incredibly metal, beautifully orchestral or amazingly bad (see Berserk 1997). But here, today we celebrate my favourite types of anime openings, the ones that just exude hype. The ones that get your blood pumping and prepare you for the adventure you're about to go on. Let's climb aboard the hype train, shall we?
Attack On Titan – Guren No Yumiya
OK, we're just going to get the obvious one out of the way first. The Attack On Titan theme is flat out hype.The massive chamber choir and fast tempo really gel with the visuals of the soldiers zipping around in the maneuvering gear and just exhilarates you to watch. Fun fact, this was the first anime I watched and my jaw was the floor the entire first episode and that was in no small part due to the intro.
One Punch Man – The Hero
Another obvious choice, but this makes it no less poignant. One Punch Man is a hilarious, non stop thrill ride of an anime and the intro reflects that to a tee. Hearing it suddenly gives you an innate urge to fist pump and start screaming! And for entirely unexplainable reasons whenever I see Saitama punch that star person and watching it explode always gives me the giggles.
Berserk 2016 – Inferno
Remember earlier I may have mentioned the original Berserk animes questionable theme song? Well the recent reboot rectifies that matter tenfold by injecting about 10 adrenaline shots into its theme song. The rampant double kick drums and fervent guitar tapping really encapsulates the beastly universe of Berserk. Shame they couldn't get the actual anime right with this one.
https://www.youtube.com/watch?v=cDbctEO2qjQ
Future Diary – Fantasy Mythology
This one has a similar vibe to Attack On Titan except it's less victorious in tone and more chugging metal riffs with a slightly haunting vocal line. Mixing the intense pounding beat to frantic bloody imagery you know exactly what you're about to get yourself into with Future Diary.
https://www.youtube.com/watch?v=8mJpR5L16xc
Ouran Highschool Host Club – Cherry Blossom Kiss
Bear with me because this ones a little different to the previous entries. This one just makes me excited in a really splendid and happy way. OHHC is a fun jaunt through the lives of rich kids and while the opening lays down a much more romantic tone than the show actually portrays, it's still an upbeat tune that gets me excited for whatever ridiculous adventure the host club get themselves into this time.
Cowboy Bebop – Tank!
You know what's great? Cowboy Bebop. You know what else is great? Bombastic jazz numbers. I really don't have anything else to say about this one. You all know it and you're all going to listen to it because it's amazing.
https://www.youtube.com/watch?v=Aw3fN3OPk3A
Now that this trip we've gone on together has come to a close, go forth my fellow weaboos and spread the hype!