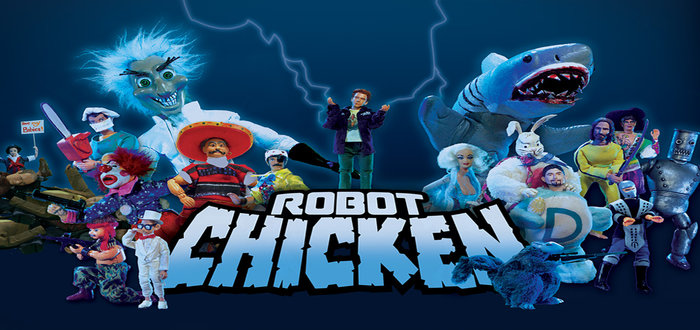 Since its first appearance back in 2005 Robot Chicken has produced countless hilarious stop motion sketches for us to enjoy. And in nearly 160 episodes and a handful of specials they've lampooned everything from Aquaman to Dora the Explorer. Not only that, but Adult Swim is also kind enough to upload hundreds of the individual sketches on youtube! So here's to their continued success and Youtube generosity.
Quicksand
We've all been this giraffe. Life gets so overwhelming and everything's going wrong and oh my god somebody help me and then… Oh. It really wasn't that bad after all. Alternatively you can just think of this as a funny video of a Giraffe freaking out because it thinks it's dying. Probably funnier that way.
Defenders of the Earth
Heroes of old band together to protect their neighbourhood… and not much else. Watch and enjoy as they blind local miscreants and ignore the real problems. DEFENDERS OF THE EARTH!
The Muppets
Robot Chicken is at its finest when it's taking some beloved symbol of pop culture and setting it ablaze. Ever wanted to see a documentary on the downfall of the Electric Mayhem band complete with STDs and Euthanasia? What about the Swedish Chef abusing his wife? Yes it's all awful but god damn if it isn't hilarious.
Star Wars
Of course it doesn't have to be all dark. This Star wars compilation is mostly silly and benign. Watch C3PO argue with his Spanish tutor and discover what's been piloting that squeaky black rumba that seems ubiquitous e on Imperial ships.
Aquaman
Arthur Curry just cannot catch a break. Whether it's people online beating on him because they think he can only talk to fish or the rest of the Justice League bullying him, he has it rough. And it's not like DC hasn't tried. Hell at one stage he was a bearded pirate with a harpoon for a hand. AND PEOPLE STILL THOUGHT HE SUCKED! Maybe Jason Momoa can finally change that perception in the Justice League film. But until then, enjoy Robot Chicken's take on the King of Atlantis.
Lil' Hitler
Probably my favourite little series of sketches. The Lil' Hitler Trilogy chronicles the rise of Nazi Germany through The second one is the best of the three, but I've put the first one here since you need the context and they're yet to group them into one video package.