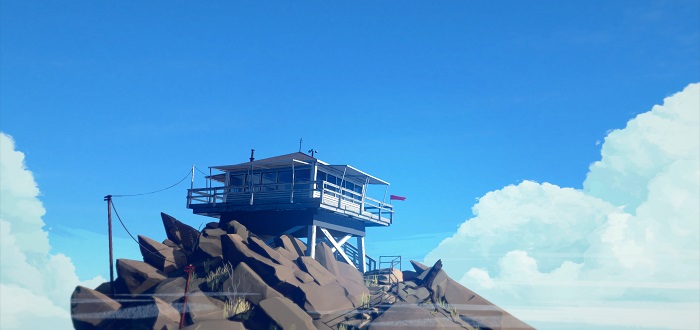 Only two months into 2016, and it already seems to be the year of pastel coloured indie games. Both the Witness and today's subject, Firewatch, use a washed out, softer aesthetic. This is a style I am a big fan of.
Today I thought I would show some love to Olly Moss, the artist behind Firewatch's distinctive look. One aspect of Olly's work you may notice is that the concept art for the game is remarkably similar to the end result, giving the game the look of a oil paint or charcoal sketch to its environments.
"Firewatch is a mystery set in the Wyoming wilderness, where your only emotional lifeline is the person on the other end of a handheld radio. The year is 1989. You are a man named Henry who has retreated from your messy life to work as a fire lookout in the Wyoming wilderness. Perched atop a mountain, it's your job to find smoke and keep the wilderness safe. 
An especially hot, dry summer has everyone on edge. Your supervisor, a woman named Delilah, is available to you at all times over a small, handheld radio—and is your only contact with the world you've left behind. 
But when something strange draws you out of your lookout tower and into the world below, you'll explore a wild and unknown environment, facing questions and making interpersonal choices that can build or destroy the only meaningful relationship you have."
The concept art ranges from sweeping landscapes to the smallest details such as items and even rock placement. Olly Moss is known for intense detail and charm in his work, as many people know him from his work in poster design and a series of low-poly video game character doodles.
All Firewatch concept art is property of the Firewatch team, Campo Santo and Olly Moss.
Are you a fan of Firewatch? Let us know what you think in the comments.