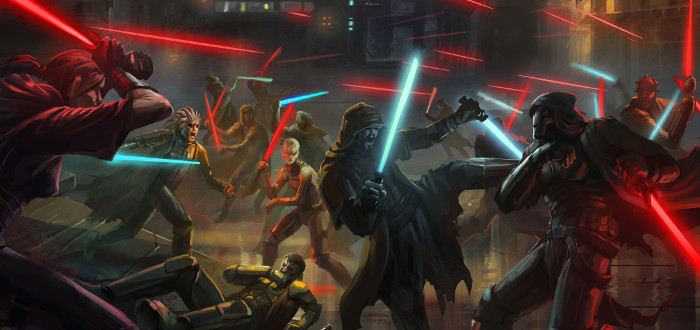 Style Saturday: The Eyes Awaken
A few days ago, Star Wars: The Force Awakens was release and the world started going Star Wars mad but can you blame them. It has been over 15 years since the last movie was released and the fans wait items and waited and finally got what they were looking for. I am one of those fans and I have been eagerly awaiting the release for the movie.
I've been channeling my inner Sith Lord and wearing Star Wars inspired outfits, hairstyles and makeup looks for the last few weeks so I thought I'd keep up the trend and show some of my favourite eye looks!
Jaunty Jedi
Now I am no Jedi but something about their robes had always appealed to me the light colours mixed with slightly darker ones. For the Jedi look I wanted to go with the colour scheme so nudes everywhere with one pop of colour. When you look at Jedi the makeup look seems to be minimal.I love a clean fresh faced look as much as the next person but I felt like I needed to kick it up a notch for this look.
So I started with a freshly washed and primed face. Next I put on my foundation with a sponge. It's taken me a while to get used to it but I love it when I need a soft powdery look. Once my face was a blank flawless canvas I started on my eyes. I primed my eyelids with Urban Decay Eden. It is a matte primer that dries a powdery beige which was perfect for what I wanted to achieve.
Next I put a very light eyeshadow all over my lid. This shadow is a creamy colour. After that I put a warm caramel brown colour on the outter corners of my eyes and blended that into the lighter colour and into the crease. Next I darked the crease slightly with a dark brown to complete my upper lid. On my lower lid I used the light colour the whole way across, then I applied the caramel colour a third of the way across and then finally the brown colour at the outter cornet of my eye.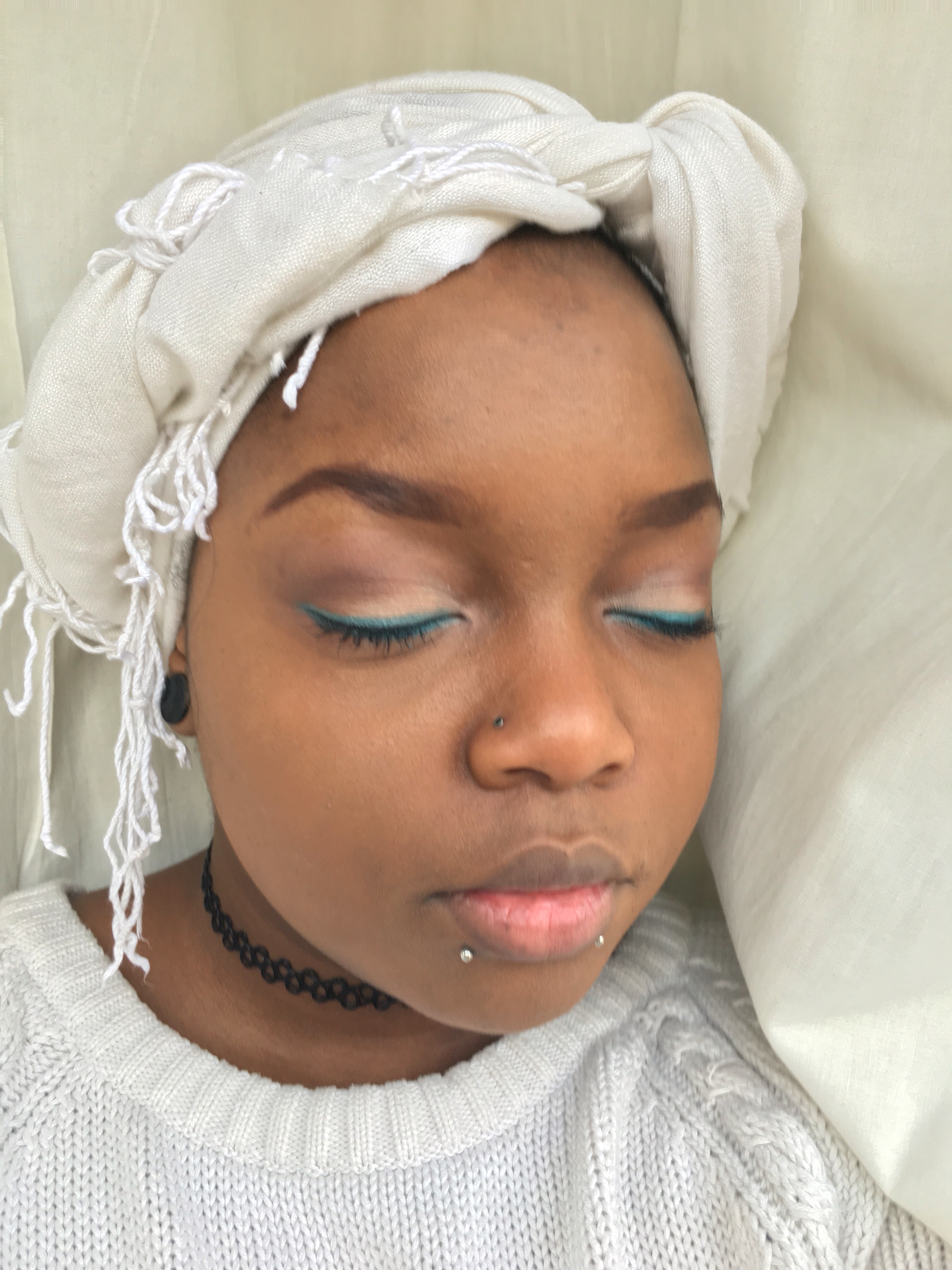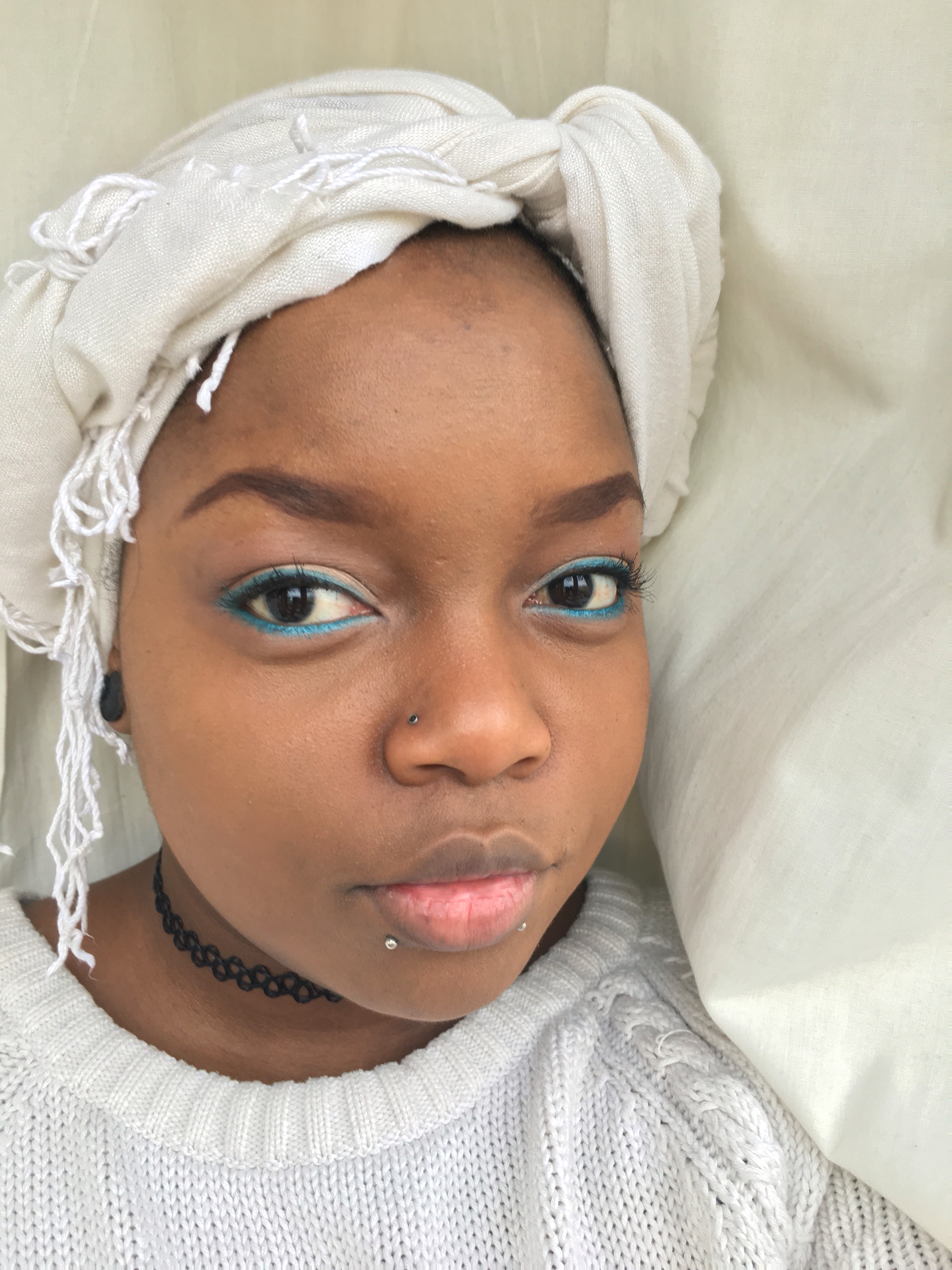 Then I applied eyeliner. I used two different eyeliners to get a colour I loved. I used a dark teal colour and a soft powder blue liner smudged together to line my top and bottom lip. To smudge them I used a sponged applicator.
To finish off I topped my eyes off with a generous coating of mascara.
Smouldering Sith
I love Sith Lords, Their outfits are just so amazing and try pretty much inspire my day to day wardrobe.So I was super excited about this look. I've done plenty of sith inspired looks because of boredom so I had a lot of fun planning this look.
For the sith look I wanted to go dark and edgey and of course bad ass. I love the dark colours of sith robes and the pop of red from their lightsabers is just the perfect combination in my eyes. So my colour scheme was dark.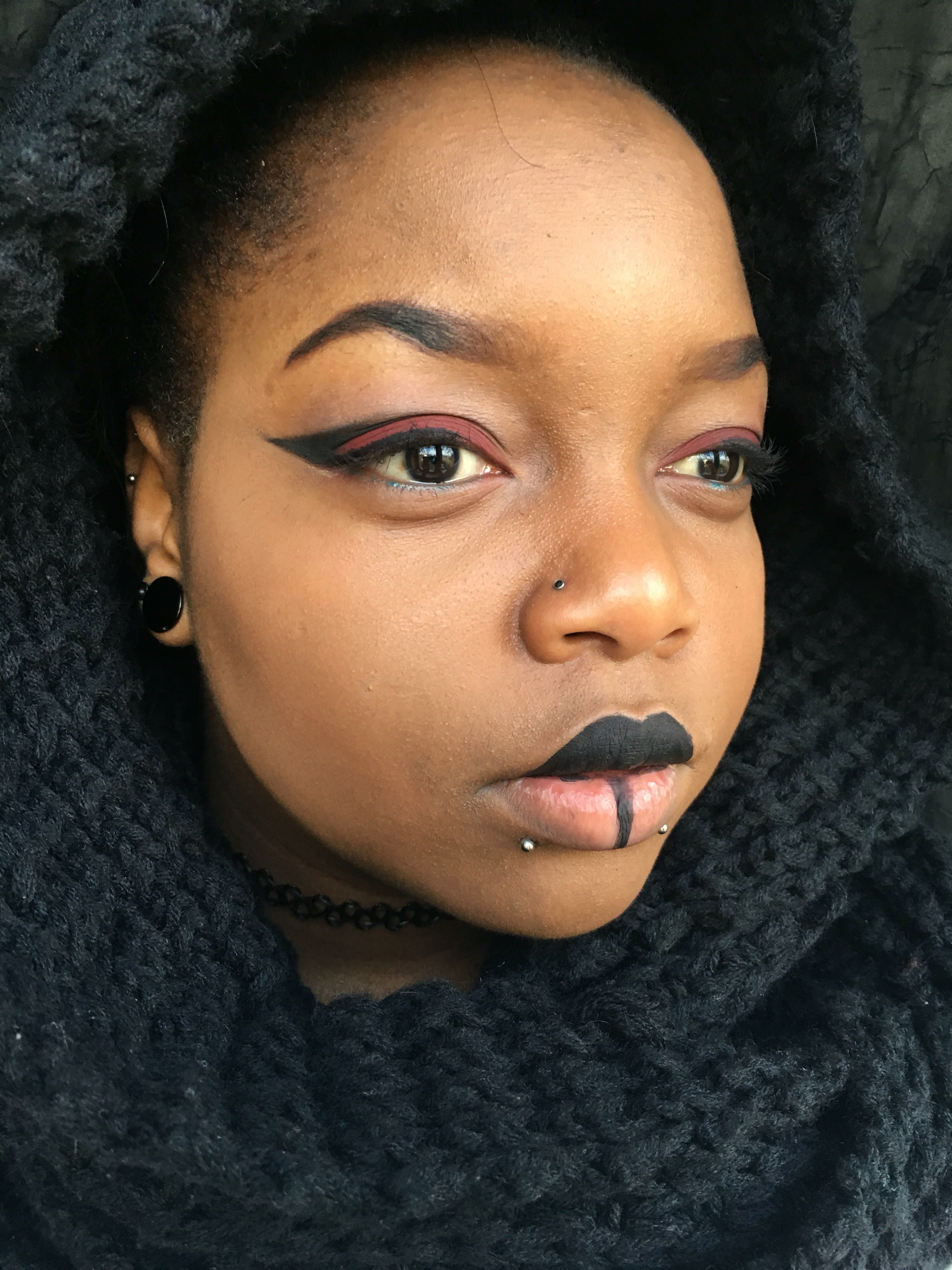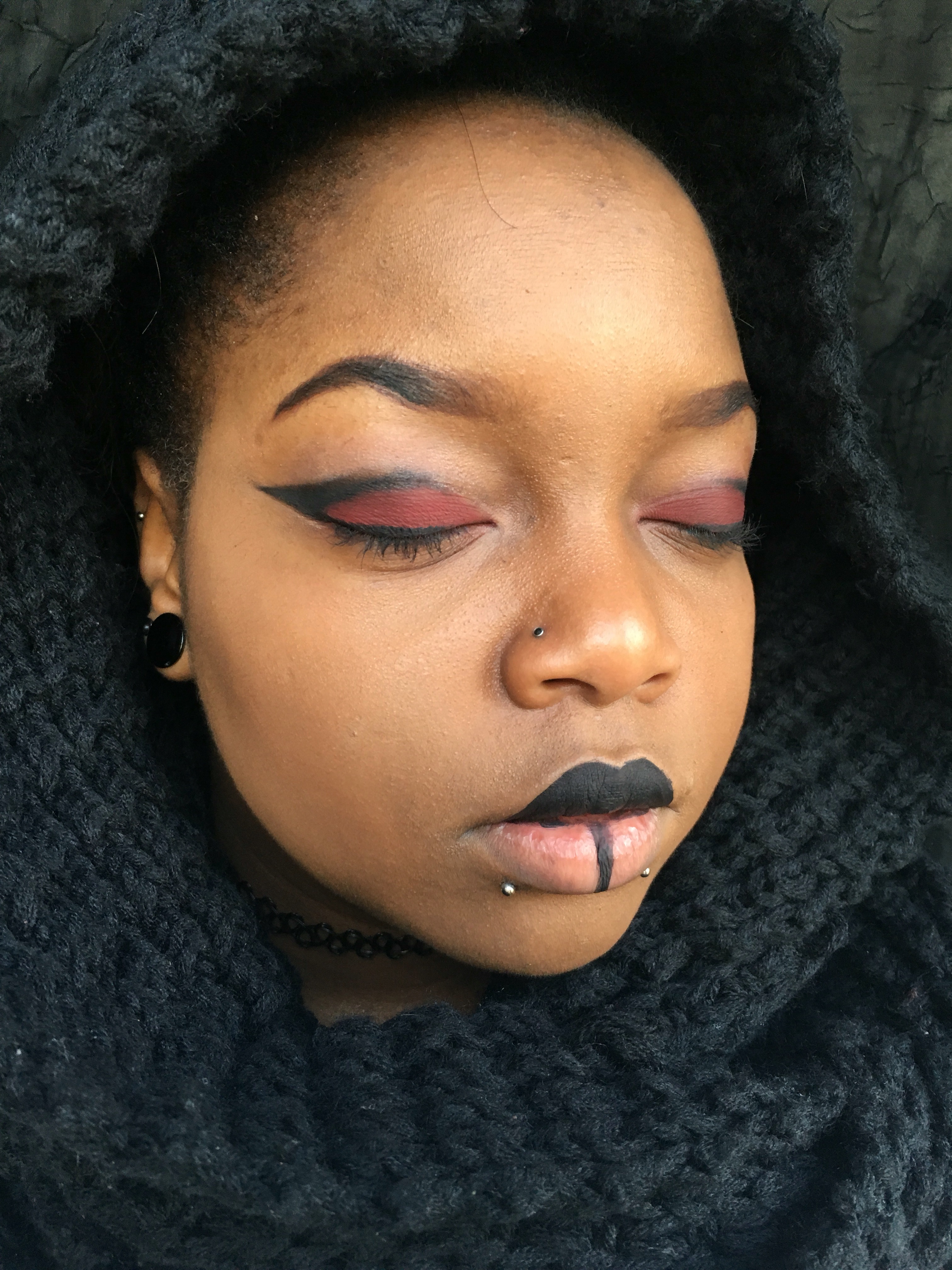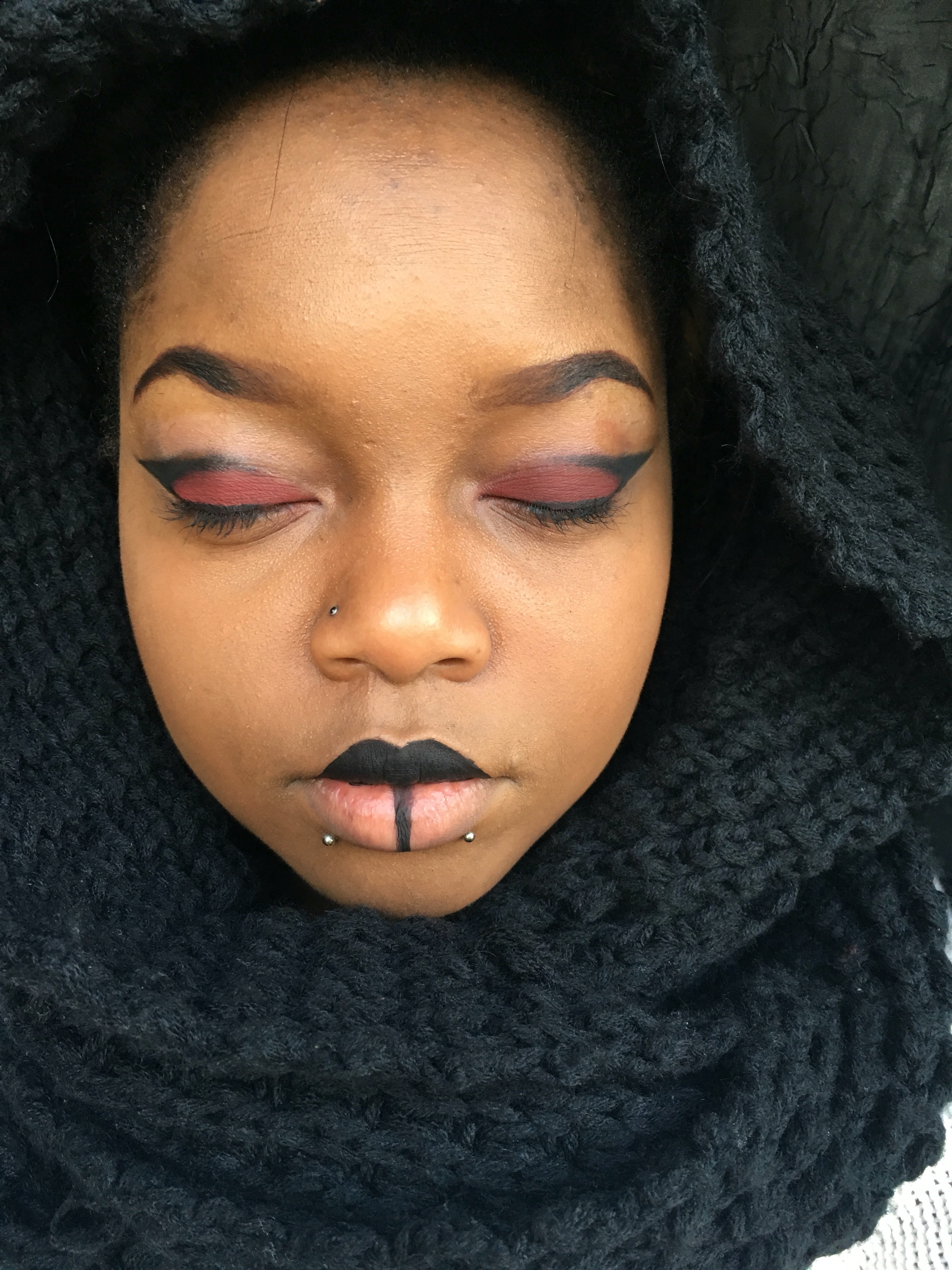 I primed my eyelids with a clear drying primer this time. I didn't want anything taking away from the intensity of the red and black I shadows I wanted to use. I packed on some very pigmented red eyeshadow and tightened up the edges because with the black eyeshadow I drew a line to map out the cut crease. The cut crease extended into an exaggerated winged eyeliner look. I then lined my top lid with a black gel liner and added mascara onto my lids to finish off my eyes.
To finish off the complete look I put a matte liquid black lipstick on mt top lip and a single straight line down my bottom lip.