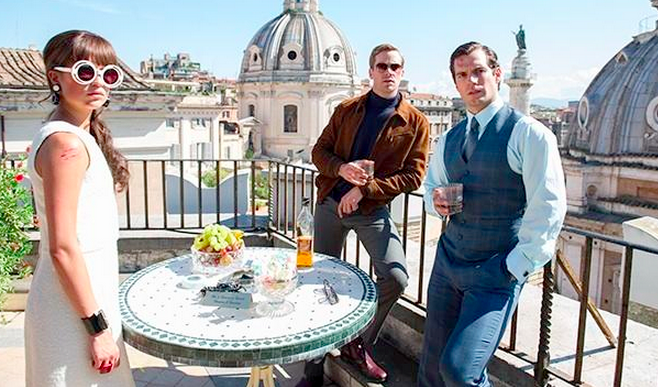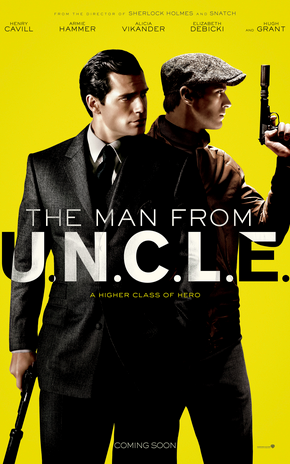 The Man From U.N.C.L.E. is the latest in a long line of reboots and remakes for which there has been a preponderance this year. Before reviewing the movie, a few mentions have to be made about its origins. The film started life as a TV show in the 60s. The show itself was a James Bond spin-off set in the Cold War period.
Not having been heavily broadcast since it was canceled back in 1968, the film makers were not motivated to make a movie that draws too heavily on its source material. Audiences are in no way required to see the TV series to understand and enjoy the film. As to historical awareness more generally, audiences need to have at least some idea of what the Cold War was, but detailed understanding is, again, surplus to requirements.
So, with the preamble out of the way, on with the synopsis!
The plot is made clear from the trailers. There is a criminal organisation suspected of having acquired the means to construct a nuclear bomb. A threat of this magnitude leads to the CIA and KGB forming a shaky collaboration by tasking their best men to tackle the threat. They are Napoleon Solo (Henry Cavill) and Illya Kuryakin (Armie Hammer). Their plan involves a young woman called Gaby (Alicia Vikander) whose father is a scientist believed to have been abducted. The criminals in question are the Vinciguerras, a family of Italian fascists fronted by femme fatal Victoria (Elizabeth Debicki).
It is not a spoiler to say that the accents are switched up by all the major cast members. A Brit (Cavill) is playing an American, an American (Hammer) is playing a Russian, a Swede (Vikander) is playing a German and an Australian (Debicki) is playing an Italian. All make convincing attempts at the accent they are assigned, and the movie is entertaining enough that any discrepancies are easily overlooked. I was fooled.
In the supporting roles of senior intelligence officers, we have Sanders and Waverly, played by Jared Harris and Hugh Grant respectively. Harris is on grizzled form that is reminiscent of Tommy Lee Jones – which is appropriate, considering Jones is set to join the cast of the next Jason Bourne movie. Hugh Grant is… Hugh Grant, and does a darn good job of it too!
There is a good plot to the film and one that you can follow easily. Yet it really is an after thought – the visuals take precedence here. What holds your attention is the interplay of persons with different agendas, who bounce lines off each other while looking like they just wandered off the set for a retro edition of GQ or Vogue. Pretty people deliver crisp dialogue, dealt off the cuffs of well-fitted clothes. For some, this may be a little superficial, but that is the major appeal of The Man From U.N.C.L.E., and it's captivating for the whole of its duration.
That said, there are aspects of the film worth mentioning, if only as points of contrast. The film was made by Guy Ritchie and Lionel Wigram, the team who made the non-canonical Sherlock Holmes movies. While promoting this movie, Wigram mentioned the possibility of a third instalment. Like many, I would be glad to see another movie featuring Robert Downey Jr. and Jude Law. However, the most recent collaboration from this pair has a pleasing change of pace. Unlike the Sherlock Holmes films, The Man From U.N.C.L.E. takes its time, though it always picks up the pace before languishing into the soft fabrics that adorn its cast.
The film gets its sexual politics right too. Watching the trailer, cinema goers might be forgiven for thinking that there was something regressive in the treatment of the female cast. Yet the characters played by Debicki and Vikander demonstrate as much agency and cunning as both Cavill and Hammer. In fact, Victoria (Debicki) is head of the family, one she married into. Alas, her husband Alexander, a feckless playboy and son of one of Mussolini's close friends, is something of a dolt. Still, actor Luca Calvani does the role justice. Also, both women are funny and strong, partaking in the typical deadpan, one-line humour that permeates the whole movie.
Although a film like this isn't trying to appeal to film buffs explicitly, there are nods toward classics to be found. Most recognisable is a sequence with Armie Hammer on a motorbike towards the end of the movie. It recalls a similar scene from The Great Escape with Steve McQueen. That said, the movie never gets bogged down and remains entertaining throughout.
Entertaining, witty and stylish.