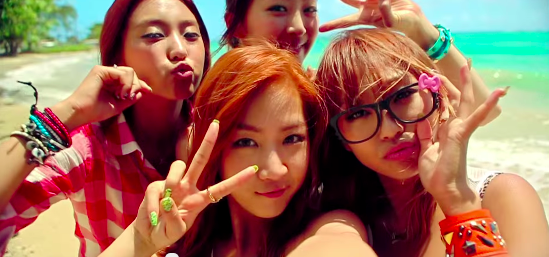 Since the weather is so crazy lately, and mostly full of rain, we thought we'd pick out some cute and summery K-pop videos to brighten up your day. These videos always cheer us up, so I hope they'll put a little spring in your step.
Sistar – 'Loving U'
Remember all those fun times on our lovely Irish beaches in the scorching hot weather? Yeah, us neither… But this upbeat song will definitely give you those happy summer feels, even if the weather doesn't.
Bang&Zelo – 'Never Give Up'
This one is for anyone in school or taking classes. "Don't worry, everything will be fine, never give up!". Keep your head up. Also, look at Zelo with those floofy blonde curls. How could you not smile watching this video?
Girl's Generation – 'Party'
'Party' is a really catchy song that'll make you want to drop everything and run to the nearest beach! It's upbeat and full of fun!
Super Junior – 'Dancing Out'
We can't help but add our boys in here. This is another feel-good summer song that will have you up and dancing no matter where you are. Anyone else suddenly want to jump in a pool?
2ne1 – 'Falling in Love'
This one will definitely have you swaying your hips and dancing about the office like the queen (or king) that you are.
What are some of your favourite cute, feel good K-pop videos? Let us know in the comments!