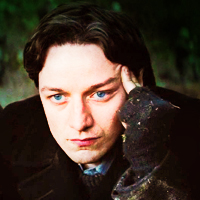 X-Men Days of Future Past: Meet Professor X
Name: Charles Francis Xavier
Alias: Professor X
Abilities: Psionic powers. This makes him one of the strongest telepathic mutants. His powers enable him to read minds, project his thoughts and manipulate others thoughts by creating illusions and implanting suggestions. He also uses Cerebro to enhance his natural abilities and find other mutants to aid them in their lives.
First Appearance: X-Men #1 (1963)
Portrayed by: Patrick Stewart and James McAvoy
Bio: At a young age Xavier's powers emerged when he felt his step-brothers pain while he was being beaten by his step-father. This awakening of his mutant abilities enabled him to get a biology degree in two years. He then joined the army to prove to a rival that he was worthy competition when it came to the love of Moira MacTaggert. His abilities proved useful in the search and rescue division of the army but when Moira broke off their engagement he left the army and went traveling around the world. 
It was while traveling that he found his calling in life; to  help change the world, create a place where mutants and humans can co-exist while protecting humans from the evil doings of bad mutants and to protect good mutants from hatred and violence. 
It would be on this journey that he would meet the mother of his child, Gabrielle Haller and his friend turned enemy, Erik Magnus Lehnsherr more commonly known as Magneto.
In the movie universe Charles Xavier is pretty much the same person as before and although the first few stories where centered around the school in modern times, X-Men: First Class goes a bit further back. There were some details in X-Men: First Class that differed from the comics but it all worked nonetheless for the movies adaptations and the core fundamentals are the same regardless. He cares both humanity and mutants and all he truly wants is peace but he is willing to fight for it.
Must read issues:
Uncanny X-Men #161 – A flashback issue that revolves around the friendship between Charles and Erik.
Alternate versions:
Professor Xavier has appeared in all the X-Men movies and TV shows. He is an important part to the team as he founded this home for all the students that he has taken under his wing. From the movie adaptations you can tell that he cares for all of them. His kind nature even extends to his feeling s for Magneto and other "bad" mutants.
Fun Fact: Professor X's character was inspired by Martin Luther King, mainly because of his civil rights movement.