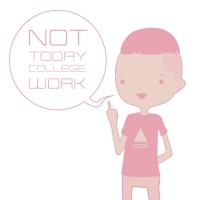 Artist Spotlight: House of Xosé
This week I chat to Irish artist and graphic designer, Joe Lynch (House of Xosé) about his work. Joe has worked designing posters for various clubs and bars around Dublin
and does some amazing designs to top it all off!
Name: Joe Lynch, Haus of Xosé or Xosé. Xosé makes me sound more exotic even though I'm a pasty Irish boy.
Location: Born and raised in Crumlin, Dublin 
Joe's Website – Joe's Facebook Page
1. When did you start drawing?
I'd say I was around 3-4. I always drew little crappy pictures when I was young in the back of story books, deformed little men and clocks with 5 too many numbers. I was fond of taking markers to treasured family photos too. My family drew a lot in general so I guess I picked it up from them.
2. Do you work digital or traditional?
I do a bit of both, I was raised by traditional but started digital at 14 when I got my first dodgy copy of Photoshop 7.0 from LimeWire. I suppose more digital over traditional. But it's nice to vary and combine the two.
3. What are your tools of the trade?
I'm going to come across as an Apple and Adobe whore, when I'm not. (I really am, if their products were people I'd ask them to sit on my face.) If I'm at home, iMac 27' with a filthy Wacom Bamboo Fun and it's 6th replacement pen. On the road, a MacbookPro 13' with super duper faulty battery that flashes 'Please Replace' when turned on or an iPad and the jot stylus. Program wise, Photoshop, Illustrator, Lightroom and the odd time, InDesign.
4. Are there any artists that inspire or influence you?
I kind of pick up bits and pieces from different artists. I have folders of random images saved of stuff I like by people on Tumblr and Facebook. At the minute one of my favourites would have to be Niall Sweeney from Pony Ltd. His work has made me think of design on a whole new level.
5. What's your favourite subject matter to draw?
Drag Queens, drag queens and drag queens. Who doesn't love big pouty lips, legs that never end, extravagant eyelashes, weaves that would put Rapunzel to shame along with a jawline that could cut glass. Sometimes ridey men.
6. Tell us about one of your characters (if you have any)?
Jaysus, I suppose the only one that fits the mark is Tulisa Pizazz. Long story short, I did drag a few times and my fairy drag mother, well, father, knighted me Tulisa Pizazz because of your one from Ndubz who got caught smuggling all the coke and I used to hairspray my fringe to my forehead a lot. Tulisa also apparently ruined a 21st of some young one in Westport by getting too drunk and whipping off her bra and throwing a tit at someone (it was really a stocking filled with rice) *Top tip: don't use basmati rice for making tits, if you sweat you smell like an Indian takeaway*. Anyway, I translated her to paper and she's been a favourite since.
7. What's your ultimate goal when it comes to art?
When it comes to art, to be happy with my work, but as artists we all know that's never going to happen. I'd love to work for myself, possibly start up Haus of Xosé as a brand (God knows what for) but you know, a boy can dream… vaguely.
8. What advice would you give to aspiring artists?
I'd love to write something super meaningful that would hopefully inspire someone, but to be honest I'm just gonna say what my old substitute art teacher said to me and to be honest, it was the best thing I was ever told. "Joe, stop drawing anime, as lovely as it is there's more to art than just anime. I know your comfortable in that style with your black and white safety blanket, but art is an adventure, don't be afraid to get dirty."