Geek Log | Iron Fist Binging, Batman News And Sabrina
Geek Log, Earthdate 140918:
This week has been a bit crazy, what with news that Henry Cavill is hanging up his cape and Ben Affleck's Batman is probably out too. I suppose it's just another day at the office for the people behind the DCEU. Someone on Geek Tyrant posted a gif and said it was a representation of the WB offices this week; it featured scientists in the Simpsons rolling around the floor on fire before suddenly becoming clowns. I laughed for five straight minutes the first time I saw it!
In other Batman news, Jon Hamm is interested in playing the caped crusader and I think I speak for almost everyone when I say GIMME NOW. He has the attitude, he's used to playing tortured characters and, most importantly, he's got a great chin! Some sites were saying Kit Harrington was being considered for the role and all I could think of was his wee cute face stuck into the Bat's mask. Nope. Just wouldn't work, sorry Kit. Maybe Robin would be a better fit.
I totally agree with Mitch Gerads: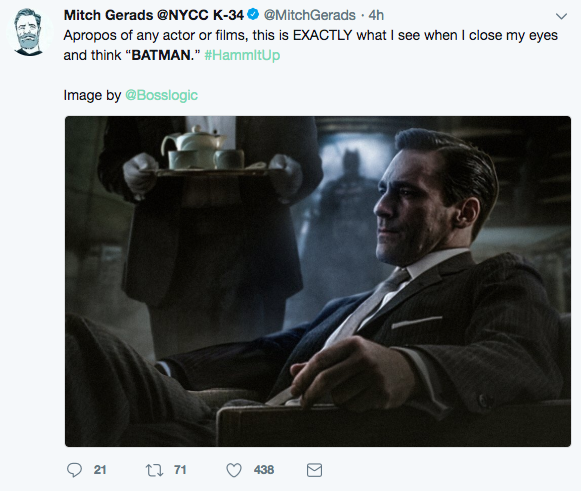 Binging Time!
I've been trying to catch up on my Netflix TBB (To Be Binged) list for the past few days, and top of the list was Iron Fist season one. I gave up watching it when it first came out, then I tried again and stopped at episode four, so I figured I'd give it one last shot. I actually ended up enjoying it even though there was PLENTY wrong with it; awkward scenes, strange direction, god awful acting by Finn Jones (or maybe it was just the dialogue… Daniel Day Lewis couldn't have saved that shit), and some irritating plot devices. However, it had enough to keep me entertained and left me excited to see more.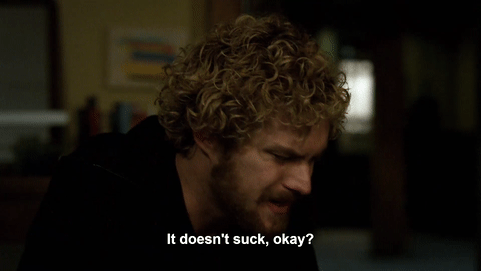 I started watching season two yesterday and it's off to a bad start already. No badass Colleen? Joy being batshit crazy? Davos dressed to the nines in a fancy suit talking money with the mob? What?! I'll probably give up on it and try again in a month.
Sabrina Hype!
The trailer for Chilling Adventures of Sabrina was released yesterday and I can't remember the last time I was this excited about a show! It looks AMAZING, from the cinematography to the casting to the sets. If it turns out a cringefest like Riverdale so help me God..! It releases on October 26 so I'm going to spend the lead-up to Halloween watching it and then if I love it I'll probably watch it again.
Don't forget about Book Club!
Over the next week, I'm going to go over Children of Blood and Bone by Tomi Adeyemi, the Arcade's Book Club choice for September. We're recording our discussion in two weeks and it's a great book to ease us back into regular Book Club content! If you haven't read it yet, you're missing out! Here's the official Goodreads synopsis: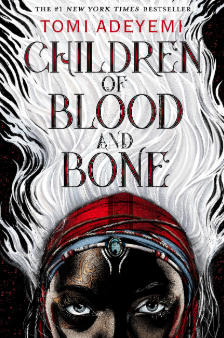 "Zélie Adebola remembers when the soil of Orïsha hummed with magic. Burners ignited flames, Tiders beckoned waves, and Zélie's Reaper mother summoned forth souls. But everything changed the night magic disappeared. Under the orders of a ruthless king, maji were killed, leaving Zélie without a mother and her people without hope.
Now Zélie has one chance to bring back magic and strike against the monarchy. With the help of a rogue princess, Zélie must outwit and outrun the crown prince, who is hell-bent on eradicating magic for good. Danger lurks in Orïsha, where snow leoponaires prowl and vengeful spirits wait in the waters. Yet the greatest danger may be Zélie herself as she struggles to control her powers and her growing feelings for an enemy." 
Get it on Book Depository for €7.39 (with free shipping worldwide!) and listen in when we post our podcast at the end of the month!
What have you been doing this week? Let me know in the comments!