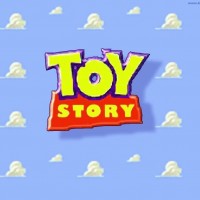 Interview: Toy Story Live Action Project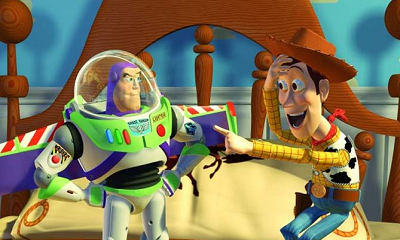 If like myself you were somewhat not in fighting form on Sunday morning you may have spent your morning browsing the internet, looking at things you can't afford and chuckling at silly cat videos. This Sunday was a little different though when I stumbled across a video on YouTube of Toy Story, the classica and beloved Disney movie. It was fanmade and was shot in real life, real life toys from the movies dangling from puppet string and wire and stop motion shot  to recreate one of greatest kids movies ever made!I couldn't believe it, the work that went into the real movie must have been arduous but to turn your hand at recreating that movie in real life and get every shot and detail down to perfection was something else! I was just as eager to find out who the people behind this project were as I was to watch it all and after a little digging I had my answer, it was two teenagers, Jonason Pauley and Jesse Perotta in America who with the help of friends and family pulled this fantastic feat off.
While satisified with my snooping I wanted to know more and a quick mail back and forth, I was chatting to Jonason one half of the creative duo behind this project!

Firstly, I guess it would nice to know more about you both? Who are you and how do you know each other?
We met at church, Faith in Christ Fellowship in Mesa, AZ. We made movies together along with other mutual friends and in summer 2010 decided to start this project.
Why did you decide to undertake this project?
For no other reason than we really liked Toy Story, and we wanted to see if it could be done.
Ok, so I think we need to know what exactly was involved in the whole thing? How did you go about making this?
We decided to try to get every detail as close as possible to the original, so that meant borrowing, finding and buying props and things like that. We asked for anything that we needed and most of the time a friend would have it for us to borrow.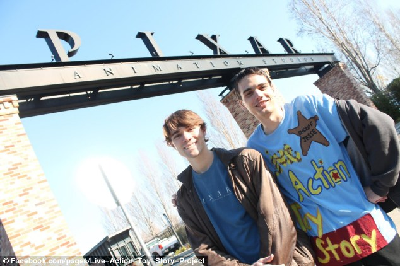 Why did you pick Toy Story?
We picked Toy Story because it has always been one of our favorites and it actually seemed possible, difficult, but possible.
So one of the first things that came to mind when watching it was what would Pixar have to say about it? Have you guys heard from them?
We never heard an official response from "Pixar", but we have talked to a bunch of people who work there who had nothing but good things to say to us.
Actually more importantly what did your parents and friends think about it?
My family and my friends seem happy with it. Nearly every friend of ours is either in the movie or helped in some way, so they were all thrilled to see the finished product. My mom plays Andy's mom, all of the kids in the movie were family friends…
Any plans to to turn your hand at more movies? If you could have done any other movie what would you have picked?
No, we don't plan on Toy Story 2, 3, or anything else like that. I want to make other, non-shot-for-shot movies now; Something original. I wouldn't have wanted to do any other movie, it would be too hard- finding a moving van for this movie was hard enough, an airplane for Toy Story 2??!?!, uh, no thanks.
Finally, if you were trapped in an Arcade for eternity what one game would you play to pass the time?
Trapped in an eternal arcade? It depends, if I had eternal money too, I would obviously keep trying at the claw, but if I only have my own money I would just play skeeball.
You can follow updates from the project by clicking below! I'm predicting nothing but big things from Jonason and Jesse in the future so be sure to follow them by clicking here:  Live-Action Toy Story Project
If you haven't seen Jonason and Jesse's work then click here to watch the whole video in full!
Editor-in-Chief, part-time super villain and hoarder of cats. If you can't find me writing, I'm probably in the kitchen!