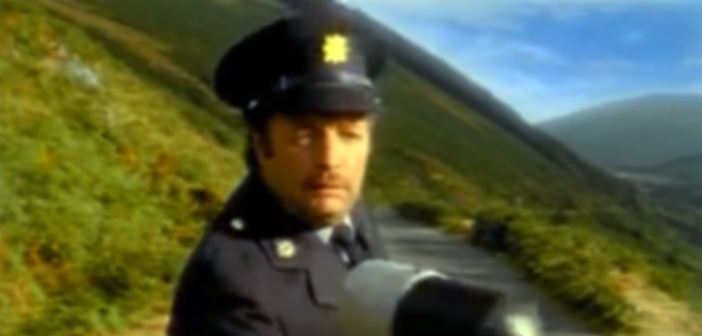 Irish Ads That Encapsulate Everything About Irish Telly
Should you decide to move abroad, what else could you miss more than ads for stuff on TV? For decades expats would say "Yeah, I can't speak to my Ma as much as I'd like but I'd give anything to hear that jingle again". Well thanks to YouTube those days are over. Here are some of the best ads this country has ever produced.
Go Walking
Nobody can say those two words without singing the rest of the jingle. It's so corny but I can't think of another ad about walking, can you?
Kit-Kat Garda
Fair City regular Mick Nolan will forever in my mind be the bored Garda playing cowboy. You can keep your roller-skating panda bears. This is the best ad for Kit-Kat. 
Tayto Nuns
"Dave, you're making this up. No Irish company would advertise their product with Catholic nuns travelling to Hell and robbing crisps from Satan."
Another great thing about YouTube is when you get to gloat about being right.
https://www.youtube.com/watch?v=Qwg_HR2pkMU
Cold Case/Ros na Rún
Irish language channel TG4 were always the best for broadcasting contemporary American drama. No other station in Ireland showed Oz, The Wire or Cold Case. They knew they were onto something and made this incredible ad featuring Cold Case stars Katheryn Morris, John Finn and Jeremy Ratchford  interrogating Daniel McLoghlan the villain of their own Irish language drama Ros na Rún, played Peadar Cox. It's just like a 40 second episode of Cold Case only with a fantastic Irish twist. Enjoy.
Aptimel Follow On Milk
You've probably seen this advert plenty of times but move to the UK and you won't. Follow On milk for babies being advertised on television proved to be a touchy subject and certain types were removed from all commercial breaks, specifically the products made for babies under 6 months. There are several reasons for this ranging from health issues to a possible interpretation of shaming women who can't or choose not to breast feed. Luckily, us Irish don't concern ourselves with such trivial things as long as we get to see lovely pictures of babies being cute. Aww.
Ulster Television
Of course I could not discuss Irish ads without mentioning those cheap and cheerful UTV clips which were little more than talking billboards. Even as a kid I found these hilarious and there are loads of them on YouTube. Have fun.