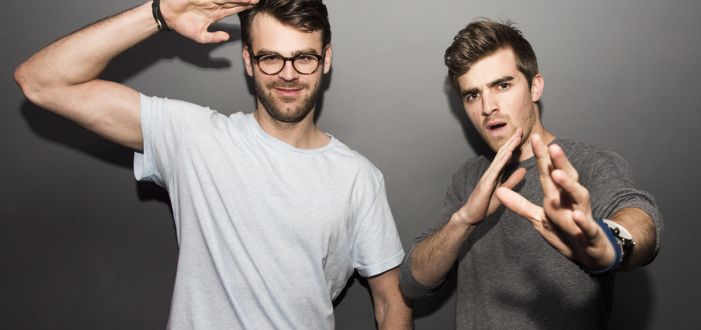 Hey guys, and welcome to another Music Monday. After a long day in work, school or college, theres no better feeling that putting on some tunes and kicking back for the night. Which is exactly what I'm doing now. Today's Music Monday is completely in the hands of fate, as the shuffle decides which songs from my Upbeat playlist, make the cut.
The Chainsmokers ft. Daya – 'Don't Let Me Down'
Probably one of the newest additions to my music collection, and easily one of my latest obsessions. Some may remember this DJ duo from their 2015 hit 'Roses'. Made up of Andrew Taggart and Alex Pall, I'm sure Chainsmokers are most definitely going to be around for quite a while as they storm to the top of charts around the world.
McFly ft. Taio Cruz – 'Shine A Light'
Going a bit further back in time for our second track to the latter-day of the ever adorable McFly, we've got the song 'Shine A Light'. Released in 2010 (now I feel old) this song didn't quite make it into the top 10 in the Irish charts, rising only to the 13th position at its peak. Nonetheless, this is definitely a song worth dancing around to.
Icona Pop – 'All Night'
The next upbeat song my shuffle has decided to land on is 'All Night' by the Swedish duo, Icona Pop..Probably best known from the success of their hit "I Love It" with their Charlie XCX collab. This song definitely follows suit, being a track that really makes you want to dance.
Rita Ora – 'Poison'
Between coaching on The Voice, and judging on The X-Factor you would have to wonder when Rita Ora finds time to make music. But when she does, the music she makes tends to be great. I have a habit of bingeing on new songs when they are released, and so far, every song we've stopped on, has been a binge hit. This one is no exception.
The Saturdays – 'What Are You Waiting For'
There's probably only 2 Saturdays songs I don't like from every one they have ever released. This one just so happens to be one of my favourites. 'What Are You Waiting For?' was the opening song from their most recent tour, and since then, the energy and excitement that opening number created, has stayed with me every time I hear this song. e
So, that, my friends has been a shuffle through my 'Upbeat' playlist. I'd love to hear some of your favourite upbeat songs down below in the comments!