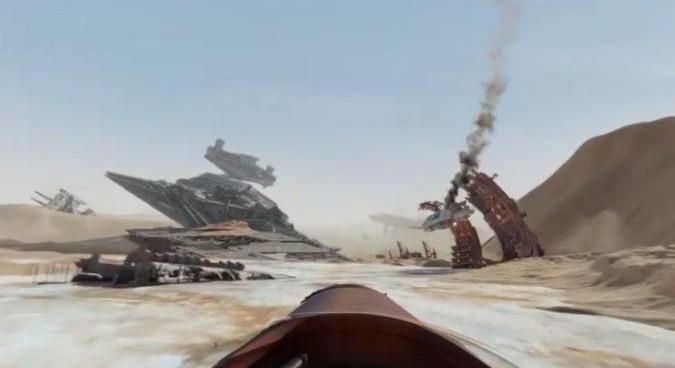 Since the original release of A New Hope, fans of the Star Wars franchise have fallen in love with the immersive new galaxy set before them. Whether it's the jungle tree cities of Kashyyk or the frozen landscapes of Hoth, fans would no doubt kill to wander into a galaxy far far away and take a peek at what it has to offer. However, while you can visit the filming locations in real life, no fan has ever had the chance to look around the actual fictional vistas outside of fleeting time in the various video games. That is until yesterday, when the official Star Wars fan page on Facebook released a 360 teaser that allows you to look around on a speeder in the deserts of Jakku.
The Facebook exclusive post, seen below, is a sight that's sure to draw in any fan of the beloved sci-fi franchise. While the camera is mounted on a speeder, the viewer is taken on a tour of the deserts of Jakku, circling a fallen Star Destroyer and can move the camera around by clicking and dragging.
Posted by Star Wars on Wednesday, 23 September 2015
It's stuff like this that almost make you glad Facebook bought out the Oculus Rift, huh? What do you think readers? Think we'll find out the reason the Star Destroyer was…er, destroyed? Let us know in the comments below!