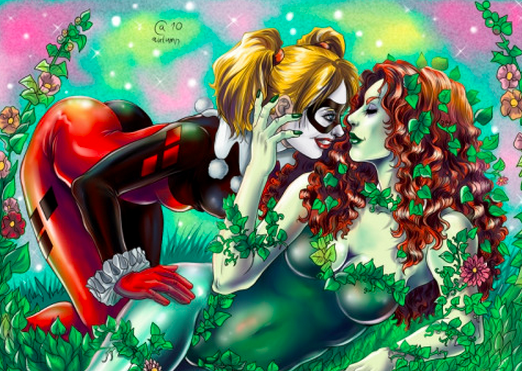 DC Confirms Harley Quinn & Poison Ivy Are Polyamorous Couple
This week, Harley Quinn's series writers Jimmy Palmiotti and Amanda Conner did a 'hashtag chat' on Twitter answering any questions fans might have about Harley. Needless to say, questions varied from irrelevant to confusing to fascinating.
One of the interesting tidbits that came from the discussion was a little about Harley's personal life; in particular, her sexuality.
@DCComics @jpalmiotti @AmandaRantsAlot what do you think about the romance between harley and poison ivy? #HarleyQuinnChat

— Beyza (@cryptomyth) June 12, 2015
Their response kind of side-stepped around the question. 
We love that they are the best friends ever. Ivy is Harleys rock. @AmandaRantsAlot #HarleyQuinnChat https://t.co/38Oc8SJJsa — DC Comics (@DCComics) June 12, 2015

One fan wasn't happy with this answer and went straight to the point.
@DCComics are harley and ivy girlfriends? Please confirm this. #HarleyQuinnChat

— #justiceforbap (@trafaIgar) June 12, 2015
And gladly enough, they didn't avoid the question this time around. 
Yes, they are Girlfriends without the jealousy of monogamy. @jpalmiotti @AmandaRantsAlot #HarleyQuinnChat https://t.co/n86jApADCi — DC Comics (@DCComics) June 12, 2015

Some fans really want this to be a plot line and aren't content with the subtleties.
@DCComics #HarleyQuinnChat Harley and Ivy as lovers most of the time is underplayed and swept under the rug. Possible that this will change?

— Elizabeth D-V (@324_B21) June 12, 2015
And while there don't seem to be any plans for this happening in the near future, you can bet their love grows strong. 
When Harley falls in love, she falls in love hard and loyally no matter who they are. @jpalmiotti #HarleyQuinnChat https://t.co/c2NF6qJ5xf — DC Comics (@DCComics) June 12, 2015

It's nice that the writers are acknowledging something fans held as canon for so long but, to be fair, they aren't being that discrete about it in the new books either.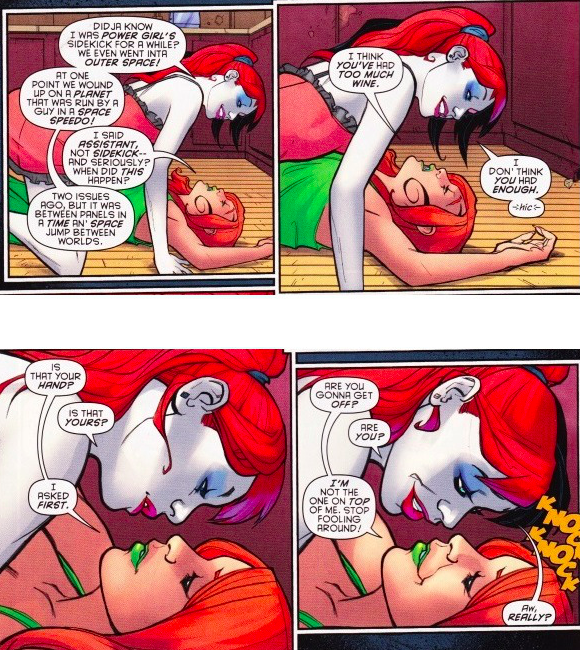 If you aren't familiar with their 'affair', it goes way back to their animated days.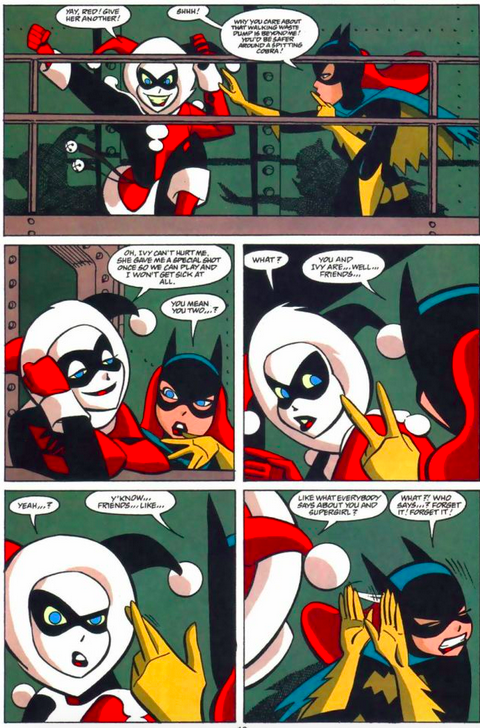 DC hasn't officially commented on the matter yet, but we trust the writers to know what they're talking about.
What do you think of this latest confirmation – long time coming or a bit unexpected? Let us know in the comments!