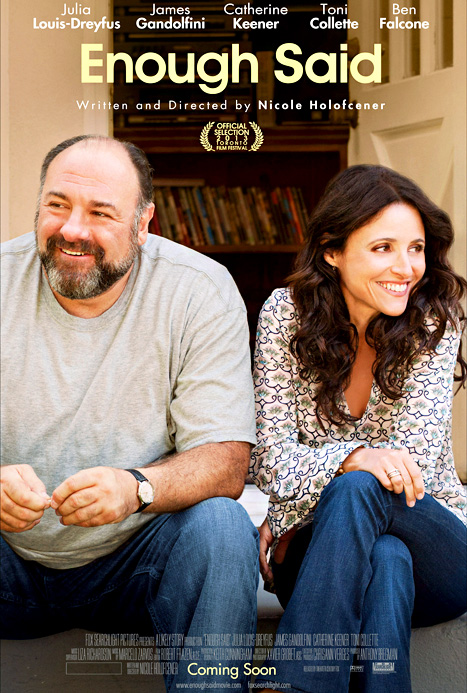 Following a prior article detailing 2005 thriller Hard Candy, we at The Arcade are launching a new review format. The Rewind Review. The premise is simple – at The Arcade we review (among other things) recent cinema releases. That said, we also review older films (and games, and TV shows etcetera) in a format known as the Retro Review (alliterations seems fitting, or dare I say appropriate). The Rewind is a synergy. A critic, in light of a forthcoming release, reviews an older film that shares a common feature with said release, actor(s), writer, director, score composer, genre.  (Just for a taster, in the next few months you can expect pieces on the works featuring Philip Seymour Hoffman and Benedict Cumberbatch, in light of A Most Wanted Man and The Imitation Game. The focus of this review will be Enough Said (2013), a comic romance featuring James Gandolfini, whose last feature film The Drop (2014) will be airing in cinemas worldwide later this year. Enough Said is a film that focuses on Eva (Julia Louis-Dreyfus) and the trials and tribulations of her mid-life, including her, working, parental, social and romantic life. Near the beginning, Eva meets Albert (Gandolfini in his penultimate role) and Marianne (Catherine Keener). The film details examines the fallout from these seemingly innocuous meetings. With moments of wry observation, awkward social gaffs and a plot twist, the film is thoroughly enjoyable. The twist is foreseen quickly enough. Still, it builds to yet more uncomfortable laughs (be advised that viewers may succumb to  watching through stilted fingers).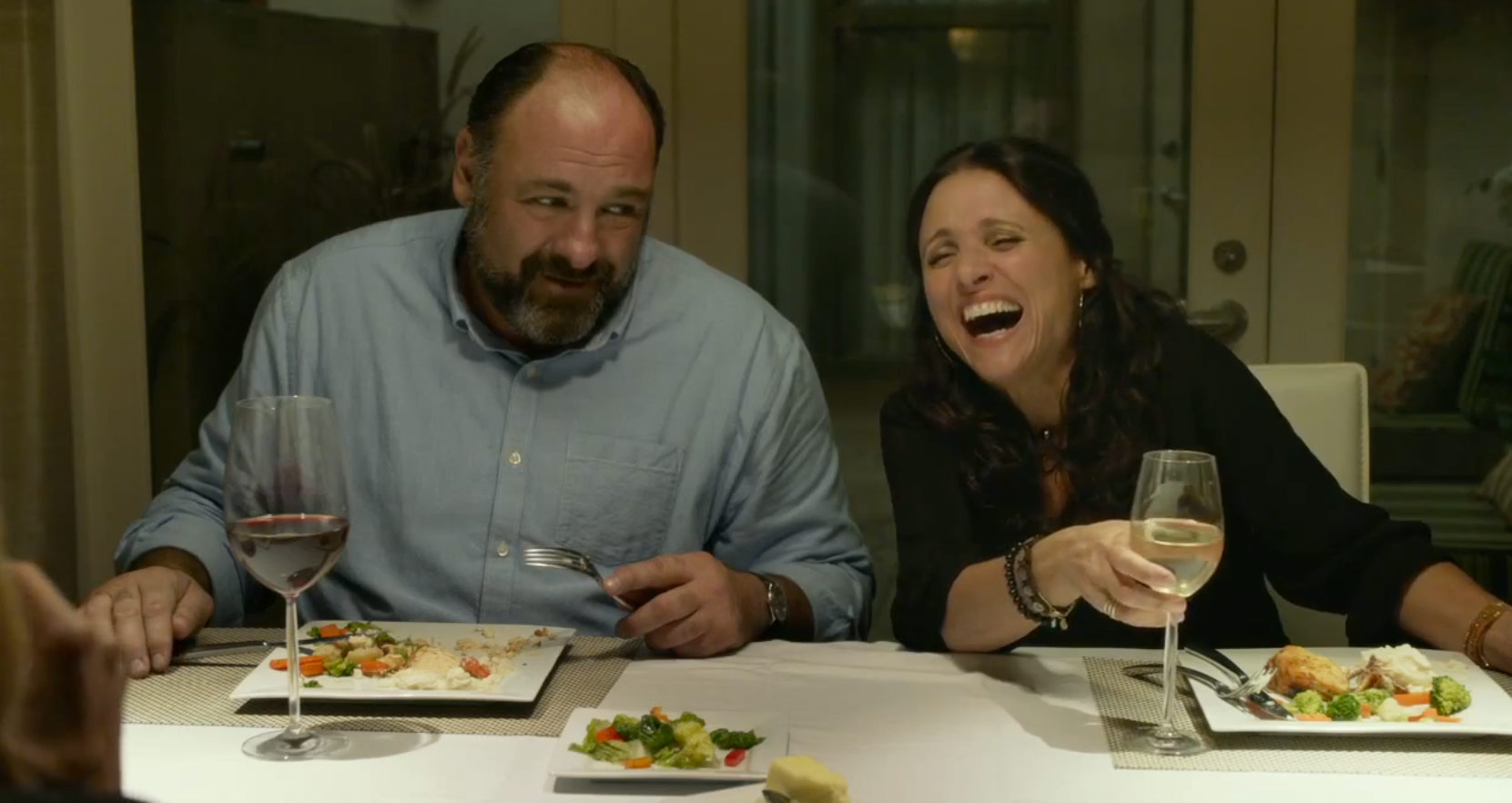 First of all Louis-Dreyfus and Gandolfini have great on-screen rapport (or chemistry if you prefer).  The sadness of the latter's untimely passing is underscored by the fact that this stage/screen coupling will never re-unite, like that of Tom Hanks and Meg Ryan.  The quirky neurotics of our central character could easily make for an irritating spectacle. However, Louis-Dreyfus approaches the role with such deftness that she manages to avoid overplaying Eva's more zany moments, which otherwise would be viable to annoy. Albert's laconic sense of humour strikes a pleasing contrast, attesting to Gandolfini's superb comic timing. The real star however is writer-director Nicole Holofcener, whose talent for capturing incidental moments in human interaction comes to the fore. Before now I (for one) was unaware of her work; but now am on a mission to track down her other movies (and who knows, maybe they will be Rewind Reviewed too…). Astute dialogue in-tandem with gentle direction make for characters who exchanges are realistic and familiar. At moments when the drama seems set to overbalance the film the second onscreen couple, Toni Collette and Ben Falcone, inject dialogue that plays foil to the main plot. That said, it would be hard to call such scenes cop-outs owing to the unflinching comedy therein (just to curtail the bile of any would-be-cynics pre-emptively). In fact cynicism would be difficult for this film. Its a Rom-Com but not as we know it! Some might be indignant at the application of a label, one so devalued in recent years that it has come to connote a slur, but the film does fit the bill. What is refreshing, counter-intuitive though it may seem, is that the main love interest, and most of the cast, are older. For what it's worth, I am tired of 20 somethings fretting over stolen glances and I say that as a 20 something (who ever so occasionally will exhibit concern regarding a stolen glance himself). Yet the film is not concerned with subverting genres and their tropes. Such attempts have been made by other films with varying success, Friends with Benefits (2011) and more recently, They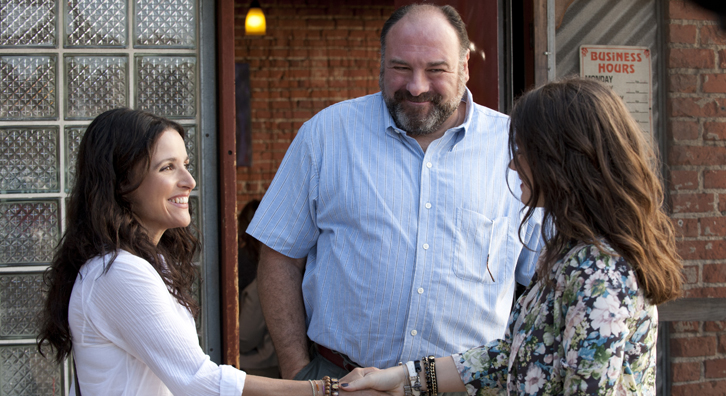 Came Together (2014). The achievement of Holofcener's film is its charming naturalism that makes the film believable even at its most contrived. In light of Gandolfini's (still recent) death one should be mindful not to front load the film with praise. Fair to say he will be remembered as Tony Soprano as opposed to Albert. Regardless, the formats of TV and film being so different, a comparison of these two roles demands proper attention, attention unavailable here. Albert, whatever his position in the Gandolfini repertoire, is one of the great man's most endearing creations. The film is a gentle and funny affair, heart-felt and well-observed, and just so happens to prove something obvious and something unlikely. Respectively, there's life in 40-50 somethings yet, and that the Romantic Comedy as a genre is not perhaps so tired out and bloated as we may have thought.
Gentle and genuine. 9/10