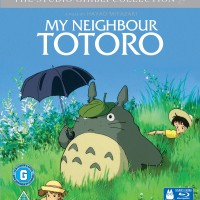 Ghiblicember #1 – My Neighbour Totoro
While we are all basking in the festive spirit Ghiblicember is wrapping up with our number one. Are we really shocked by this? Studio Ghibli itself has used the icon of this film as the mascot for the studio itself. No big surprise but the fan favourite Ghibli film for Christmas viewing is "My Neighbour Totoro".
Released in April of 1988 written and directed by the genius that is Hayao Miyazaki and some of you may have noticed that every one of the films on the Ghiblicember count down has been a Miyazaki film. This just defines him as a creative and visual genius and the world of animation and Studio Ghibli has lost a true master, fingers crossed for him to get bored in retirement or be compelled to return that is how we got the last few films out of him.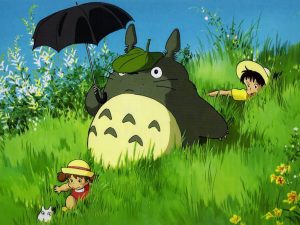 Title:                           My Neighbour Totoro
Release date:           April 16th 1988
Studio:                       Studio Ghibli
Director:                   Hayao Miyazaki
Writer:                      Hayao Miyazaki
My Neighbour Totoro follows the narrative of two young sisters Satsuko and Mei who move with their father to a new house in rural post-war Japan. They have moved in order to be closer to the hospital where their mother is recovering from an undisclosed illness. Both girls are anxious to explore and discover new things about the house and where they live. While roaming about the house they discover that little dust creatures live in their house called Susuwatari and they usually only inhabit empty houses so they move on once the girls and their father are comfortably moved in. When one day Mei follows a white eared creature to a large tree where she meets and befriends a much larger version of the creature and when it roars she understands that as "Totoro", who turns out to be the keeper of the forest. Both girls set out on adventures with Totoro and his magical catbus. The film shows us Totoro aiding Satsuko and their father in finding Mei when she attempts to visit their mother in hospital.
[pulledquote]…magic is an intrinsic part of childhood and ought to be honoured as such. Also the bus is a cat – Anna Nic Ghiolla Mhuire[/pulledquote]This story definitely deserves the top spot in the Ghiblicember countdown. It is exactly what anyone would want in a feel good or Christmassy film. It is a genuinely heart-warming and inspiring piece of work. An obvious Miyazaki masterpiece and even deemed one of greatest pieces of filmmaking My Neighbour Totoro is an absolute work of genius. This film is the perfect film for a child and for any adult to enjoy. Although not an all-out adventure like Spirited Away My Neighbour Totoro is story telling in a simpler format.
The Alice in Wonderland type narrative only adds to this film being outstanding, just instead of Mei falling down a rabbit hole to Wonderland she goes through a briar to the base of a large tree to find a different kind of world. This world may be in the "real world" but in this world there is no evil, the film has no antagonist which only adds to the films innocence which mirrors the two girls perfectly. The film holds no major conflicts other than their concern for their mother but to make up for this the film makes the entire narrative about this magical time that these girls share with Totoro the keeper of the forest learning to look after one another even better than they did before.
Children would love this story because of the clearly simple and innocent storyline where they can bask in the magic and innocence of it while also being enchanted and joyful right along with the children in the film. Adults can truly enjoy this film because it has basically no conflict; it is a simple fun and innocent story where it can almost be an escape from everyday life, a story to escape into. This is a film that even though it was made in the late 80's it has aged incredibly well like most Ghibli films. The hand drawn animation is a feat for the eyes and you wouldn't think it was made nearly 25 years ago, the rich colours used only add to the warmth and depth to the visuals.
"Angus McPherson: My favourite is My Neighbour Totoro. It is a wonderful movie. It has outstanding hand drawn animation and is visually beautiful. Even though it was made in 1988 the movie has aged quite well. The music really captures atmosphere of the movie and the characters are quite easy to relate to. Plus there's a giant furry monster. What isn't there to love?"
My Neighbour Totoro is the perfect feel good film, after re watching it you can truly feel the magic all over again and really get drawn into the story all over again. The characters are the depiction of innocence and when they are laughing and playing you genuinely want to be laughing and playing along with them. Totoro has become such an iconic image now that even if you have not seen the film itself (shame on you!) you know who Totoro is because he has become so iconic that he is the Studio Ghibli icon and label. Even now because of Disney's distribution of Ghibli that Totoro can even be seen in films such as Toy Story 3 (See if you can spot him)
It is not a surprise that this film is number one on this countdown because although not everyone has seen it those who have it has left a lasting impression on after watching and that is not something that can be said lightly about any film but My Neighbour Totoro is one of them. It may not have explosions or curses but what it does have is whimsy, mystery and magic. My Neighbour Totoro, our #1 of Ghiblicember and the clear choice. We can only hope Miyazaki cuts retirement short to give us another masterpiece.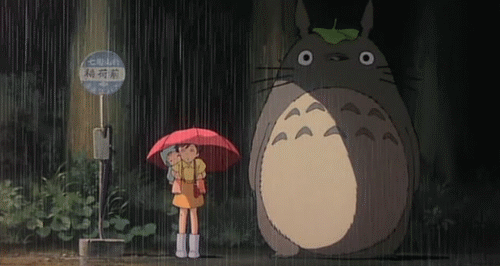 A notable mention must go to some films that did not make it onto this list (not by much):
Grave of the Fireflies
The Cat Returns
Whisper of the Heart
Porco Rosso
Kiki's Delivery Service
Ponyo
Thank you to everyone who participated in Ghiblicember by commenting and giving their opinions on the films across multiple social media sites. Without your inputs this list would not have been possible. Continue being awesome and watching amazing films.