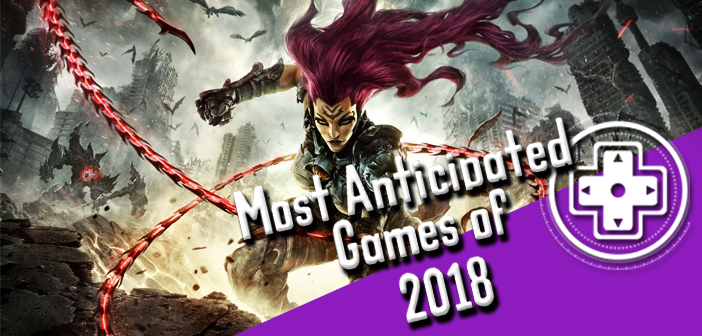 Brian's Most Anticipated Games Of 2018
So it's 2018 and here are the top 6 games I'm excited For this year. Some are big blockbuster franchise games, others are brand new IP's but all look hugely entertaining!
Biomutant
Biomuntant was a surprising title first revealed at Gamescom 2017. The game is by former Avalanche Studio members who've since formed Experiment 101 and published by THQ Nordic. It's a mix of intense gun combat, melee attacks and elemental moves linked to your characters mutations. I got to play Biomutant at Gamescom and it was a lush, vibrant post apocalyptic open-world RPG.. How you decide to create your character will dictate certain stats, such as a big heavy character will have higher strength and health, while a smaller creature can help with agility.
The 20 or so minute demo had a mix of Devil May Cry-esque sword play with Hong Kong movie gunplay. The game will also allow you to customise gear and weapons, as well as your genetic makeup with mutations to suit your playstyle. The full game will allow you to explore a vast open-world by foot, water based vehicles and mechs. Expect Biomutant to release in 2018 on PS4, PC and Xbox One.
Darksiders III
The third installment of the Darksiders series seemed to be in limbo, when Vigil Games and THQ were dissolved. But it rose from the ashes thanks to Nordic Games (now THQ Nordic) who bought the rights to several franchises, including Darksiders.
The game will be developed by former Vigil Games members under the Gunfire Games banner and will follow Fury, sister to War and Death. Darksiders III is sure to have intense combat and a deep progression system, as you take on the physical manifestations of The Seven Deadly Sins. It's set to release on PlayStation 4, PC & Xbox One sometime in 2018.
God of War
A new look story and world faces Kratos, as he enters the Norse world of mythology in this soft reboot of the God of War franchise. After taking care of most of the Greek deities, it would have been hard to come up with a compelling story set in the old game world, so Santa Monica Studio are rebooting the franchise with a 3rd person, over the shoulder action experience, set in a cool Nordic setting.
Kratos will play the mentor role to his son and will have a new array of weapons to take on all the new creatures and threats. It is a new look and will have new game mechanics, including controlling Kratos' son Atreus at times, via some button prompts and training sections. God of War releases April 20th 2018!
Onrush
Born out former Evolution Studios developers, creators of the likes of Motorstorm and Driveclub, the new team at Codemasters is bringing a new fast-paced, fuel injection thrill ride called Onrush to PS4 and Xbox One. It is in the vein of Motorstorm and the Burnout series, with breakneck speed, a range of vehicle classes and destructive racing.
It's certainly shaping up to be a fun, arcade racer. You can check out more on the game via it's Facebook, Twitter, Instagram or via the website, as Onrush releases this Summer.
Red Dead Redemption II
Well this doesn't need much explaining. It's the sequel to the fantastic Red Dead Redemption, Rockstar's open-world take on the wild west. It is a prequel, but adds detail on another level for the world. Not much is known about the game, but be sure there will be some form of lawbreaking with shootouts and heists a big possibility. An online component similar to the current GTAV Online is also expected.
I'm looking forward to roaming the lands on horseback, taking on rival gangs and causing all sorts of mayhem. Originally penciled in for Spring 2018, but it's rumoured to be releasing in June. Either way, this will be a must buy this year for PS4 and Xbox One.
Marvel's Spider-Man
There has been many Spider-Man games over the years, all with varying quality and success. The latest, titled Marvel's Spider-Man, comes exclusively to PS4 this year and is developed by Insomniac Games, the makers of Ratchet and Clank and Resistance series.
The game is stunningly beautiful and has a fluid traversal and combat system, from what we have seen. There are opportunities for stealth based combat. They're similar to that found in the Arkham games. Environment can be used to subdue enemies and some scenes will contain some quick-time events. It will have an original story, as well as being a huge open-world to explore. It is shaping up to be the most diverse Spider-Man games in years.
There are absolutely loads of quality games coming out in 2018! These are just a handul! So tell us! What are you looking forward to playing this year?