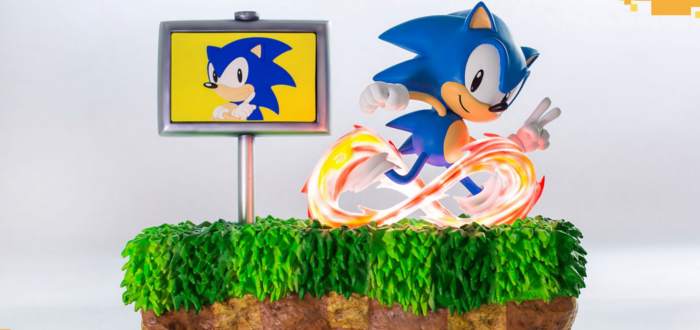 Fig Watch: Sonic 25th Anniversary Diorama (First4Figures)
Are you a big Sonic fan with a bit of cash burning a hole in your pocket? Well, have I got the merch recommendation for you!
On Tuesday, June 6 First4Figures opened pre-orders for their 25th anniversary Sonic resin figure, which you can see in the gallery below.
The figure is $385/~€342/~£299 and can be ordered anytime over the next two weeks, with the pre-order period ending on Tuesday, June 20. Once this period ends you can apply for the waiting list, but you'll only get the figure if someone else cancels their order. You don't have to pay the full price upfront if you don't want to, for this figure they off two different payment plans of three or six months.
There are two editions up for ordering, the Exclusive Edition has LEDs embedded in the infinity symbol of Sonics run (with three options) and the signpost will rotate. It also includes two extra magnetic plates for the signpost. Meanwhile, the Regular Edition is the same figure, though it doesn't light up, the signpost doesn't auto-rotate and you only get one pair of magnetic cards.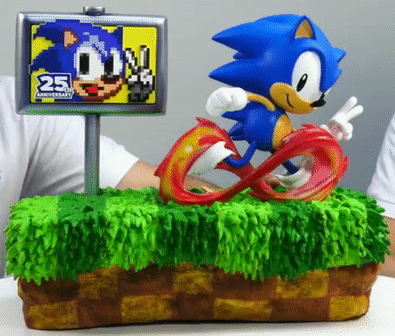 We're not done yet though because if you follow this link, First4Figures are even going to give away the Exclusive Edition to one lucky winner! Finally, if you want any more information on this figure, then check out this making-of documentary the company uploaded. It clocks in at an impressive 1 hour 20 minutes though, so be prepared for a long watch!
What Is This Fig Watch Thing?
So I like figures, go figure (heh). I currently own figures from five different games (and a few amiibo but come on they don't count) and twelve figures from various anime. It would be more but I have to be slightly responsible with my money, for now anyway.
A month or two ago I stumbled across a figure manufacturer called First4Figures on Facebook. They make high-end collectible figures primarily from games but are slowly branching into anime properties. It's important to note however that they mostly make resin figures, rather than PVC figures. This is a trade off of price for quality. You'll pay more than PVC figure prices, but the quality will be better.
Now many things have endeared this company to me. They have a club on Facebook, where the owner and various other employees regularly check in to see what the fans are thinking. Every Friday they do a stream for an hour or more. During this stream, they answer questions, show things off, and give away reward points.
A few weeks ago they announced they were going to create a Crash Bandicoot figure. Then over the course of the week, the owner posted render after render of the design. Each time he asked fans what they thought, did they want anything changed etc.
They also have a poll every week about the possibility of creating a statue of a specific character from an IP. If there is enough support, they start looking into it to see what they can do. They currently have a figure of Kamina from Tengen Toppa Gurren Lagann in the works. That figure is happening solely because of the support the character got in the Facebook Club.
The care the company shows, as well as the way it treats its fans, made me really appreciate them. However, to get to the point, it all comes down to the figures. The figures they make are nothing short of fantastic. As a result of all this, I decided I wanted to try and spread the love a little.
As such you'll hopefully be seeing more Fig Watch posts from me in the future. They'll feature both future figures from F4F and any other figures that catch my eye as I find them. Until next time, keep collecting!