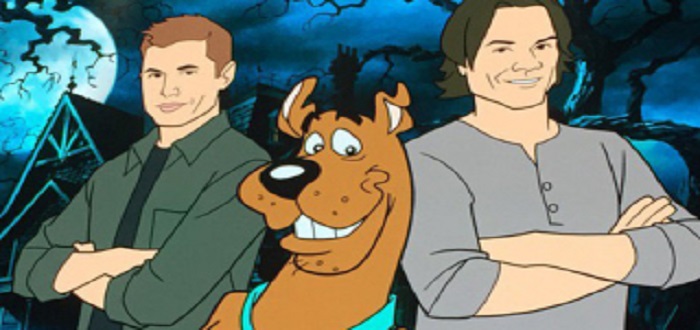 Zoinks! Supernatural And Scooby-Doo Crossing Over
It is not an April Fool's joke (we are in May), and this is not fake news. During the 13th season of Supernatural there will be a crossover episode with Scooby-Doo. The news came out at this Thursday's CW Upfronts Presentation. Many believed this to be a joke, but Entertainment Weekly has confirmed the news.
Sam (Jared Padalecki) and Dean (Jensen Ackles) will apparently team up with Scooby-Doo in an animated way. No word yet on whether the rest of the Scooby gang will be joining in, but we can only hope. We have to see an animated Dean face off against Fred to see who drives the Mystery Machine.
This would not be the first time for Supernatural to have an episode that is a little off the wall. In Season 5 we had the episode 'Changing Channels' where the Trickster had Sam and Dean bouncing around TV show parodies. One of my favourite episodes was in Season 6 and it was called 'The French Mistake'. This episode had Sam and Dean playing Jared and Jensen in a show called Supernatural.
Another episode that showcased this show's ability to poke fun at itself was in Season 10. The 200th episode, entitled 'Fan Fiction', had a local theatre putting on a Supernatural Musical. It seems the longer a show stays on the air, there will be a call for a musical episode. 'Fan Fiction' was just a fun episode that marked the 200 episode celebration in a wonderful way.
There is no word on when the episode would air in Season 13. Looking at the episode numbers so far, I might guess at episode 11 of the season. That would be the 275th episode of Supernatural, so would be another milestone episode.
What do you think of this weird, yet interesting crossover? Do you want to see the whole Scooby-Doo gang? Let us know your thoughts in the comments below.