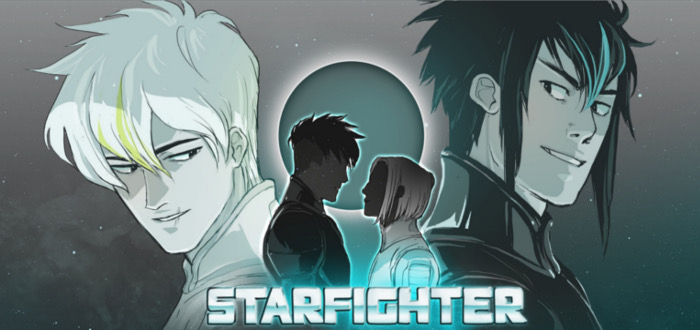 Late September 2016 saw the hiatus of the popular BL sci-fi webcomic Starfighter, after the final page of its fourth chapter was released. While fans have been mourning the loss for six months now, Starfighter's creator and artist HamletMachine surprised everyone by announcing the comic would come back this week, and on Tuesday just gone, the first two pages of chapter five went live.
And boy was the wait worth it.
To celebrate the launch of the new chapter, today's track is from the official Starfighter soundtrack! The soundtrack is free to listen and download at the comic's Bandcamp site. Not only is it refreshing that a webcomic has a official OST, but Starfighter Vol.1 was actually the love child of many fans and creators. Hamlet decided to hold a contest for the soundtrack and accepted hundreds of original tracks for entries.
From the 14 winning tracks that make up the album, none manage to capture the world of Starfighter as well as 'Gravitation' by Emily ​Elizabeth​ does. So grab your headphones (a definite must when listening to this incredible electronic melody), sit back, close your eyes and immerse yourself in all things Starfighter.
Don't forget to check out the newest chapter over at starfightercomic.com!
Just perpetually screaming about fictional boys