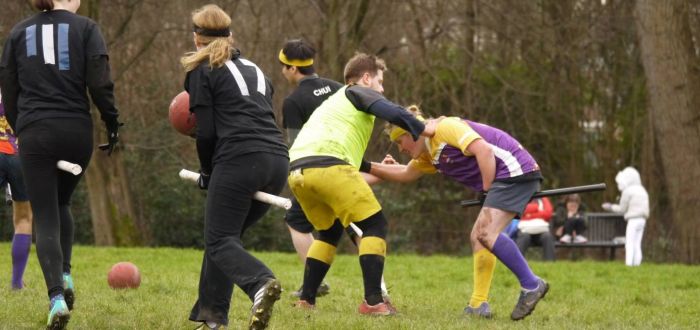 When posed the question of what I was doing this week, the first answer that came to my head was 'trying not to die' because my schedule from January to end of March is a bit mental. As an unfit sports-phobe nerd the idea that I would be playing in sports tournaments abroad this year would have been laughable before. Yet last weekend (flu-ridden and all) I and my faithful Dublin Draoíchta Dragons (DDD) Quidditch peers supported the Queen's University Belfast Quidditch Club (QUBQC) at their first UK tournament. The previous weekend has been spent bonding the two teams.
It was our first taste of the stamina and skill required to play at the big leagues and all I can say is I wish I could have taken Monday off work! Anyone who knows me, and those of you who have read my articles, will know all I ever seem to be doing, thinking about, talking about is Quidditch. As Lockhart says, for full information, see my published works. This is set to continue up to DDD's first European tournament the end of next month, including organising a pub quiz which I will be writing about very soon.
Theatre
The fangirl train never stops as this weekend I will also be away for a Potter related reason. Famous for the role that made him, Daniel Radcliffe is to return to the West End stage for something of another nature: 'Rosencrantz and Guildenstein are Dead' at the Old Vic. A dark comedy about two bit part actors who are playing the small roles in Hamlet, Radcliffe will be joined onstage by his My Boy Jack dad David Haig and his one episode A Young Doctor's notebook co-star Joshua MacGuire.
Although I'm a little bit miffed now that The Old Vic Theatre have announced they will be airing the show live through National Theatre Live in April, which The Lighthouse cinema in Dublin have confirmed they will be participating in, it's exciting stuff. The last time I saw Radcliffe is a play was 2013 so it'll be a good chance to fangirl it up and any excuse to go to London for me.Who knows I might even catch another show or visit the WB studio tour.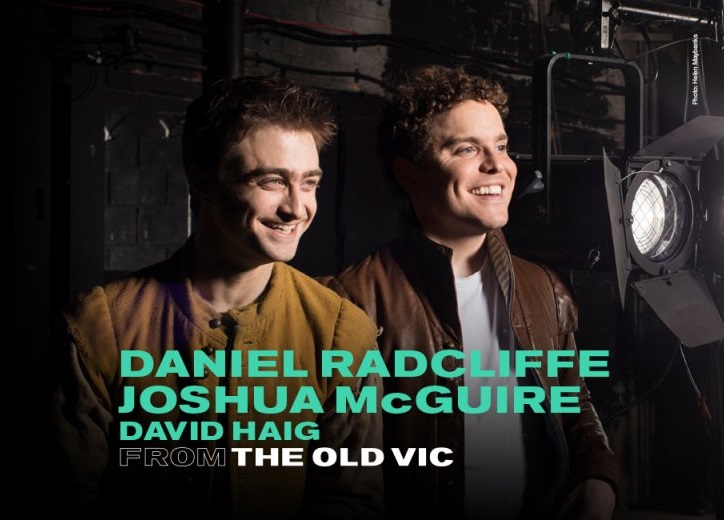 Books, books and more books
Although I'm a Librarian by trade, I don't always have the time I'd like to be the stereotype and read for Ireland. However, as the soothing roll of the train in the morning doesn't set off my motion sickness, I can often get a book read every week. This is helpful as with every nerd and their TBR pile, mine is terrifically over-ambitious. Not only is there the owned books pile to get to, I'm in 3-4 book clubs for good measure and I have no willpower when it comes to using my 10 books pp limit at the library. I often have 3-4 books on the go, at the minute, it's 4 because I can't help myself with borrowing the in demand books that I can't renew because of 5+ holds on them.
I just finished 'Himself' by Jess Kidd and 'The Circle' by Dave Eggers which has a movie starring my icon Emma Watson in it coming sometime in the future. That was in a space of two weeks when both books are nearly 400 pages. Currently I'm reading 'The Vagina Monologues' by Eve Essler as it's the book for Emma Watson's book club and 'Lying in Wait' by Liz Nugent as it's for my other, in person, book club. Two vastly different books, one is a factual look at Women's relationship to their vital organs while the other is a tale of murder and cover-up by one of the best Irish authors around at the minute. Meanwhile Emma by Jane Austen and Rebecca by Daphne De Maurier are both sitting half read, jiltled ladies, since somewhere after Christmas while I finish other titles and drop them back to the library.
TV, Movies and Everything Else
How does one find the time within that to watch TV, go to the cinema and have a life  in general one might ask? Just about is the answer. Thankfully there are only a few shows I follow that are ongoing at the minute such as The Flash, Gotham and Agents S.H.I.E.L.D., everything else is ahead of where I am or so old or past its sell-by that nobody watches it anymore. Among the things I've yet to catch up on are A Series of Unfortunate Events, The OA, How to Get Away With Murder and Bates Motel. For the main part I am only a season behind so hopefully we'll get there someday.
One show I just caught up on that everyone should watch is Yuri! On Ice. It's an easy to watch and emotionally invest in animé about a figure skater who chokes at a big tournament and is finding it hard to believe in himself enough to keep skating professionally. The theme tune along is my jam so I'd advise anyone who hasn't already done so to check it out. In terms of other nerd persuasions, I'm not really a gamer and much like with TV I'm behind on the Pokémon Go trend. The app has just started revealing 2nd generation Pokémon so if you got bored with it by now, there's some new Pokémon to be found.