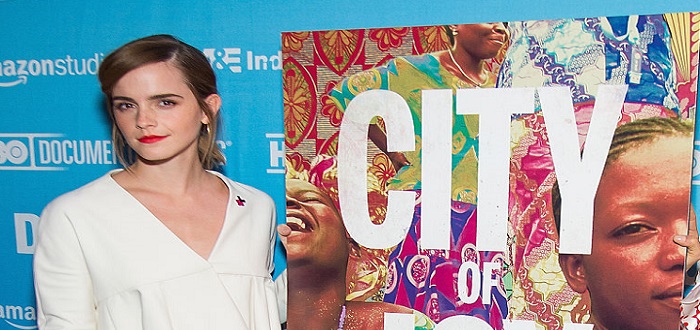 Emma Charlotte Duerre Watson is probably best known as Hermione Granger from the Harry Potter series. Yet she's so much more than that, with a experience in both film and academia. She's an active feminist and all round good doer. I wasn't always the biggest Emma fan, believing her acting was in her eyebrows alone. But as I grew up a bit and she blossomed as an actor as well as a stunner, I grew to like her. As I learned more about her beliefs and ethics, I came to admire her as someone worthy of fandom beyond that of portraying the brightest witch of her age.
When somebody suggested her as my pick for this article, I was apprehensive. She is beloved but is she an icon? Then I returned to the forums for her bookclub and thought about how she made so many pick up full blown feminist texts and really start to pay attention . That's not to mention her recent performances in films that didn't do too well but she gave them some life.
Beauxbatons Almost Stole Her
Emma was born in France and spent the first five years of her life in the European country. Named for her paternal grandmother, she was born on April 15, 1990 at 6pm. Her parents are both English and work as lawyers but they are no longer together. She has three half-siblings through her parents re-marriages and some stepbrothers. At age 5, she and her parents moved to Oxfordshire where she lived until her work took her around the world. She attended the private Dragon School and Stagedoor Theatre Arts for  3-4 years before landing Hermione.
I'm Hermione, Hermione Granger
Unlike some of her fellow cast members, Harry Potter was to be her debut and after eight consecutive auditions, she was cast as Hermione. She joined fellow newbie Rupert Grint and relatively prepared Daniel Radcliffe to form one of the most well loved trio of characters in film. Although initially only signed on for the first few movies, Emma can be seen growing in stature and in talent through eight Harry Potter movies. Proving that life indeed imitates art, or simply good casting, Emma kept up her schooling. She showed Hermione like intelligence by scoring high in her GSCE's and later took A Levels, attending Brown University after Potter ended.
In a well joked about assignment set by Prisoner of Azkaban director Alfonso Cuarón, Emma proved she was Hermione when writing a long essay while Radcliffe wrote half a page and Grint didn't do anything. Outside of Potter, Emma in her formative years starred in one other film,  TV movie Ballet Shoes alongside Richard Griffiths.
Post Potter
The first crossing of paths of Potter and Eddie Redmayne occurred when Watson co-stared with him in My Week with Marilyn. It wasn't a large part but it was her first real step outside of Hermione in 2011. Alongside fashion and beauty deals she continued to build up her body of work. Much like Radcliffe, Emma looked and sounded stateside, staring in Perks of Being a Wallflower and bio-parody Bling Ring. No two roles could be more different for her, warm and emotive Sam and vain and greedy Nicki. Both parts were played well.
Emma starred in another blockbuster with Noah, but the film was mediocre at best and flopped at the box office. Yet Watson's performance was quite good, particularly during scenes of labour and clashes with Noah. More recent indie projects were also met with little praise. However despite the predictability of Regression and Colonia's slow moving story, Emma showed some emotional depth in both.
Work for Women
Hit and misses aside, Watson's projects in recent years are worth following. Among her repertoire of speeches, Warson has spoken out of the sexualisation of female child stars. 'The Daily Mail' in particular always had some snide comment for her dress at premieres, a criticism that her male counterparts didn't experience. Another passion of Watson's is ethic clothing and she has supported and visited the factories of brands that are ethical. Most publicised of Watson's projects however is 'He for She', gender equality work as UN Ambassador and her book club. She released a statement some time ago saying she was taking a break from acting to focus on equality work and she is doing just that. He for she video. Her book club has 157,497 Members and is on it's 9th book, Maya Angelou's Mom & Me an& Mom. After much chat on the Goodreads forums of those unable to afford the books, she reduced it to one choice every two months and has started hiding books in various cities.
Coming Soon…
Although Emma is currently focusing on saving the muggle world, she still has some movies coming out next year. The much anticipated Beauty and the Beast is set to release in March. She also stars with Tom Hanks in The Circle, which only has a release date for the US.
Let us know what you think of Emma Watson in the comments and if you have a favourite performance or speech!