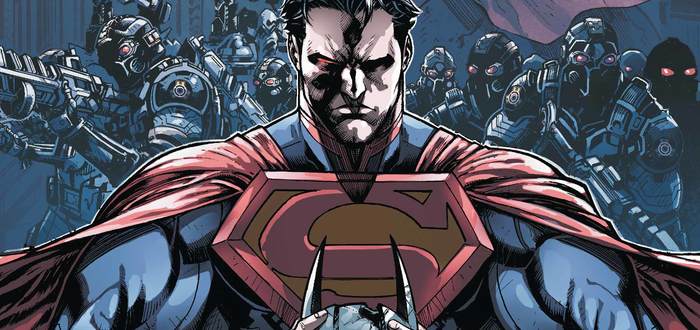 Back Issues – Injustice: Gods Among Us
Injustice: Gods Among Us is one of the best explorations of an alternate reality in the DC Comics Universe. It just so happens that it's also a tie-in series for a beat-em-up video game of the same name. Injustice: Gods Among Us came out in April of 2013 and if you're a fan of fighting games, it's a cracker. Even if you're not a fan of fighting games, its one of the rare ones that you can pick up and play with basically no previous experience and actually have fun. The comic book series is also one that you can just pick up and enjoy without much prior knowledge of DC lore or canon. When I first began reading it. I devoured the thing. The two word pitch is thus – bad Superman.
Also, my writing comrade Marcus wrote a Back Issues article at the start of the year about alternate realities and elseworlds in the DC Comics Universe. Have a read of that here. It's only fitting that at the end of the year I pick up that ball and run with it a little further, don't you think?
Here's five standout issues of Injustice: Gods Among Us. (Spoiler Warning, but not massive ones.)
Year One, Issue #4 – Blood
Issue Four is great. If you're a fan of Superman or Batman or DC Comics or just comics in general, you wont be surprised by the idea of a Superman that switches stances and goes evil. You can see 1996's beautiful Kingdom Come for this idea done amazingly. 2016 also furnished us with an interesting example of Superman and Batman pummeling each other, so that shouldn't surprise you too much either. What makes this issue standout is the last page. The last page is where everything changes, and has an image that wont leave your mind in a hurry. In fact, it was the first things I thought of when writing this.
Year One, Issue #36 – Butlered
.
Batman isn't in the greatest position in this issue. Far from it. Things escalate very quickly in the first year of the story, which is partly what makes it so readable. You can't see the next twist coming. The cover above is pretty indicative of what happens to Batman, though. The other thing is, it happens in the Batcave.
Batman is always insisting that he's a loner and works by himself but for some reason he keeps joining super-teams and fighting alongside other heroes. That, and he totally has a extended little Bat-family. Family lookes after it's own, and guess who can't stand the sight of Bruce relieving one of his worst moments? Alfred, that's who. Superman vs. Alfred. It happens and it's even better than it sounds.
Year Two, Issue #15 – The Corps
Remember what I was saying about escalation? That doesn't let up. The fight is pretty well-contained on Earth, but in year two, it spills out into the universe. I mean, once the Sinestro Corps are looking out for you, the Green Lanterns can't be too far away. This is one of the best moments of the second year. Guy Gardiner tearing through space with a squad of Lanterns bent on taking Earth back from Superman. It's Superman, though, so they do the smart thing and bring backup – a whole planet – Mogo.
Year Two, Issue #16 – Partners
Yes that's basically the same image as the last issue, but if you look closely you'll see this one has a '16' on it. That, and I have a format to follow. This is a one-panel moment, but it's great because of it's context. At one point, the Batwoman comic was going to have two ladies get married. They didn't get married because reasons. This issue has a little nod to that non-marriage. Batwoman is married to Renee Montoya. This is pretty cool in-universe, and sneaky fun in ours.
Year Three, Issue #13 – Fantasy

By year three, things are pretty bleak in the Injustice universe. I won't go into too much detail, but there's death and magic and Bruce and Clark are both pretty tired of fighting each other. This issue is pretty popular on image-sharing sites, because it shows Superman's fantasy of how things could have gone three years prior. So yes, this is a day dream about an alternate reality in an alternate timeline series. Comics are weird. Still, this issue manages to be poignant as hell.
That's it! Have I inspired you to sit down and binge on all of Injustice: Gods Among Us as soon as you can? I hope so because that's exactly what I'm going to do.