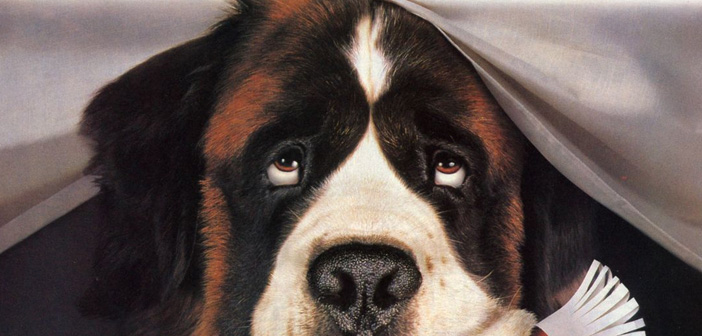 This time last year I was preparing for a new addition to the family. No, not a baby… well, kind of. It was a little teacup chihuahua puppy named Gizmo who changed my family's life for the better. Honestly, we couldn't be without the little demon now, a year later and he's become another member of the family and even as I'm sat writing this, he is beside me on the sofa playing with my Dad. Now my parents didn't want another dog, but that soon changed once we met Gizmo in the flesh. In a way, it reminded me of the film Beethoven and that's the reason why I've decided to write about the film for this week's Forgotten Childhood!
As soon as you mention the name Beethoven, some people usually think of the composer, but most? Well, a certain large St Bernard puppy and the Newton family comes to mind. Well, it definitely does for me anyway. It's a feel good film when it comes down to it, and the same can be said about it's sequel, which is far more focused on Beethoven's puppies than Beethoven himself. But before we get into any of that, we should discuss the first film!
Beethoven is a family film first and foremost, it's one you can watch with the entire family, and maybe even the family dog and just feel fantastic afterward. It's the story of a St Bernard puppy who, along with other puppies, is stolen from a pet shop and soon finds himself in the Newton household. The Newton household is your typical American family; a father who works hard, a friendly mother, eldest daughter finding herself and her first flirtation with boys, a middle brother who needs help with some bullies and the youngest daughter who shares a strong bond with Beethoven, even saving her from almost drowning in a swimming pool.
We get to see how Beethoven helps each member of the family without even really meaning to, without them setting out to have it that way. Beethoven seems to care about each member of the family, even George, the father, who was adamant about not having Beethoven in the first place, has his business and money saved by Beethoven stepping in during a barbecue. Just as the family grows close to Beethoven, we as a viewer also become close to Beethoven as we see through his eyes (metaphorically speaking!).
Of course it's not just about Beethoven, there has to be an antagonist and the thugs who stole the puppies at the beginning of the film have been hired by the local vet in the town, Dr Varnick. On the side they are running an unethical animal experimentation ring and unfortunately for Beethoven, are on the lookout for large breeds of dogs, specifically St Bernards. Beethoven ends up in the hands of Dr Varnick, but thanks to George Newton, the Newton family and their love for Beethoven, they expose the experimentation and save not only Beethoven but also the rest of the dogs who were in Varnick's possession.
The film didn't really launch any careers, but it is notable for being Joseph Gordon-Levitt's debut film appearance! Not that I ever noticed that when I was watching it as a kid, but it's a nice little note now that I know who JGL actually is! Also, seeing David Duchovny as a smug asshole and then getting his comeuppance still makes me laugh to this day.
For me, as a kid, it was one of the ultimate feel good films, and heck, it had puppies galore in it! I always loved dogs when I was younger, and obviously that hasn't changed one bit, and I think that's why I've always loved the film Beethoven. Also, weirdly, I always remember the bacon that the Newton's cooked for breakfast and I always wanted to eat it… it just looked so damn good! The film spawned a number of sequels, but the only one that really caught my attention was Beethoven's 2nd, which as I've mentioned, starred Beethoven's puppies, four little troublemakers.
If you're not feeling so great, then stick on Beethoven and just laugh and feel great as a big St Bernard finds his way into the Newton family's hearts!