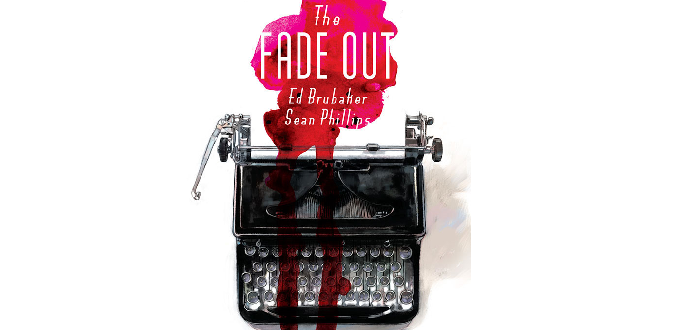 Now, more than ever, we're aware of the background happenings of the opulent lives that the rich and famous are living. If they aren't posting it on Instasnap or whatever, there's some pervy paparazzo selling the information to the highest bidder. In The Fade Out, Ed Brubaker, Sean Philips and Elizabeth Breitweiser mix a little of James Ellroy's L.A. Confidential and Kenneth Anger's Hollywood Babylon to take a fictionalized look into Hollywood's past, back to when the stars' secret lives were still, for the most part, secret.
Lights! Camera! Action!
The Fade Out is first and foremost a traditional crime noir tale. It has all the essential ingredients of the tried and true recipe, with just a hint of Brubaker spice thrown in. It has the hero, the femme fatale, a murder, shadows, it's got the lingo down and it has plenty of drinking and smoking. Oh boy does it have smoking. I could practically feel my eyes stinging during some of the bar scenes.
The book opens with our narrator, Charlie Parish, waking up in a bath after a night of heavy Hollywood partying. Naturally, his memory is a tad foggy and trying to piece the night together takes some effort. Through his memory, we're introduced to his past as a soldier and some of the supporting cast. Even in the space of one night, his mind jumps forward and backward between the hours. After wading through the mental smoke and putting his hazy thoughts back together, he starts to wander the house. A few moments later, he finds the body of upcoming starlet, and his close friend, Valeria Sommers, laying on the floor.
Someone in this room is… a murderer!
Okay, so, dead body. Typical noir setup. So now Charlie has to hide the body and figure out what else happened, right? Wrong! Well, half right. After Charlie leaves to get help, someone else comes in to clean up. Before he gets a chance to return, he hears the awful news of Val's death by suicide. Charlie, having some extra information on the scene, smells a rat. This is where The Fade Out kicks into gear and the lives of Charlie and those at Victory Street Pictures begin to spiral downward.
As Charlie and his writing partner Gil Mason begin their investigation into Val's death, we're introduced to a well built cast of players. Half the intrigue of any good noir tale is finding out what the deal is with each character so I won't cover them all, but suffice it to say that Brubaker has put as much effort into each of the supporting characters as Charlie himself, with most of them getting at least half an issue dedicated to their own personal stories.
 L.A. Noir
Philips and Breitweiser bring their talents together brilliantly on art duty. Philips' images are necessarily dark to sell the noir feel of the book. Half of the detail comes from blocks of shadow, while the majority of the accompanying lines are hard edged. It's enough to make some of the characters look carved from marble. This is frequently cut together with smoky haze as the past is ventured into.
Since the average image is 60% shadow, Breitweiser works hard with the remaining space she has. The book moves from scenes of twilight, to bright after hours parties, to the glare of the Californian sun. Somehow, each of these settings uses an almost equal amount of shadow. Keeping that in mind, Breitweiser manages to use her colour palette to clearly separate each of them. As for the characters, it's up to her to contrast Philips' dark lines.
Where he has hard edges, she brings the soft shadows. She makes the light gleam, the lipstick pop and the black eyes bruise.
Overall, the art is hard to fault, with the exception of a small section in the middle of the book. There was a noticeable drop off in the quality of some facial expressions for a few pages. Whether this was due to rushing to meet a deadline, it's hard to say. It's an unfortunate black mark against the book as each reread of this section took me out of the moment. Still, this is a minor gripe with an otherwise stellar job. In a lesser book it's unlikely that it would even have been noticed.
Layered Cake
Brubaker's writing is on point throughout the series. Each of its 12 parts have been carefully thought out in such a way that the book works equally well as series of single issues, or as a full sized graphic novel. His frequently used time-jumps make a return for The Fade Out. Beginning as short snaps to the past, they expand as the mystery unfolds. How neatly these overlap is one of the real treasures of the book. It's an aspect that made it enjoyable to constantly re-read each issue as they came out. It's likely that similarly, it will have readers page flipping back and forth in the finished collection.
The book features a meta-narrative about how the lives of superstars are viewed by the public. However, this added layer is never allowed to overtake the main plot. As interesting as this feature is, keeping it light works to the story's advantage. There's limited space to get through a lot of plot and focusing too much on the meta would take away valuable story telling space. Furthermore, putting the story in the back seat would take you right out of the setting that The Fade Out works so hard to suck you into. 
Brubaker et al are far too skilled to ham-fistedly force the issue. Instead, the connections to real Hollywood stars are reserved for a series of guest essays. These were included at the end of each single issue, and it looks like they'll make it into the hardcover collection. It's nice to see them making a return since many of them featured stars mentioned in the book. Not only that, but they were extremely well written essays in their own right.
Curtain Call
Brubaker, Philips and Breitweiser are masters of their craft. Suspense is woven into their work in a way that few others can match. The Fade Out comes at a point where they've all worked together on numerous project. All that time as a team is brought to bear in this project where them come together as a well oiled machine. The pacing, art and colouring merge seamlessly to form their best work yet. It's easy to see that they've been considering this for a long time and each knew exactly what type of story they were telling.
When it comes to spinning noir stories, not only are this creative team champions of the comic industry, but also setting the standard for the genre itself. Through their work together they've helped make comics the medium to check if you're looking for a good vintage yarn. In Velvet they covered spy noir (with Steve Epting taking over art duties). For Fatale they tackled a more Lovecraftian tale of mystery. Now they've taken all their experience and returned to classic crime noir.
The Fade Out is, without a doubt, their finest release yet. Taking their bibliography into account, that's no small praise. My own love of vintage Hollywood stories definitely added to my enjoyment of the book. However, even removing that from the equation, the quality of the work is hard to deny. If you enjoyed Ellroy's L.A. Quartet, Robert Galbraith's Cormoran Strike Novels or Karina Longworth's You Must Remember This podcast, The Fade Out should definitely be on your list. For fans of crime noir who have never picked up a comic, now is the perfect time to start. Enter the world of Brubaker and Philips, otherwise you deprive yourself of the best noir this generation has to offer.
Story by: Ed Brubaker
Art by: Sean Philips
Colours by: Elizabeth Breitweiser
The Fade Out Vol. 1, 2 & 3 available now.
The Fade Out Deluxe Hardcover available 16 October 2016