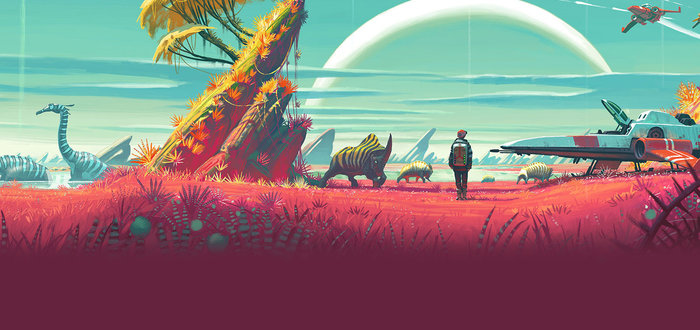 /r/NoMansSkyTheGame, which was the most popular subreddit for the game with over 150,000 subscribers, was shut down recently.
The mod responsible for the shutdown, r0ugew0lf, said he "purged the subreddit" as it had become "a hate filled wastehole of no actual discussion". His full statement follows;
So I purged the subreddit. It's become a hate filled wastehole of no actual discussion. It's not what we intended it to be and I don't like providing a platform for hate. I'm sorry to everyone who used the subreddit as intended but you are now in the majority. I'm sure you can find a different place to discuss this game. It's not hard.

This was my decision and mine alone. The other moderators tried to sway my opinion but cynicism got the best of me as usual.
A few hours later the subreddit came back online. A mod called Sporkicide said that r0guew0lf had passed control of the subreddit over. His statement, as well as his additional edit, can be read here;
I know the past few hours have been confusing. I've been reviewing the situation and working with /u/r0ugew0lf to determine the needs of this community and how the admins can help meet them. He's been an enormous help and I appreciate him working with us during a difficult time. He's going to take a break and has handed the reins over to me to get the subreddit restarted. I've extended invitations to some of the previous moderators to get things started and will likely be needing some additional help.

At the core of things, this is a subreddit and a community centered around No Man's Sky. I'm asking everyone here to participate in good faith and leave any frustration with the recent situation at the door.

EDIT: I was hoping I wouldn't have to add this, but yes, I'm going to remove comments that do nothing but criticise the former mods. You'll notice I am currently the only moderator, so complaints about the old ones aren't constructive or applicable.
/r/no_mans_sky opened during the time the original subreddit was down. It has so far gained 7,000 subscribers. There's a chance that it will continue to grow even after /r/NoMansSkyTheGame has returned, possibly with a more positive outlook.
Whether the community on the original subreddit changes or not after this will be interesting. It was, after all, the subreddit at the centre of the death threats story following the games delay. Sporkicide has said that he is currently the only mod on the subreddit.
via Eurogamer.com