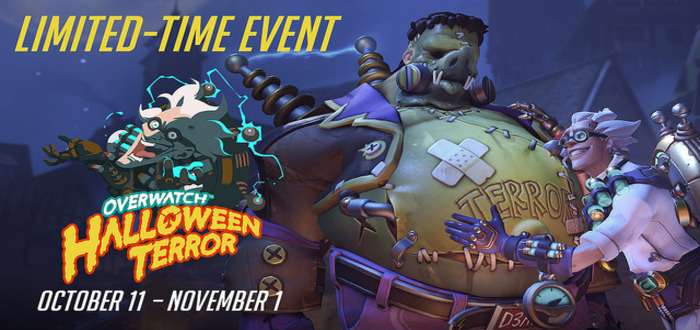 Gather round, girls and boys. For the tale of Dr. Junkenstein is about to begin! The event every Overwatch player has been waiting for has finally arrived. From now til November 1st, Overwatch is celebrating their Halloween Terror.
The event includes new spooky exclusive skins, redecorated maps and of course a new game mode. In the Halloween brawl, you can compete in Junkenstein's Revenge. You can choose from Ana, Soldier: 76, Hanzo and McCree to fight off hordes of Zomnic's and protect your castle. Aside from Zomnics, you also have to face off against special cameos from some well known heroes. I tried this myself earlier and found it tonnes of fun. Definitely worth checking out, even if it's only on easy mode.
Among other cosmetic additions, new skins include Witch Mercy, Pumpkin Reaper, Junkenstein's Monster Roadhog and of course, Dr. Junkenstein.
Still looking for more Halloween Terror? Well how about this brand new comic? In the Halloween edition of Overwatch comics, we get a glimpse of old school Overwatch. Back before they disbanded, the gang gathered for a Halloween party. Inside, Reinhardt begins to tell the terrifying tale of Dr Jamison Junkenstein and his quest to give life to his monster. This comic is not only cute, and gives us a nice glimpse of life back before disbanding, but also gives us the backstory to Junkenstein's brawl.
The event only lasts until after Halloween so, if you're looking to get in on the fun, get there quick. I know I for one will be playing plenty to get my hands on Witch Mercy.